South Jersey Football Games of the Week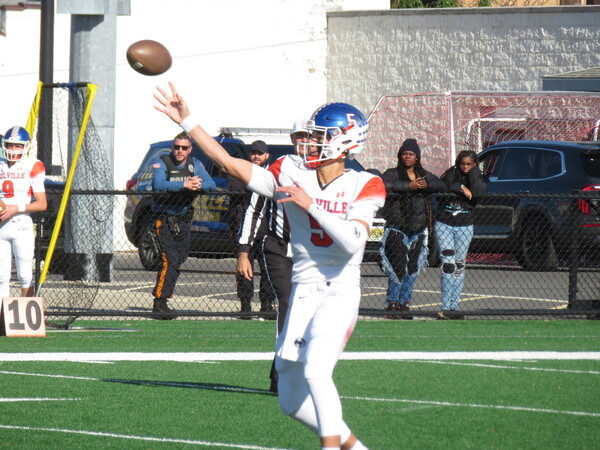 We are now into the sectional semifinal rounds of the football playoffs after a first round where there weren't many major upsets. Here are some of the top games involving South Jersey teams.
Central Jersey Group 5
Friday at 6 p.m. - (3) Rancocas Valley (8-2) at (2) Washington Township (8-2).
Washington Township opened the playoffs with last week's 43-14 win over Atlantic City. The Minutemen have won six in a row. In the win over Atlantic City, Giuliano Scavetta rushed for 207 yards and three touchdowns on 16 carries. Scavetta, who missed a few games due to injury, has rushed for 692 yards (6.8 avg.) and eight touchdowns in seven games*. Rancocas Valley has won four in a row following last week's 13-3 opening playoff win over Lenape. Defensive lineman Malachai Castle led the effort against Lenape with two sacks. During the four-game win streak the Red Devils allowed a total of 20 points. The Red Devils have a balanced attack with three players having rushed for 490 or more yards led by sophomore Jameer Bellamy, who has rushed for 598 yards (7.7 avg.) and seven touchdowns.
South Jersey Group 2
Friday at 7 p.m. - (3) Gloucester (8-1) at (2) Haddonfield (8-1).
This is a game where Haddonfield will be looking for revenge. Last year Gloucester beat Haddonfield, 14-13 in a Central Jersey Group 2 semifinal. Haddonfield is coming off a convincing 31-7 opening round playoff win over Raritan. Senior QB Declan McCarthy threw for 260 yards and three touchdowns to lead the win. Haddonfield has won three in a row since suffering a 20-7 loss to Camden. For the season McCarthy has thrown for 1,050 yards and 10 touchdowns, while running for 139 yards and five scores. Dominic Hahn has rushed for 923 yards (8.3 avg.) and 13 touchdowns. Gloucester junior Mason Widman has rushed for 1,044 yards (9.2 avg.) and 16 touchdowns. The Lions have won eight in a row since a 17-14 opening loss to Schalick.
Article continues below
---
advertisement


---
South Jersey Group 4
Friday, 6 p.m. - (5) Shawnee (5-5) at (1) Millville (8-1).
We know this has a chance for Millville to have a dominant performance. In fact, earlier this season Millville beat Shawnee, 38-14. Yet Shawnee has been getting healthy and the Renegades are one team that picks its play up in the postseason. Last week Shawnee won on the road, beating No. 4 Middletown South, 35-21. QB Joe Papa passed for 167 yards and rushed for 127 yards and two touchdowns, including a 78-yard scoring run. This season Papa has thrown for 1,445 yards and 12 TDs and rushed for 668 yards (5.8 avg.) and 11 scores. Senior RB Nick Rusinski has been coming on lately. For the season he has rushed for 495 yards (5.0 avg.) and seven scores. Millville has one of the most high-powered offenses in the state. The Thunderbolts have won eight in a row since an opening 14-7 loss to defending state Group 5 champion Toms River North. QB Jacob Zamot has thrown for 1,593 yards and 17 TDs.
State Non-Public A
Friday, 7 p.m. - (9) Notre Dame (10-0) at at (8) Paul VI (7-1).
Paul VI has won seven in a row since an opening loss to St. Thomas Aquinas. The Eagles have received strong play from QB Dom Santiago, who has thrown for 1,533 yards and 21 touchdowns. He has also rushed for 137 yards and two scores, while Matt Morad has rushed for 791 yards and seven scores. Notre Dame has had close calls in its last two games, winning 35-34 over Hopewell Valley and last week earning a 28-21 decision over St. Frances (MD). QB AJ Surace, among the top in the state, has thrown for 1,629 yards, 23 TD passes and one interception.
*Stats courtesy NJ.com
Author:
Marc Narducci
Archives
---
Who's Who in Health Care
Crowd Pleaser
A Bight Future Ahead for Glassboro Football
The Big Impact of Small Businesses
Eagles Need to Reset
Feeling Festive
Another dominating season for Delsea football
Mainland's Historic Football Season
A Rooting Interest
Eagles Continue to Fly High
Raising the Bar
Thanksgiving Football Continues
Hotstovers to honor All-SJ Baseball and new HOF inductees
South Jersey Football Games of the Week
The Phillies make the right move with Aaron Nola
More...