What's Cooking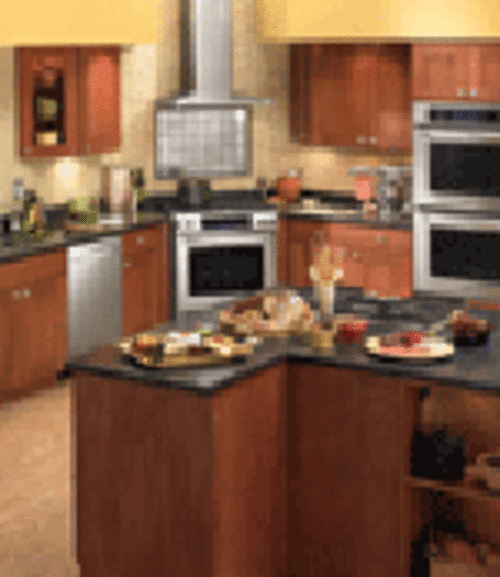 …From the pages of Suburban Home and Garden Resource Guide…
New oven and stovetop technology will change your cooking in short order.
If your kitchen is the heart of your home, then your oven and stove likely do some heavy lifting. But do you have the right oven or stovetop technology to best fit your lifestyle? Most of the bells and whistles that are being put on today's ovens and stovetops are designed to help homeowners with time-management issues. TurboChef ovens, which have earned rave reviews from professional chefs across the country, use a combination of convection-like technology and precision microwaving to expertly cook a 12-pound turkey in 42 minutes. One GE Profile Induction cooktop offers 19 different levels (and up to 3,700 watts) of power so you can decide how quickly you want that pot of water to boil. Here are some recent developments in cooking technology that could change the way you put food on the table.
When you're shopping for a high-tech oven, the experts agree: Convection ovens are hot, hot, hot. "Food just comes out differently when it's been cooked in a convection oven," says Joe Thurston, owner of Woodbury Appliance in Woodbury, where convection ovens are top sellers. "You can do three rows of cookies all at the same time and the items on the top and bottom racks come out the same."
Unlike traditional ovens, convection units cook via forced high-temperature air, which circulates evenly throughout the interior of the unit. Since the hot air is in constant motion inside of the oven, the heat comes in direct contact with the food rather than having to compete with the insulating layer of air that surrounds dishes in traditional units. That translates to cook times that are reduced by 25 to 30 percent.
In addition to the high-tech developments that are happening inside ovens, new trends are happening in exteriors as well. Most controls are now ergonomically designed, and trendsetters can have their choice of finishes in warm autumn tones or super-bright selections like tomato red and cobalt blue.
While consumers preferred bisque and almond tones as recently as five years ago, Fred Handy, a 15-year sales veteran at ABC Discount Appliances in Pennsauken, says that for those who prefer a contemporary look in ovens and stoves, "Stainless is the new traditional." This is especially true in new kitchens, adds Thurston. "When customers are buying appliances for remodels or brand new kitchens, they tend to go with stainless," he says. "But if they're just replacing a unit for an existing kitchen, they usually match the items they already have."
When it comes to cooking on a stovetop, new technology is all about controlling your heat to optimize your results. For a true state-of-the art approach, you might look at induction cooktops, a longtime favorite for European chefs. Induction units feature a magnetic field beneath each burner that reacts to the pot or pan and converts it into its own heat source. The surface of the stovetop stays cool to the touch while inducing the vessel to heat, which cooks the food directly (rather than transferring heat first to the vessel and then to the food). Induction cooktops are compatible with cookware made from iron or steel, are easy to maintain and simple to clean.
Another popular trend is the professional-grade gas cooktop with steel burners. Choose four burners if you're cooking mainly for your family -- or up to 12 burners if you're churning out plates on a nightly basis like a contestant on Iron Chef. Dacor, a popular kitchen appliance manufacturer, offers melting burners on its stovetops that are specially designed to regulate heat so you can melt or simmer delicate foods like butter or cream. Other common options throughout the industry include grill and griddle inserts or even a professional-grade wok ring that can be added to spice up your nightly stir-fry.
Once you've chosen all the bells and whistles for your oven or stovetop, one question remains: gas or electric? Most often it's a question of how your home is wired, and whether you have the option to combine both approaches. "On the cooking shows, they're all using electric convection ovens," says Handy. "But here in Jersey, our customers want gas cooking, so they often go with gas cooktops and electric ovens since you can combine those things in a Jersey kitchen."
Before you go shopping for a new oven or stovetop, you'll want to arm yourself with the following information:
Dimensions. Are there any size or shape restrictions for the space where your appliance will go?
Position. Would you prefer your oven to be a floor or wall unit? Do you want your stove to be freestanding on a countertop or connected to your oven (as in a range unit)?
Capacity. Will a single oven be sufficient to meet your needs, or should you consider a double oven? How many stovetop burners do you need to match with the way you entertain?
Lastly, be sure you purchase your kitchen appliances from a reputable retailer, equipped to offer extended warranties if you want them. And double-check the store's installation policies. If installation services are not offered free with purchase, you'll want to clarify what installation fees will be added to your invoice.
Find Out More
ABC Discount Appliances
856.665.0711
www.abcdiscountappliances.com
Woodbury Appliance
856.845.3710
www.woodburyappliance.com
Published (and copyrighted) in Suburban Home and Garden Resource Guide, South Jersey edition, December 2007.
For more info on Suburban Home and Garden, click here.
For information about advertising in Suburban Home and Garden, click here.
To find out where to pick up your copy of Suburban Home and Garden, click here.
Article continues below
---
advertisement


---
Author:
Mary Thomas; Photo courtesy of KitchenAid
Archives
---
My Favorite Project: Dressing Room
Attention To Detail
Winterizing Your Home
Perfecting the Look of Your Landscape
TRENDWATCH 2009: Green Remodeling
Child's Play
Trendwatch: Cutting a Rug
My Favorite Project: The Closet Gallery
My Favorite Project with The Gutter Guys
Editor's Note: On the Homefront
8 Ways to Have a Stress-Free Move
Water Purification Systems
Well Studied
It's What is on the Outside that Counts
Ten Great Ways to Improve Your Home Value
More Articles