My Favorite Project: Dressing Room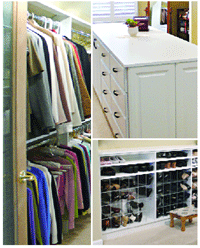 …From the pages of Suburban Home and Garden Resource Guide…
For more than four years, Elizabeth Snyder pondered what to do with the large finished room that sat next to (and was only accessible from) her master bedroom. Situated directly over her two-car garage, the room offered a generous amount of floor space but was limited by the dramatic angles and pitches of the home's roofline. "My husband didn't want his office right off the bedroom, and how many sitting rooms can you have in one house?" she says. Then Snyder thought of another idea: to turn the space into an oversized closet. The result is what her husband now calls the "Princess Room," and what Snyder herself refers to as the nicest room in the house.
When she decided to convert the room into a dressing room, Snyder interviewed a number of different companies, finally choosing to work with design consultant Janet Stevenson of Closet City, located in Montgomeryville, PA. "When Janet came out and walked through the room, I felt comfortable with her immediately," says Snyder. "She could relate to what I needed to do, and the challenges of the room didn't overwhelm her. Right from the start, I knew I would end up with a good product."
The "challenges" Snyder mentions were quite real, according to Stevenson, a 20-year veteran of the closet design industry. Because the room was located above the garage and directly beneath the roofline, its walls were unusually short in some spots. "We had to accommodate those irregular wall heights as well as a few windows that divided sections of the room," says Stevenson.
Stevenson did that by designing a white melamine system with drawer units that fit beneath the windows and spanned the widths of those divided areas. She also built single- and double-hanging units that tucked into the slants of the ceiling. A coordinated island with drawers, cabinets and hampers sits in the center of the room.
An added benefit was that all of the pieces were modular components, so Snyder would have the option of rearranging the pieces into different configurations as her needs evolved. "Even with custom-built pieces, our systems always work in the same way in order to be flexible for our clients," says Stevenson.
Snyder was especially impressed with how creatively Stevenson designed the components to work within the unique angles of the room, including the pitched ceiling. "There's a lot of square footage in the room, but the ceiling really limits what you can do in there," says Snyder. "Janet measured the space, then actually measured my clothing and counted my shoes to determine exactly how much room I would need for drawers, shelves and hanging items."
When they started the project, Snyder and her husband had budget numbers in mind but weren't sure they were realistic given all that they wanted to accomplish in the room. Stevenson says that for either small or large budgets, the talented staff at Closet City is able to create an organizational solution that fits. "We come out to the site and measure so that we can give clients a variety of design and pricing options," she says.
At the (beginning and) end of the day, Elizabeth Snyder loves the space, a "princess room" that's truly built for a queen. "I can't imagine any woman not wanting one room to put all her stuff in," she says. "Closet City did such a nice job that I even put a little desk in there for myself because it looks so pretty."
Best of all, she reports, the room serves more than one function. "My husband is always considering whether the upgrades we do to the house will add value," she says. "We definitely feel this dressing room has increased the value of our home."
Find Out More
Closet City
215.855.4400
www.closetcity.com
Published (and copyrighted) in Suburban Home and Garden Resource Guide, Bucks County edition, November 2008.
For more info on Suburban Home and Garden, click here.
For information about advertising in Suburban Home and Garden, click here.
To find out where to pick up your copy of Suburban Home and Garden, click here.
Article continues below
---
advertisement


---
Author:
Mary Thomas
Archives
---
Family Fun
Live from the White House
Collingswood
Stepping Up to the Plate
Local Story
Lingering Questions
Still Fresh
Under the South Jersey Sun
Riverside Retreat
Against All Odds
Like a Girl
Going Her Own Way
Fall In
Aiming to Please
Walk of Fame: Natalie Hope Sommermann
More...