Catch of the Day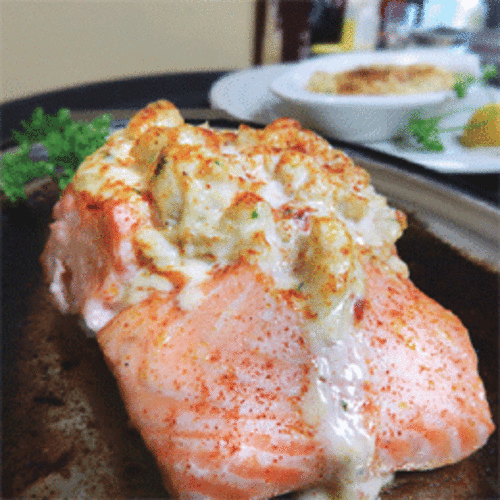 ...From the pages of South Jersey Magazine...
Val's Seafood Trattoria
195 Center St. | Sewell
(856) 468-6655
Our rating: 3 out of 5 forks
Tucked off Route 563 sits Val's Seafood Trattoria, a rather unassuming spot that you could possibly drive past if not for a trusty GPS. For locals to Val's, it's become known as their go-to seafood spot. (Try squeezing in during Lent.) But for others unfamiliar, it's a good thing we have that GPS because you're going to want to program its location.
The exterior slightly resembles a factory or office spot—hence the unassuming appearance. But walking in takes you to a comfortable and familiar-feeling Italian spot, with Tuscan-style murals on the walls.
Appetizers steer toward the side of fried and crispy, with traditional calamari making an appearance alongside other familiar names. The Mambo Italiano combines a selection of apps onto one sharing sized plate, including housemade arancini rice balls, polpette di carne—handmade meatballs stuffed with cheese and fried—and mozzarella in carrozza, all with a bowl of house-made marinara for dipping. For a plate full of fried bites nothing seemed too heavy or overwhelming, and the arancini were particularly memorable.
Mussels come as one of their most popular appetizers, with a half-off night drawing crowds each week. Available in a red, white or spicy fra diavolo sauce, the mussels were meaty and packed with sauce for scooping and enjoying on their own, just the way this beloved dish should be.
One of Val's biggest sellers is their pizza, available as whole pies for sharing, take-out appetizer, or personal sized. Their Signature Pie starts with a classic red pizza with mozzarella and piles on chopped scallops, shrimp and lump crab meat. There was plenty of seafood in every bite, and its freshness and eye on quality acted as a prelude to the seafood that came with entrées throughout the evening.
The highlight of the meal was the stuffed salmon entrée. A very generous salmon filet was sliced open, and stuffed with house-made crab imperial and baked until the fish was flaky. As someone who has never been much of a salmon eater, this plate was particularly surprising. Even the pieces of filet that didn't include the rich lumps of crab in their creamy sauce were fresh and mild, not overtly fishy or dry. The preparation made it easy to love every bite.
While the baked stuffed flounder also showed potential—with a filet of flounder wrapped around a mound of crab and broiled—the lack of seasoning definitely caused it to suffer. In fact, the original filet of flounder came out raw and had to be re-cooked. Still, after it was broiled, the crab added a much-needed redeeming quality that helped bring life to the fish.
Entrées and platters come with your choice of sides, all made in-house, including the potato salad which was incredibly creamy with huge chunks of red potato. The standout side, however, was a dish of sautéed spinach, which came tossed in olive oil with whole roasted garlic cloves. The flavors on something so simple were stunning in all the right ways.
A selection of cheesecakes were all made in-house, and each slice was possibly big enough to serve as a full meal in itself. Flavors included the Brownie Explosion and Raspberry Chocolate cheesecakes, but not to be missed was the Apple Streussel variety. It starts with a graham cracker crust, and layers baked slices of cinnamon apples between the cheesecake and a walnut-cinnamon struessel topping. The creamy cheesecake helped break up the spice from the cinnamon and sweetness of the apple, and at a sharing size for the whole table it was a wonderfully cohesive end to the evening.
Val's food is easy to enjoy, with from scratch ingredients cooked with love and seafood options that can please even a picky eater. It's clear that this spot aims to please and has an eye on what their customers want, and that careful and considerate focus doesn't go unnoticed.
Published (and copyrighted) in South Jersey Magazine, Volume 13, Issue 2 (May, 2016).
Article continues below
---
advertisement


---
For more info on South Jersey Magazine, click
here
.
To subscribe to South Jersey Magazine, click
here
.
To advertise in South Jersey Magazine, click
here
.
Author:
Nancy Donovan, Photography by Allison Dunlap
Archives
---
Family Fun
Live from the White House
Collingswood
Stepping Up to the Plate
Local Story
Lingering Questions
Still Fresh
Under the South Jersey Sun
Riverside Retreat
Against All Odds
Like a Girl
Going Her Own Way
Fall In
Aiming to Please
Walk of Fame: Natalie Hope Sommermann
More...