Moving Forward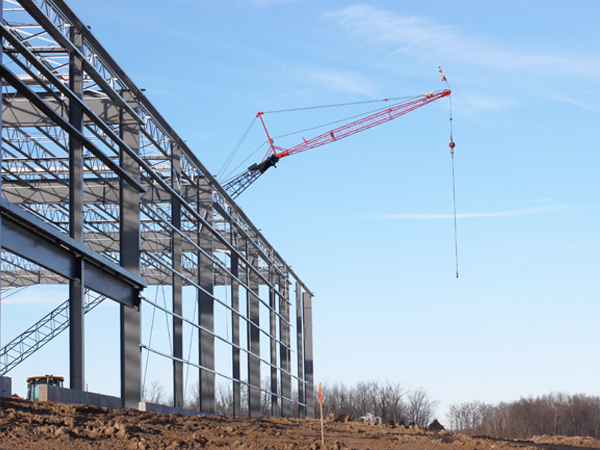 Despite being impacted by COVID-19, the commercial real estate sector in South Jersey is picking back up where it left off with a few changes along the way.
When COVID-19 made its way to our area, all sectors in South Jersey were affected, but possibly none more than real estate. Every business was forced to shut down
—
restaurants, brick and mortar stores and most offices, with the exception of some working at limited capacities. Merchandise was stuck on shelves and people were mandated to work from home.
The timing couldn't have been worse, as New Jersey's economy was booming in the beginning of 2020, according to New Jersey Realtors President-elect Jeff Jones.
"On the retail side, the first quarter of this year might have been the best quarter I had in 37 years," he proclaims. "There was a real positive environment. But on the commercial side, we went from 100 percent capacity to a full stop. Because all of the businesses were shuttered for at least two months or three months, it had been a very difficult environment."
As difficult as it's been for commercial real estate, things are starting to look up. Needleman Management has been busy completing projects and leasing space to tenants. It completed a

major construction project for a medical tenant in Mount Laurel in June, which included both tenant fit out and major site work.
"We had two new move-ins in July and will have two new move-ins and a tenant renewal with updates in August," says principal Jackie Needleman. "We have three new projects and a fourth tenant expansion, all with expected completions in September. Our inspection rates
—t
hose requesting to tour spaces
—
average about six per week, down only modestly from eight to 10. We remain busy and attentive to the market."
Needleman says there is still a necessary role for an office environment.

"Businesses are being reflective," she says. "How does their staff function best? What can be done remotely and what is most productive in the office, with the benefits of office equipment, camaraderie and collaboration, and without the inevitable distractions of home? While working remotely has successfully allowed many to carry on through the spring and summer and it has some workplace strengths, it does not provide full functionality and productivity. There is Zoom fatigue; difficult conversations and negotiations are still best had in person
—
socially distanced and with masks on. Bringing staff back, slowly and in pods, seems to help morale and productivity.
"Our road forward is to create leasing structures that provide a physical place for our tenants to feel safe, to feel productive and to feel within budget."
Incutate, a co-working facility in Sewell, offers rented workspace to all kinds of businesses. Frank Lauletta, one of the founders of Incutate, says workers are still using the space today, even if they are coming in less often
—
one or two days a week compared to five.
"It's not a traditional co-working facility; our model is primarily private offices. We have the ability to offer larger spaces to people," he says. "It's not a bad scenario for this current situation
—
especially as people become laid off and are looking for things to do, combined with the growing economy
—
and there is no long-term lease or commitment. There is a demand for this as long as you're socially distant and have private space within that environment."
One major change real estate brokers are finding is the value of having an office in a suburban area opposed to a major city. Suburban locations have more offices inside compared to open floor plans in a city location, and employees wouldn't have to take public transportation anymore.
"We are finding that there is much benefit in owning suburban office space now," Needleman says. "Those with urban offices are looking for physical space for their employees that may be closer to home, with more direct car access and less need for public transportation, spaces that have more offices and less open floor plan and/or direct entry."
Mike McGuinness, CEO of NAIOP New Jersey, the CRE development association, says the next few years are a "golden opportunity for New Jersey to reinvent itself."
"Brokers are seeing this trend, and they are seeing it's mostly companies that want to temporarily get office space in the suburbs for employees so they don't have to travel downtown and don't have to take a train or elevator," he says. "I think that will be a trend for the next two to three years ad it's an opportunity for New Jersey suburbs to capitalize on that."
With brick and mortar stores closed for quite some time and people spending their money through online shopping, the industrial side of commercial real estate is stronger than ever and there is now demand for more space for distribution facilities and warehouses.
"We've proven the fact that no other sector is more critical to keeping people fed and keeping people living recently by being able to order stuff over the phone or laptop and having it delivered the next few days at your house," McGuinness says. "People got used to that; it drives demand for more industrial space, distribution facilities, warehouses and e-commerce centers."
Both Jones and Needleman say landlords listening to tenants and their needs, having more conversations and being flexible, and renegotiating leases, for example, are crucial to businesses not just staying afloat, but thriving again.
"I've sat down with businesses to restructure [and suggest talking again] in September or January, and most small businesses appreciate that attitude," says Jones, who is also a commercial real estate broker. "If that happens, that's going to be a positive thing. Being president next year, part of my job is going to be encouraging people that we need to get back to work, we need to encourage small business people to hang in there and advise people to be as flexible as they can during this difficult time."
"If us landlords listen carefully to our tenants and prospective tenants, we can hear the needs, adapt the inventory and create leasing structures that promote the strengths of our tenants' business models," Needleman says. "We aren't our tenants' business partners in the same way their investors, partners and bankers are, but we are vested and invested in helping our tenants' businesses thrive."
The road ahead, though it will look differently, appears optimistic. It will take everyone involved to be more creative, be more responsive and listen to one another in this unique and ever-changing situation.
"The road forward is to be nimble, humble and responsive," Needleman says. "Compassionate collaboration in public safety and in real estate is the key to moving forward."

Article continues below

---
advertisement


---
Click here
to subscribe to the free digital editions of South Jersey Biz.
To read the digital edition of South Jersey Biz,
click
here.


Published (and copyrighted) in South Jersey Biz, Volume 10, Issue 7 (July 2020).

For more info on South Jersey Biz,
click
here.
To subscribe to South Jersey Biz,
click
here.
To advertise in South Jersey Biz,
click
here.
Author:
Julie Shannon
Archives
---
Upgrade to Luxury
The Home Team
Who's Who in Real Estate
A New Kind of Seller's Market
On the Home Front
A Strong Foundation
Real Estate Roundup
Who's Who in Real Estate
While the Iron is Hot
Real Estate Roundup
Leading the Way
Riding High
Real Estate Roundup
Real Estate Roundup
Real Estate Roundup
More Articles