Former Holy Spirit Standout Mike Adams Signs with Phillies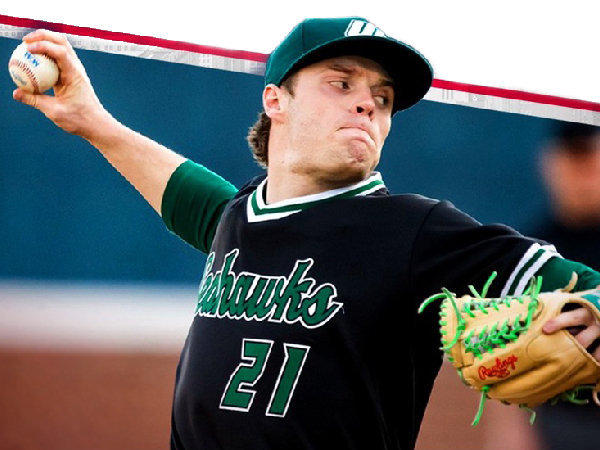 Mike Adams was a big Phillies fan when growing up. He even attended one game of the 2008 World Series when the Phillies defeated the Tampa Bay Rays in five games. After that, he attended the Phillies parade.
The team he grew up rooting for is now his current employer. A righthanded pitcher, Adams signed a contract with the Phillies last week.
"Obviously, it is a dream come true for me growing up a Phillies fan," Adams said in a phone interview. "It is surreal. The goal was to get signed and it happened so fast."
Adams, 26, is a 2012 graduate of Holy Spirit.
He says he didn't pitch very much in high school, but was a regular shortstop. When he attended Wagner University, Adams was turned into a pitcher.
After college he played one season of independent baseball before starting a business with a friend, Ed Charlton, a former minor leaguer for the Cincinnati Reds. The two operate Baseball Performance Center in Pleasantville. It has become one of the top places in the tri-state area to train baseball players.
Adams, who has also worked as a part-time scout for the Milwaukee Brewers, has enjoyed helping others and now he has benefited from his own place. Last week Baseball Performance Center held a Pro Day.
According to Adams, there were about 40 pitchers and another 40 hitters. The players were from high school, college, free agents. He added that scouts from every Major League Baseball Team were there.
Even though Adams has been teaching baseball he continued to play the past three seasons in the Atlantic County Baseball League. This consists of college players and many ex-college competitors as well.
While training at his facility, Adams not only helped improved other players, but his game took a step up. He said in college he had thrown in the high 80's and low 90's, but over the past few years he has continued to gain velocity.
During the Pro Day he hit 98 MPH on the radar gun. That was enough for the Phillies to sign him.
Adams stands 5-foot-11 and 175 pounds, but the reason he throws hard is because he has great technique, a product of what he has learned at his own performance center.
'We study how to best throw, we break down video and work with the players," he said.
Adams said a little friendly trash talk from one of the pitches he has worked with, provided him some incentive.
The pitcher is Mainland senior righthander Chase Petty, who has committed to the University of Florida, but is considered a potential first round draft choice in the MLB draft.
"He throws 100 miles per hour and he said he could throw harder than I can," Adams said. "I feel I had to try to keep up with him."
And now Adams will head to spring training on a journey even he couldn't have envisioned. He participated in the Pro Day on Jan. 18 and signed with the Phillies the net day.
"It's been the craziest 24 hours in my life," he said. "I am so excited to get started."

Article continues below

---
advertisement


---
© SouthJersey.com 2021. All rights reserved. This article or parts thereof may not be reprinted or reproduced by any other party without the express written consent of SouthJersey.com. For more information, please call 856-797-9910.


To receive special deals directly from SouthJersey.com,
subscribe here.
For more Local Sports features,

visit our South Jersey Sports page.
Author:
Marc Narducci
Archives
---
Seizing the Opportunity
What's on Your Mind
In the Groove
We're Number One?
Prime Performer
Best of the Best 2021
Land of the Free
Brooklawn fall one game short of an American Legion state title
Can't Hack It
Ben Simmons uncomfortable stay with the 76ers
Filling a Critical Void
Out and About
Flyers reshape team
Power 50
A strong showing by South Jersey products in the MLB Draft
More...