A final farewell by Carson Wentz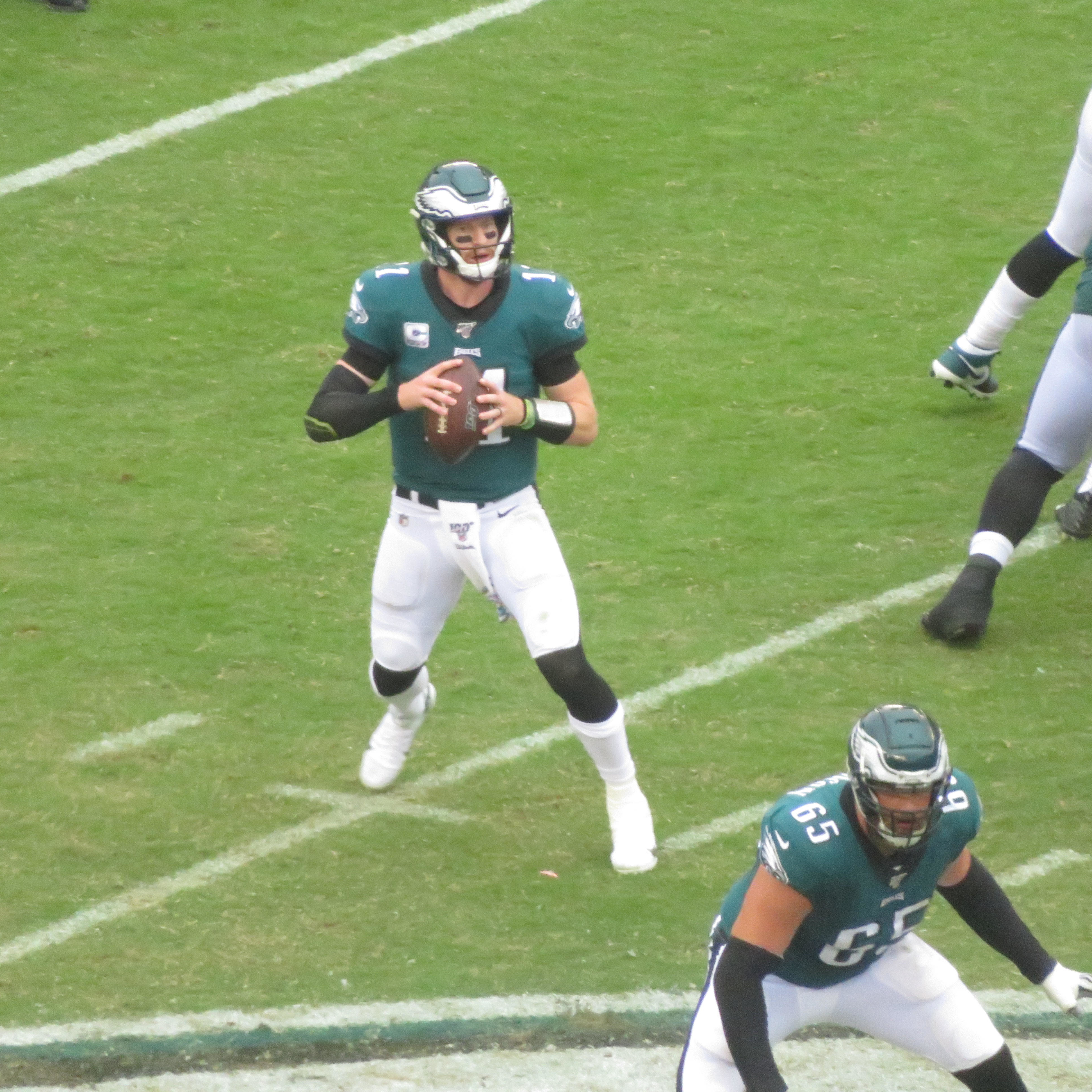 Last week there were simultaneous press conferences, with Carson Wentz being introduced to the Indianapolis media while Eagles GM Howie Roseman and coach Nick Sirianni spoke to the media once the trade became official. Wentz mostly took the high road, and there were no earth-shattering revelations, but Wentz did say the relationship between him and the Eagles crumbled the day he was benched in Green Bay.
Early in the third quarter of the Eagles' 12th game of the season against the Packers, Wentz was pulled for Jalen Hurts. Wentz would never return to action as Hurts started the final four games for the Eagles
"Green bay was probably the moment that I thought this might not be it," Wentz said in his press conference. "Anytime you are pulled you don't know what's going to (thinking) am I going to be back out next week, next drive? I had no idea."
When asked if he wanted to be traded (which everybody assumes was the case), Wentz said, "I am not saying one way or another. There's a lot of conversations, a lot of things that kind of shook out and as this is how it played out and how it went down and I am excited about it."
Wentz said during the press conference that he was a competitor, but it is obvious he didn't want to compete with Hurts for his job. Now he is in a seemingly better situation, with a better offensive line. Playing behind the battered Eagles offensive line, he was sacked 50 times.
That led the league despite the fact that he didn't play a single down in the final four games. While there are many reasons why things went wrong, Wentz has to take a good deal of the blame. He threw 16 TD passes, but led the NFL with 15 interceptions, in under 12 full games. He had a career-low 72.8 passer rating, which was 34th in the NFL. Considering there are only 32 teams, that is a difficult stat to digest.
Despite the difficulties and the fact that he has left the Eagles with a $33 million cap hit, Eagles fans should be rooting for Wentz this season.
Article continues below
---
advertisement


---
That's because he was traded for a third-round draft choice this year and a second rounder next year that can be a first rounder if Wentz plays at least 75% of the snaps or plays at least 70% of the snaps and the Colts make the playoffs.
Considering that the Colts were 11-5 and earned a playoff berth with an aging Philip Rivers at quarterback, Wentz should have success. Rivers retired after the season to make way for Wentz. It would help the Eagled rebuilding if that 2022 second round pick becomes a first rounder.
Quite frankly, Roseman probably got about as much as expected for Wentz, especially since there weren't a lot of teams bidding for his services. The
Chicago Bears were also reportedly interested, but there were public reports that Wentz didn't want to go to Chicago, a franchise that hasn't had a star quarterback since the days of Sid Luckman. He last threw a pass for the Bears in 1950.
Either way, Wentz will look to show that he can return to be the player who was in the MVP running until tearing his ACL in the 13th game of the 2017 season.
He was a dangerous QB as recently as 2019 when he threw 27 TDs and just seven interceptions, led the Eagles to wins in their final four games and a playoff berth. His passer rating was a more than respectable 93.1. The Eagles of course won the Super Bowl with Nick Foles at quarterback, but Wentz's contribution in helping the Eagles earn home field advantage in the playoffs. can't be minimized. Wentz has moved on and the Eagles and the team and their fans have to do the same.
Author:
Marc Narducci
Archives
---
Divided opinion on Eagles trade with Miami
Eastern's Riley Tiernan heads to Rutgers
The return of high school baseball a welcome addition in South Jersey
Camden basketball marching toward history
Strong season for South Jersey H.S. Girls' basketball
Villanova and Drexel and Rutgers headed to March Madness
Moorestown's Matt Langel returns to the NCAA Tournament
Another banner season for Camden boys' basketball
Phillies Center Field Job Remains Up for Grabs
The Difficult of Coaching Football at a Small Enrollment School
March Madness is Upon Us in College Basketball
Three-Day Tournament to Kickoff South Jersey Football Season
Eagles Starting Over After Trading Carson Wentz
Repeat as Super Bowl Champion a Daunting Task
Will Carson Wentz Get Traded?
More Articles