Eastern's Riley Tiernan heads to Rutgers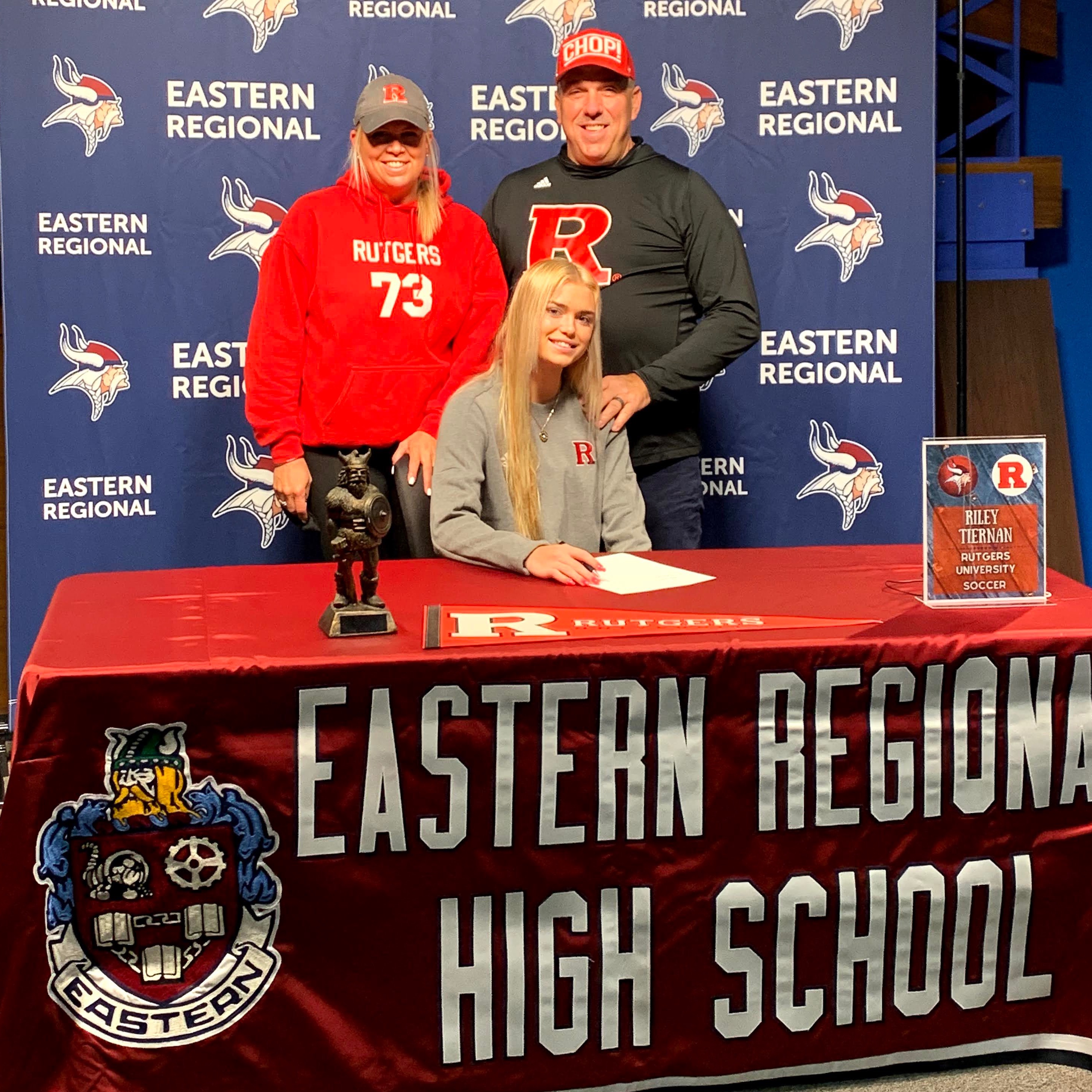 Riley Tiernan will be comfortable in her college setting. One of the state's top girls' soccer players, Tiernan helped lead Eastern to a 15-0 season, the South Jersey Group 4 title and the consensus No. 1 ranking in South Jersey.
Now she is headed to Rutgers, where her sister Madison is a former star and current assistant coach.
Riley Tiernan had plenty of college opportunities, but her familiarity with Rutgers helped seal the deal.
Her sister Madison, who was a standout at Eastern, continued her success at Rutgers, where she played from 2013-16. As a senior in 2016 Madison Tiernan was a second-team All-Big Ten selection after totaling a team-high 28 points on 11 goals and six assists.
She then played professionally for Sky Blue FC of the NWSL before announcing her retirement from professional soccer in 2020.
Madison Tiernan is currently a volunteer assistant coach for Rutgers.
"Rutgers is a great place for me," Riley Tiernan said. "My sister went there, I knew the coaching staff and all that and it made my decision pretty easy."
How easy?
She verbally committed in the eighth grade and officially signed earlier her senior year.
Riley said she used to attend Rutgers games all the time when her sister was playing.
Like her sister, Riley Tiernan's career has been marked by big goals and bigger wins. She was part of Eastern's state Group 4 championship team as a sophomore.
This past season Eastern went 15-0 and was the consensus No. 1 team in South Jersey while earning the South Jersey Group 4 title.
The NJSIAA didn't offer a state tournament, so Eastern went the furthest possible, earning a sectional title.
Tiernan led Eastern in both goals (15) and assists (10) for 40 points.
"We meshed so well and had great chemistry," she said. "We were with each other all the time and that was a main reason for our success. We got on a roll and knew what we had to do and what would work best."
Tiernan says she has so many great memories at Eastern and while she will miss competing for the Vikings, she is looking forward to the next challenge.
She is preparing for the next level by competing for one of the top club programs in PDA. Tiernan understands that the competition will be fierce at Rutgers, but is anxious for the challenge.
"Rutgers has so many good players, especially where I play at forward," she said. "It is good because it motivates me to do the best I can."
And so far, that work ethic has made her one of the top high school players in the state, heading to a place that she has always dreamed about continuing her soccer career.
Article continues below
---
advertisement


---
Author:
Marc Narducci
Archives
---
Divided opinion on Eagles trade with Miami
The return of high school baseball a welcome addition in South Jersey
A final farewell by Carson Wentz
Camden basketball marching toward history
Strong season for South Jersey H.S. Girls' basketball
Villanova and Drexel and Rutgers headed to March Madness
Moorestown's Matt Langel returns to the NCAA Tournament
Another banner season for Camden boys' basketball
Phillies Center Field Job Remains Up for Grabs
The Difficult of Coaching Football at a Small Enrollment School
March Madness is Upon Us in College Basketball
Three-Day Tournament to Kickoff South Jersey Football Season
Eagles Starting Over After Trading Carson Wentz
Repeat as Super Bowl Champion a Daunting Task
Will Carson Wentz Get Traded?
More Articles