Hurts shows the right attitude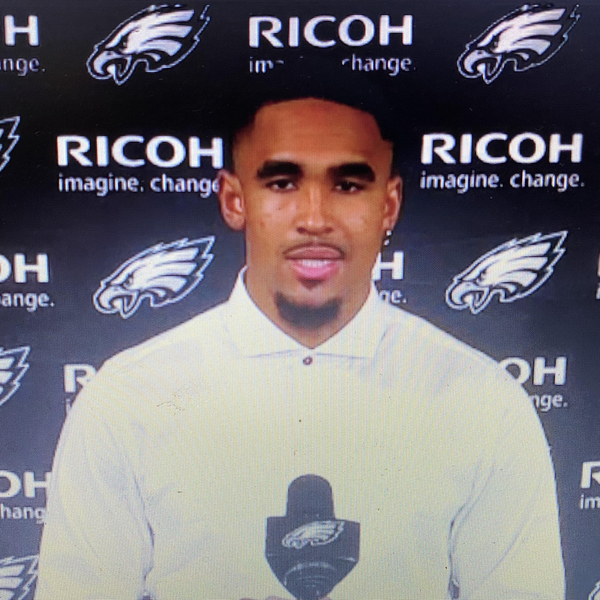 While there are so many unknowns about the Eagles upcoming season, one positive development seems to be the leadership displayed by quarterback Jalen Hurts.
He has worked out with his teammates in the off-season and appears to have gained true respect throughout the locker room.
Even the fact that new coach Nick Sirianni has not anointed him the starter has not affected Hurts negatively.
During a recent Zoom interview with the media, Hurts said he isn't above having to compete for his job.
"Everybody's got to go to work," he said. "For me, rent is due every day."
He added that "When that rent is due, I don't plan on missing any payments."
So Hurts doesn't feel entitled, even though he started the final four games last season, and showed some promise (and also showed he has a lot to work on, including accuracy).
Maybe it's because he has been part of a major quarterback controversy before and handled it well, allowing Hurts to be so mature.
At Alabama, he was replaced by Tua Tagovailoa as the starter at the most difficult of times: in the national championship game.
It was during Hurts' sophomore year, after he had been a two-year starter. In the championship game for the 2017 season against Georgia, Tagovailoa came in relief and helped the Crimson Tide win the game, 26-23.
The next year, Tagovailoa beat Hurts for the job. Even though Hurts played sparingly, he came in for an injured Tagovailoa with Alabama trailing Georgia, 28-21 in the SEC championship game.
Hurts engineered two touchdown drives in Alabama's 35-28 win. The Crimson Tide earned a berth in to the college football playoffs, and Tagovailoa was back in the lineup for a 45-34 semifinal win over Oklahoma and then a 44-16 loss in the title game to Clemson.
All during that time, Hurts never made any waves and continued supporting his teammates.
He eventually left as a graduate transfer to Oklahoma, where he reestablished his value and finished second in the Heisman Trophy balloting.
Hurt was then drafted in the second round by the Eagles, worked at his craft and earned the starting job midway through the 12th game in the season, replacing a struggling Carson Wentz in the third quarter of a 30-16 loss at Green Bay against the Packers.
Hurts would start the remaining four games.
During the off-season, the Eagles signed former Audubon star Joe Flacco, presumably as the backup, but Sirianni has preached competition at all positions, and Hurts says he is fine with that.
That said, one feels that the job really does belong to Hurts, but the coaching staff wants it to seem that there is competition for every position.
Either way, Hurts isn't bothered by it and has continued to work hard by all accounts.
As a rookie, Hurts completed 52% of his passes for 1,061 yards, six touchdowns and four interceptions. He also was a threat on the ground, rushing for 354 yards (5.6 avg.) and three touchdowns.
Hurts has the mindset of a starter and it would be a shock if he wasn't in the starting lineup when the Eagles open Sept. 12 in Atlanta against the Falcons.
Article continues below
---
advertisement


---
Author:
Marc Narducci
Archives
---
Continuing the Difficult Climb
Something to Build On?
Who's Who in Real Estate
Colonial Liberty is highly competitive in South Jersey Girls' Soccer
South Jersey Football Games of the Week
South Jersey Coronavirus (COVID-19) Developments (September 20)
Still way too early for Eagles conclusions
Sixers and Ben Simmons have plenty of training camp intrigue
Best of Home and Garden
Top Physicians 2021
Back to School
Former Ocean City standout Delaney Lappin making her mark at Drexel
South Jersey Coronavirus (COVID-19) Developments (September 13)
South Jersey Football Games of the Week
Eagles Enter a Season with Justified Optimism
More...