Best of The Shore 2021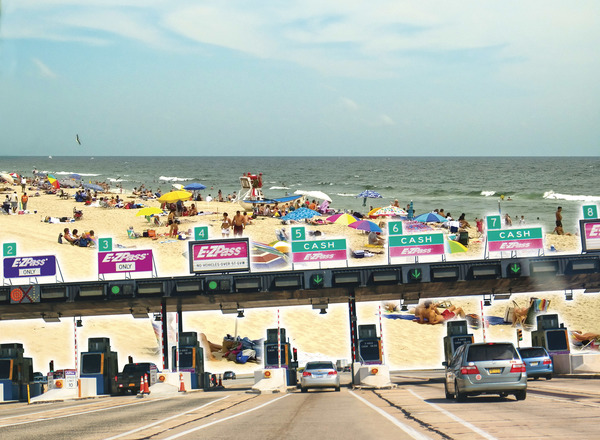 AVALON
ICE CREAM at Sundaes Best
With two locations in town, highly addictive flavors like Avalon Mud and Peanut Butter Ripple are never too far out of our reach. But sometimes a simple black and white milkshake is all you need to close out a perfect summer's day.
BREAKFAST SANDWICH at Isabel's Bakery and Café
Still ordering pork roll, egg and cheese on a bagel? Then it might be time you graduate to the Pesto Manifesto at Isabel's. Scrambled eggs, provolone cheese and tomato are folded into a light, airy croissant that's been dressed with a pesto mayonnaise.
FISH SANDWICHES at Sylvester's Fish Market & Restaurant
We fall hook, line and sinker for the blackened mahi mahi with chipotle sauce and there will forever be a special place in our heart for the fried flounder with lettuce, tomato and a healthy dose of Klechner's tartar sauce.
CHICKEN WINGS at Vozzella's
This offshoot of Circle Pizza located in the "Garden of Eat'n" known for its wood-fired brick oven specialty pies also cooks up some seriously tantalizing oven-roasted wings topped with pickled red onions, sharp cheese and drizzles of EVOO.
JELLY DOUGHNUTS at Kohler's Bakery
The crowds line up bright and early at Kohler's for the sinfully sweet cream doughnuts, no doubt. But we've long had a love affair with their jelly variety dusted in cinnamon sugar and oozing either strawberry or raspberry filling.
FOR DINNER
POLPO
The reservation book here fills up fast as eager diners hope to be able to sink their teeth into the fresh pasta, perfectly cooked risottos or the delightful seafood options.
CAFÉ LOREN
A mainstay in town for decades, this inviting eatery has not only stood the test of time, it's gotten better with age by putting out sophisticated dishes embody fine dining at the Shore.
IL POSTO
Everything from the mushroom ravioli with sage and brown butter cream to the eponymous veal with lobster, asparagus and truffle cream is created with deft technique and plated to perfection.
SUMMER SALT
This pop-up injected new life into Avalon's dining scene last summer and this year it will find a permanent home (complete with a small marketplace) on the Boardwalk where its farm-to-table menu will continue to shine.
THE DIVING HORSE
Seafood is often the star of the show here and the rotating menu means the chefs are always finding new ways to incorporate locally-sourced ingredients into their next creation.
BY THE BAR
The throwback vibe of the Motorboat Club at The Whitebrier makes it the perfect place to sip a signature lemon drop martini or a glass of white wine. Over at the Sandbar Village, you can lounge on the beach while catching some live music (don't miss Sunday's reggae entertainment). The Windrift offers several options and views for you to grab a drink before dinner. Craft beer lovers will enjoy Avalon Brew Pub's selection of in-house beers and rotating guest offerings. And it goes without saying that many nights start elsewhere but end up at The Princeton, where the lively atmosphere attracts young and old alike.
MARGATE/VENTNOR
ICE CREAM at Custard's Last Stand
We can never decide between two scoops of ice cream in a cone that is cloaked with jimmies or the sandwich with soft serve wedged between two chocolate cookies. Then there's the waffle sundae or the "blaster." Luckily, we have all summer to decide.
SANDWICHES at Waterdog's Smokehouse
You'll find everything here from the familiar (think corned beef special or B.L.T.) to the downright mind-blowing. We're talking grilled scallops on a long brioche roll with tarragon aioli or the pastrami burnt ends with barbecue sauce and crunchy raw onion.
PIZZA at Saltwater
Known for its pillowy gnocchi, Saltwater also makes some of the best pizza we've had at the Shore or otherwise. Our advice is to order a few for the table, but be sure to include the superb marinara and the divine white pie with mushrooms and fresh rosemary.
SALADS at Downbeach Deli and Restaurant
Not all meals down the Shore are about cheating on your diet, which is why we love the substantial salads like the spinach with egg, mushrooms, scallions and bacon whenever our body needs a break from overindulgence.
BREAKFAST at Hannah G's
Early risers know this is the place to be for the most important meal of the day. With more than a dozen omelets, a handful of sandwiches and plenty of pancakes, eggs and French toast to go around, there's something for everyone in the crew.
BAKED GOODS at No. 7311
You can taste the love put into each one of the small-batch treats, from the muffins and cookies to the sweet and savory pies. Did we mention the impossibly irresistible scones?
FOR DINNER
TOMATOES
The mix of New American cuisine and stellar sushi offerings have long made this a popular choice with discerning diners and the solid takes on standard cocktails make it the kind of place to linger after dinner.
SOFIA
This elevated Mediterranean restaurant makes you feel like you've been transported to the Greek isles as you feast on lollipop lamb chops, baked moussaka or the fire-grilled whole branzino.
STELLA
Contemporary comfort food like braised short rib with mashed potatoes or shrimp with polenta make the menu here both highly appealing and approachable.
BY THE BAR
The slick bar area at Johnny's Café is the perfect place to sip a glass of champagne before dinner or grab one of the Shore's best Bloody Mary's during the day. The rooftop deck is the place to be at Ventura's Greenhouse as you slurp down a frozen rum runner or banana daquiri. Memories is entering its 49th year this season and you can expect Jerry "The Geator" Blavat will have the dance floor packed all summer long. Speaking of music, Maynard's Café features live acts in the early evening before the DJ takes over in prime time.
SEA ISLE CITY
ICE CREAM at Nana and Poppy's Ice Cream Parlor
The flavors always satisfy here, especially when featured in one of the numerous sundae offerings like the Butterscotch Breakfast or one of "Nana's specialties" like the one that features a fresh-made Belgian waffle and your choice of fruit topping.
PIZZA at DeNunzio's Brick Oven Pizza and Grille
The perfectly blistered pies here range from the traditional to more adventurous options like The Ghost Face Peppa Pizza—a red pie with mozzarella, ricotta, pepperoni and smoked ghost chili pepper flakes—or the chef inspired pizza of the day.
STEAMED CLAMS at Mike's Seafood
A visit to Mike's is an annual rite of passage each summer and nothing kicks off the meal quite like an order of their meaty steamed clams in a housemade butter, garlic and white wine sauce.
SPECIALTY HOAGIES at Giovanni's Deli
Forget the run of the mill hoagies you'll find at most places down the Shore, this place is the real deal. The sopressata with sharp provolone and roasted peppers stuffed into a crusty seeded loaf is certainly a winner, as is the turkey with ripe Jersey tomatoes, fresh mozzarella and basil.
BURGERS AND FRIES at Drifters Feel Good Food
Drifters' sliders (we recommend the bacon jalapeño ranch) make for a wonderful midday bite with the family or a late-night snack after painting the town. And the hand-cut fries come several ways, including tossed with garlic butter and parmesan or shrouded in brown gravy with mozzarella.
PASTRIES at Maryann's Pastry Shoppe
Head over to this Sea Isle pastry palace and fill up a box with airy blueberry and cheese croissants, strawberry crumb Danish, apple turnovers, chocolate iced crumb buns and the showstopping gooey butter cake.
FOR DINNER
BEACHWOOD AT THE DUNES
Chef Lucas Manteca brings his James Beard nominated credentials to this kitchen that creates masterful dishes like the pappardelle with braised short ribs and a San Marzano ragout or the fan favorite Maine lobster roll with a piquant tarragon mayo.
LA FINESTRA
Here you'll find a menu full of rustic-yet-refined Italian plates like crispy polenta with mushrooms and gorgonzola cream along with main courses like linguine fra diavolo and the unforgettable risotto with spinach, cherry tomatoes, crabmeat and pesto.
ANDREA'S TRATTORIA ITALIANA II
This sister restaurant to the Cape May location of the same name proves that not all sequels are let downs. Start with the lightly dusted calamari before moving on to squid ink linguine with shrimp and hot sausage. Just make sure to pace yourself and save room for dessert.
LA FONTANA COAST
The pastas and other Italian specialties are all wonderful, but we can't rave enough about the veal Milanese or the grilled langostinos dressed simply with the undefeated combination of lemon and extra virgin olive oil.
BY THE BAR
With wonderful views and an array of frozen drinks, specialty cocktails and wine by the glass, Henri's Bar is a great place to gather with a group. With six different bars (including the take-out truck) and plenty of live entertainment to keep the party going, Kix is all about the good vibes. Our parents partied at LaCosta Lounge and so have we; this summer will be its last before the site is redeveloped so let's send it off on a good note. The Dead Dog Saloon has two stories, an 82-inch big screen and live music so there's never a dull moment.
STONE HARBOR
WRAPS at Green Cuisine
So often, wraps are an afterthought with little imagination. Thankfully, this health-conscious spot believes in taking things up a notch with their smoked salmon and cucumber offering or the turkey and brie with roasted peppers and balsamic.
CRAB CAKES at Back Bay Seafood
Back Bay is proof that you don't need to be in Maryland to find a proper crab cake. Boiled or fried, these jumbo lump cakes are delicate and meaty without any of that unnecessary filler.
FISH TACOS at Quahog's Seafood Shack
The sweetness of a corn salsa pairs wonderfully with the creaminess of guacamole on these crispy haddock tacos where pickled red onion and soft queso fresco add further dimensions of flavor.
RAW BAR at Water Star Grille
Is there anything better than taking in the view of the Shore while chowing down on fresh seafood? Choose from shrimp cocktail, chilled lobster, yellowfin ceviche or pearl oysters on the half shell. Or do like us and order the tower that comes with everything plus crab legs for good measure.
PANINIS at Stone Harbor Panini Company
Even non-vegetarians will appreciate the grilled zucchini, eggplant, roasted peppers, sautéed mushrooms, fontina and basil pesto found in the New Jersey Fresh, but it's hard to resist the black angus roast beef with fontina, caramelized onions, roasted peppers and horseradish cream for that extra kick.
CREPES at Crespella Gourmet Crêperie
The menu at this former mobile creperie changes with the seasons, but as they say the possibilities are "endless" when it comes to their sweet and savory options. We absolutely adore the sweet French toast style breakfast crepes like the lemon butter and sugar layered with whipped cream cheese.
BREAKFAST BAGEL SANDWICHES at Café Noir
This cozy spot sources its bagels straight from Brooklyn and then fills them with them with usual suspects, but you'll also find more unique choices like pastrami, egg and cheese and the Mediterranean with feta, cucumber, tomato and olive oil.
BURGERS at Harbor Burger Bar
The juicy, flavorful burgers at this hotspot come piled high with everything from scratch-made mac and cheese with bacon or sautéed onions, mushrooms and a truffle blue cheese aioli. And purists need not to worry, the classic burger is just as rewarding.
FOR DINNER
JAY'S ON THIRD
Jay's bills itself as a "contemporary cool" restaurant and its every bit of that. The mostly locally sourced menu changes frequently, but it always reflects a modern spin on cuisine that shows fine dining doesn't need to be fussy to be upper echelon.
SPIAGGETTA
The dishes at this restaurant pay homage to the storied tradition of Italian cooking that has been passed down from generation to generation, from the slow-cooked Bolognese and eggplant rolatini to the veal saltimbocca and mouthwatering cacio e pepe.
SAX AT THE REEDS
The breakfast menu is certainly solid, but Sax really stands out during dinner service when guests will find a simple yet sophisticated menu that hits all the right notes. And when it comes time to wet your whistle, the signature cocktail list reads like the track list of a greatest hits record.
BY THE BAR
As you would imagine, margaritas rule the day at Buckets Margarita Bar & Cantina and come in refreshingly lite combinations like hibiscus and lime or cucumber and mint. The Watering Hull serves up plenty of local craft brews, but if liquor is more your thing you'll find lots of attractive drinks like Gary's Day Off—a mix of Tanqueray, wildflower honey water, lavender bitters and fresh squeezed lemon juice.
WILDWOOD
APPETIZERS at MudHen Brewing Co.
We appreciate that this place recognizes that quality bar bites can extend beyond just wings and nachos (though, they are delicious too) and can include street corn with cajun queso fresco or barbecue roast pork dip with roasted corn and cheddar cheese served with homemade chips and crostini.
BUNS at Barry's Buns
From the traditional (raisins, walnuts or iced with cream cheese) to the scintillating (apple crumb or strawberry cheesecake babka), these decadent sweet treats will always have a place at our table.
BARBECUE at Surfing Pig
At 4 p.m. each day, this is the place to be to sample wood pit barbecue at its finest. Get ready to feast on succulent smoked prime rib, beef brisket, St. Louis-style ribs, pulled pork and the flavorsome burnt ends.
PIZZA at Poppi's Brick Oven Pizza & Kitchen
There's not a bad pizza on the menu at Poppi's, but allow us to suggest the salsiccia e cipolla made with homemade fresh mozzarella, parmesan, sliced sweet sausage, onions, creamy burrata and drizzles of EVOO.
BREAKFAST at Sunz Up Café
We gladly wake up early to snag a table here to order a custom omelette, the delightful eggs Florentine or the always filling huevos rancheros with two over easy eggs, sautéed beans and jalapeño and cheddar jack cheeses served over corn tortillas with a side of potatoes.
FISH TACOS at Hooked Up Seafood
If the fish here taste like they were just plucked from the sea, it's because they were. The ultra-fresh tacos come with your choice of fried cod or the fish of the day and are dressed with a citrusy pineapple and mango salsa, lime slaw and a tangy chipotle aioli.
SMALL PLATES at Trio
The team behind the now-shuttered Kitchen 330 in Stone Harbor have moved over to North Wildwood and the island thanks them for it. The dazzling lineup of small plates includes the Irish stout mussels with cheddar scones, oyster po-boy sliders, an expertly made terrine and the pork belly and caramelized onion flatbread.
FOR DINNER
ONE FISH, TWO FISH
Now at a new location, this restaurant more than doubled its seating capacity, which means even more diners can sample standout plates like the lobster arancini or grilled pork chop with stone ground mustard jus and preserved mushrooms.
SANTORINI
This Mediterranean BYOB has some real headliners like the grilled octopus with a lemon pesto sauce and the spaghetti blended with scallops, crab and asparagus in a saffron-infused lemon sauce.
THE WHARF
For more than three decades diners have flocked to The Wharf for food that consistently delivers. The shrimp scampi is just one example, but don't overlook the prime steak cuts or the seared cod with a Malaysian chili sauce served with garlic mashed potatoes.
BY THE BAR
The daily happy hour from 4-7 p.m. at North End American Grill is fantastic with drink specials, $1 oysters and popular appetizers like the cheesesteak dumplings and Buffalo fries. The Star Beach Bar puts you right on the sand as you imbibe on a Dark and Stormy, frozen daquiri or perhaps a glass of sangria. Our editor met his wife at Keenan's Irish Pub (true story) and it remains an institution in North Wildwood known for its loud and lively atmosphere. With a picturesque setting along the waterfront deck, Beach Creek Oyster Bar & Grill is a romantic spot to sip well-made tiki drinks or maybe one of the amazing dessert martinis with a loved one.
WHAT'S NEW AT THE SHORE
AVALON
New businesses in town include fashion boutique Here Comes the Sun and a location for Vineyard Vines at the old Kudos Restaurant space at 2619 Dune Drive. Meanwhile, Philadelphia-based women's activewear company Addison Bay is opening its first brick and mortar location in town on Dune Drive. Meanwhile Meanwhile City Hydration will offer visitors customized IV infusions for those looking to replenish the body.
While events like Tuesday movies on the beach and Live at Surfside on Friday evenings will be returning this year, one new educational event will be the Beachside Science at Surfside Park on select evenings at 6 p.m. The events will take place on June 16, July 21 and Sept. 15 and are presented by The Wetlands Institute and sponsored by the Avalon Environmental Commission.
The Avalon Seafood Festival will take place this Oct. 9 and 10 at 30th Street and the beach.
CAPE MAY
Lobster lovers will not want to miss the newest restaurant on Beach Avenue near Convention Hall. La La Lobster, which also has locations in Princeton and Yardley, Pennsylvania, features everything lobster, including rolls, mac and cheese, tacos and bisque.
Also to be found on the promenade is Primal Restaurant, an open-fire steakhouse from acclaimed chef Mia Chiarella, a former contestant on The Taste.
The Hugh Boutique Bed and Breakfast on Washington Street has brought in chef Michael Schultz, a Cape May native, to run its new restaurant, Jardin. The French-inspired, prix fixe menu will change with the seasons and reflect Schultz's passion for environmentalism and locally sourced ingredients.
George's Place has added its second Cape May location in Washington Commons, featuring the same favorites from its original menu for breakfast, lunch and dinner.
Cape May Snaps, located in Washington Commons, takes its customers' favorite smartphone photos and turns them into personalized displays using tiles, metals, slates and sandstone coasters. The retail shop also showcases photography, oil and acrylic paintings and more from local artists.
Revolution Rail Cape May offers guests an opportunity to go railbiking on a 4-mile stretch of railroad tracks alongside the Garrett Family Preserve. This scenic trip winds through expansive wildflower meadows and includes stunning views of flora, migrating songbirds, monarch butterflies and more.
LONG BEACH ISLAND
Iron Oak Smokehouse and Hawaiian Macadamia Nut Company have opened their doors at Schooner's Wharf in Beach Haven.
Topsail Steamer, a takeout/delivery seafood steam pot company, has set up shop in Ship Bottom. The company already had a location in Ocean City.
In addition to updating menus for its food offerings, Fantasy Island Amusement Park in Beach Haven is rolling out three new rides and an upgraded arcade.
Since opening its doors last June, Barnegat's Sun Harbor Seafood & Grill has become known as a destination for dockside dining and festive entertainment.
LBI's beloved The Chicken or the Egg is opening a second location … in Marlton. The new restaurant will make a closer-to-home companion to the original in Beach Haven.
MARGATE
The Margate Catch the Wave Cornhole Summer League begins on July 12, with games played on Monday nights from 6 to 9 p.m. at host sponsors Ventura's Greenhouse, Robert's Place, Bocca Coal Fired Bistro and Maynard's Café. Major tournaments will be played at Beachstock on June 26 and Margate Fall Funfest By the Bay on Sept. 25 and 26.
Other new events this year include Greenie Unplugged: Tides, Tunes & Togetherness from 7 to 9:30 p.m. behind Ventura's Greenhouse. The free, family-friendly acoustic entertainment will take place every Wednesday from July 7 through Aug. 25. On July 23, the MBA Annual Wine Tasting will take place from 6 to 9:30 p.m. at a new outdoor location at Edgemar Circle Recreation Field, part of the Jerome Avenue Complex.
Ray Scott's Dock Cruisin' Tiki comes to Margate, offering morning, afternoon and sunset daily cruises that hold six people. The cruises are BYOB, dog-friendly and the boat is Bluetooth enabled so guests can play their own music.
The outdoor bar and dining at The Lot at Tomatoes has expanded space, a larger menu and this summer the restaurant will partner with Sabrina's Café to host "boozy brunch weekends."
Steve & Cookie's has repaved its newly designed outdoor dining space and now has new tenting complete with chandeliers and open-air courtyard options. The outdoor space will also have a new bar area and special food menus.
OCEAN CITY
There's plenty of food news in town this summer. Churnhouse Ice Cream and Cereal Bar on Asbury Avenue will serve cereal-infused ice cream. ANEU Kitchen, Juicery & Market is now open on West Avenue offering takeout, delivery and catering. Peace of Wood, a community space where local artists sell handmade items, expanded into a new location on West Avenue. Playa Bowls has a second storefront in town located on the Boardwalk. Baked by the Ocean on Asbury Avenue is the latest spot for custom cakes and desserts, family dinners to go, breakfast sandwiches and more.
After a fire, Castaway Cove is reopened for rides while its arcade area will be rebuilt this fall.
Article continues below
---
advertisement


---
Former Jersey Shore cast member Sammi Giancola opened Sweetheart Coast on the Boardwalk, featuring clothing, accessories and home décor.
Find new and refurbished bikes at Beach Bike Warehouse on Asbury Avenue in the former Flying Carp Clothing space.
In addition to locations in Doylestown and King of Prussia, Pennsylvania, Payton Jewelry is now open on the Boardwalk, offering its owner's handmade accessories.
Reservations are now available at Impala Suites, Ocean City's first new hotel in two decades. The modern, boutique-style resort includes luxury accommodations, pool and panoramic views of the skyline.
After a hiatus, the popular Night in Venice will return on July 24 with the theme "Honoring Our Heroes" as a salute to those who got us through the pandemic.
SEA ISLE CITY
The Point at Sea Isle City will be opened at the site of the Springfield Inn which was demolished. It will feature an island-themed outdoor bar and restaurant modeled after a similar project, also called The Point, in Somers Point.
LaCosta's Coast Motel has closed, is being remodeled and rebranded as The Ludlum Hotel, which plans to open this summer. The outside bar will be located at the former LaCosta Motel location at Landis Avenue and JFK Boulevard. The owners are also adding Shorebreak Café at the complex, which will have coffee and baked goods.
New food options in town include Top Sail Steamer is new and serving take out, steam and eat "seafood pots" that are cooked at home in the Southern Boil Style. The restaurant is located at 4209 Landis Ave. Duck Donuts is opening at 42nd and Landis Ave. Also opening up on Landis Avenue will be Flip Flop Ice Cream. Hot Dog Tommy's and Chank's Grab-and-Go have arrived on the Promenade, along with Juice Pod and Zio Niccolo Pizza.
The Point, a tiki bar with a sister location in Somers Point, has opened on the corner of Pleasure Avenue and 43rd Street.
Beach Brew, an iced coffee cart, will be found on the beach this summer serving up cold brews and espresso (but no hot coffee).
New clothing retailers in town include Tortuga Men's Shop and Minnows SIC, a baby clothing shop.
STONE HARBOR
Philadelphia-based Anthropologie, the popular apparel and home goods store is operating a summer pop-up shop at The Reeds at Shelter Haven through Labor Day.
Salty Paws is a unique ice cream bar and bakery solely for dogs. The shop on 96th Street serves lactose-free flavors like banana, peanut butter with toppings that include dehydrated sweet potato.
The borough is currently building three paddle tennis courts at the 96th Street recreation facility, which will be ready by early July. As a result, Stone Harbor will have the only paddle tennis courts in Cape May County.
WILDWOOD
Curran's Irish Inn is located in North Wildwood at the former home of The Establishment restaurant. The menu includes traditional Irish dishes like shepherd's pie and other pub favorites.
New food options on the island feature Five Girls Sandwich Shop, Five Mile Grind serving coffee and ice cream and Hatillo's Drive-In Restaurant. The drive-in, eat-in restaurant offers authentic Puerto Rican food. Nan and Pop's Kitchen brings family dining to Wildwood Avenue.
Orange Moose Golf Carts is a new spot in town offering eco-friendly golf car rentals. Sun Rey's Beach Rentals also rents out four- and six-seat golf carts along with other accessories.
2021 BEST OF THE SHORE READERS' CHOICE
AMUSEMENT RIDES
Castaway Cove, Ocean City
BEACHES
Avalon
BEACH SERVICES
The Grand Hotel, Cape May
BOARDWALK
Ocean City
MINI GOLF
Congo Falls, Margate and Ocean City
SHOPPING DISTRICT
Asbury Avenue, Ocean City
SURF SHOP
7th Street Surf Shop, Ocean City
WATERPARK
Raging Waters, Wildwood
APPETIZERS
Concord Café, Avalon
BAR SCENE
Sea Isle City
BREAKFAST
Fishin' Pier Grille, Avalon
BYOB
Black Eyed Susans, LBI
COFFEE
Ocean City Coffee Company, Ocean City
DOUGHNUTS
Brown's Restaurant, Ocean City
FRENCH FRIES
Jilly's French Fry Factory, Ocean City
FUDGE
Fudge Kitchen, Cape May, Wildwood, Stone Harbor and Ocean City
ICE CREAM
Skipper Dipper, Long Beach Island
ITALIAN
Ristorante Luciano, Stone Harbor
PIZZA
Manco and Manco, Ocean City
ROMANTIC DINING
Peter Shields Inn, Cape May
SEAFOOD
Capt'n Chucky's Crab Cake Co., Avalon
WATERVIEW DINING
Deauville Inn, Strathmere
Click here to subscribe to the free digital editions of South Jersey Magazine.
To read the digital edition of South Jersey Magazine, click here.
Published and copyrighted in South Jersey Magazine, Volume 18, Issue 6 (June 2021)
For more info on South Jersey Magazine, click here.
To subscribe to South Jersey Magazine, click here.
To advertise in South Jersey Magazine, click here.
Author:
By Matt Cosentino, Bill Donahue, Liz Hunter and Peter Proko
Archives
---
Who's Who in Health Care
Former Shawnee star Doolittle Calls It A Career
Camden County College welcomes Baseball Hall of Fame
South Jersey Football Games of the Week
Out & About
QB Ronnie Borden is Back in the Game
Should fans be worried for the Phillies bullpen?
South Jersey Football Games of the Week
A look at South Jersey's Top H.S. Girls' Soccer Teams
Out & About
Eagles will be fine after close call in opener
High School Football Games of the Week
Is it Super Bowl or bust for the Eagles?
What's New in South Jersey?
From New Jersey to Nashville
More...