Another distinguished award for Rowan baseball program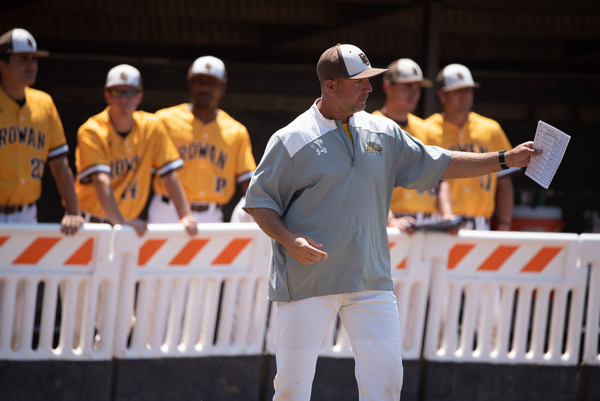 The season has been over for more than a month, but the honors keep rolling in for Rowan University's baseball team.
Veteran coach Mike Dickson, a graduate of Gloucester Catholic, was recently named the American Baseball Coaches Association (ABAC)/ATEC NCAA Division III Mid-Atlantic Region Coach of the year. Having just completed his seventh season at Rowan, Dickson has won this award for the first time.
The ABCA/ATEC Coaches of the year are selected in all nine divisions, eight in college and one in high school.
The college divisions selected are NCAA Divisions I, II and III, NAIA National Junior College Association Divisions I, II and III and Pacific Association Division.
In Division III, Dickson was among eight regional winners. The national Division III coach of the year was Troy Brohawn of Salisbury, Maryland. Salisbury won the NCAA Division III national championship.
This season Rowan went 29-6 and finished the season ranked No. 7 nationally in the D3Baseball.com poll.
Dickson guided the Profs to an NCAA Marietta Regional championship, earning their first NCAA Division III World Series berth since 2005.
Rowan was eliminated in two games during the World Series, which was played in Cedar Rapids, Iowa.
The Profs lost their opener, 6-0 to Wheaton, Massachusetts and then were eliminated with a 4-2 loss to SUNY Cortland on June 5.
This was the fourth time in his seven seasons that Dickson has guided the Profs into the NCAA Regionals.
This year Rowan won its second New Jersey Athletic Conference (NJAC) championship under Dickson and the 17th in program history.
Dickson also received the NJAC Coach of the Year award.
During his seven seasons, Dickson is exactly 100 games over .500 - 180-80.
He came to Rowan after nine seasons at Rowan College at Gloucester County (formerly Gloucester County College).
Dickson and all the national and regional coaches of the year will be honored on Jan 7 prior to the start of clinics at the 78th annual ABCA Convention, which will be held Jan. 6-9 in Chicago.
Right after that clinic, the regular season won't be too far off. With a solid nucleus returning, Rowan is expected to be a contender in the NJAC and if a team is able to win that conference, it can play with the top teams nationally.
Dickson is having the same type of success as a coach that he enjoyed as a player at Rowan. He played for the Profs from 1997-2000. He earned numerous awards, including a three-time first-team all-NJAC choice. In 1999 he was NJAC player of the year and a second-team ABCA all-American.
He was inducted into the Rowan University Athletic Hall of Fame in 2018.
Article continues below
---
advertisement


---
Author:
Marc Narducci
Archives
---
Phillies' Realmuto is heating up
SJ pitcher is 37th pick in MLB draft
Mainland grad fully enjoys MLB draft
Millville's Kenndy moving up the minor league ladder
Phillies not in a bad position at the All-Star break
Memorable season for Bishop Eustace baseball
TOP DENTISTS 2021
Help Wanted
A TALE OF THREE WEDDINGS
Who's Who in Health Care
Two South Jersey pitchers headed for potential first-day selections in MLB draft
Colleges After COVID
Family Fun Outdoor Movies Events Near You
South Jersey 4th of July Shore events guide
South Jersey 4th of July events guide
More...