Will a Lack of Preseason Action Hinder Eagles QB Jalen Hurts?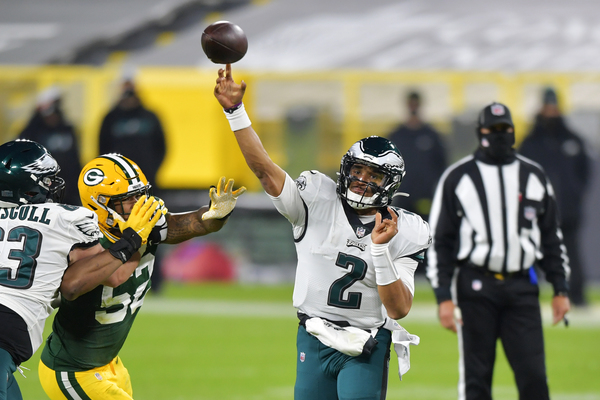 The Eagles have ended their preseason, and first-year coach Nick Siranni, with likely help from GM Howie Roseman and owner Jeffrey Lurie, decided not to play his regulars very much.
There has been a mini uproar that Jalen Hurts only played 10 snaps in the preseason.
They all came in the first preseason game. Prior to the second, he was sent to the hospital with a stomach ailment.
The team decided not to play him in the third.
It's common in the NFL for starters to play little if not at all in the preseason.
The Eagles will open Sept. 12 at Atlanta and Falcons quarterback Matt Ryan didn't take a single snap in preseason.
Then again, Ryan is 36-year-old and is entering his 14th season. He has appeared in 205 regular season games, all starts and has only missed three in that time.
So Ryan should be ready, but don't be surprised if he is a little rusty.
There is likely no outrage in Atlanta about Ryan sitting out the preseason, but there is an argument that Hurts needs all the reps he can get.
He started the final four games last year (with the Eagles going 1-3) and that was important for his development.
It says here that more preseason action would have been beneficial for Hurts, but what if he did get injured?
The Eagles held joint practices with New England and the New York Jets before their preseason games with both teams, and Sirianni indicated that Hurts got in plenty of work in those games.
That could be true, but there is nothing like real action. The quarterback is off limits to the defense in those controlled scrimmages and of course in any practice. There is no red jersey for a quarterback in the preseason. He is fair game for the defense.
There have been examples of teams having success playing stars in preseason and not playing them. Los Angeles Rams coach Sean McVay doesn't use his regulars in the preseason. Even with a new quarterback, Matthew Stafford, McVay decided the risk of injury wasn't worth it.
Then there are the two teams that met in last season's Super Tampa Bay and Kansas City. They both used regulars even in the third preseason game. Tom Brady led Tampa Bay to a couple of 90-plus yard drives in the final preseason game.
Brady is 44 and winner of seven Super Bowls, but coach Bruce Arians felt the need to get his quarterback and many of his key players some extra work.
One thing is for sure – when the Eagle open in Atlanta, both teams will have quarterbacks who may have to shake off the rust.
If the Eagles don't fare well, the preseason strategy concerning Hurts will be questioned even more. If he does play well, then at least we can stop talking about the preseason at that point.
PHOTO COURTESY: PHILADLEPHIA EAGLES
Article continues below
---
advertisement


---
Author:
Marc Narducci
Archives
---
Colonial Liberty is highly competitive in South Jersey Girls' Soccer
South Jersey Football Games of the Week
Still way too early for Eagles conclusions
Sixers and Ben Simmons have plenty of training camp intrigue
South Jersey Coronavirus (COVID-19) Developments (September 16)
Best of Home and Garden
Top Physicians 2021
Back to School
Former Ocean City standout Delaney Lappin making her mark at Drexel
South Jersey Coronavirus (COVID-19) Developments (September 13)
South Jersey Football Games of the Week
Eagles Enter a Season with Justified Optimism
Despite opening loss, Burlington City football showing true grit
Wayne's Way
South Jersey football Games of the Week
More...