Another strong season for Olympic American Girls' Soccer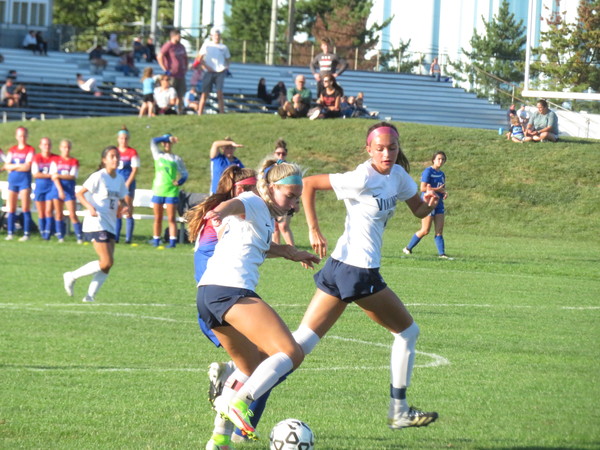 The Olympic Conference American Division provides some of the top competition for virtually every sport and girls' soccer is no exception.
Many of these schools have to play each other twice in the regular season and some will likely meet a third time in the SJ Group 4 playoffs.
Entering the week, Eastern was 10-0 overall and the only team undefeated in American Division play with a 7-0 mark. Cherokee and Washington Township were both 3-2-1 in division play, while Shawnee was 3-3, Lenape 2-4 and Cherry Hill East 0-6.
Teams like Cherokee, Washington Township and Shawnee could likely win many divisions in South Jersey.
What Eastern has done is nothing short of amazing. The Vikings went 15-0 last season and were the consensus No. 1 team in the state, but they suffered so many injuries and yet the winning has continued.
Eastern has lost four players to ACL injuries, including three captains.
Senior Cami Silvestro has been the main offensive force with eight goals and four assists in the first 10 games.
Silvestro, a West Point commit, has been a midfielder for much of her career but coach Jamie McGroarty has also used her on the front line this season to give the offense some punch.
Senior Carly Schulman is second on the team with six goals.
Eastern has been getting contributions from a variety of players. The Vikings have been able to win the close games, going 6-0 in one-goal games, including a recent 3-2 victory over Shawnee when Silvestro scored the game winner.
To show how difficult the American Division is, Shawnee has now lost twice to Eastern, both by a goal. The Renegades opened their season with 2-1 loss to Eastern.
Shawnee's other division loss was a 3-2 defeat to Washington Township.
So nobody should relish playing the Renegades in the SJ Group 4 playoffs.
Senior Nikki Dedes has led the offense with six goals and three assists.
In the American nothing is a given.
While Shawnee has defeated Washington Township, Cherokee tied the Minutemaids, 1-1 but then lost to Shawnee, 3-0.
Cherokee is yet another of the teams that lost a close one to Eastern, falling 1-0 to the Vikings.
Washington Township, which beat Shawnee, 3-2, has only had one sort of lopsided score, falling to Eastern, 5-2.
The Minutemaids have been a scoring-by-committee team, with nobody totaling more than three goals, but on any day Township can give American Division teams or others fits.
Lenape, with just two division wins has also been competitive. The resume includes a win over Washington Township and one-goal losses to Shawnee and Cherokee.
One thing is for sure, five of the six American Division teams all have the ability to win at least a first round playoff game.
Article continues below
---
advertisement


---
Author:
Marc Narducci
Archives
---
Dick Allen a glaring omission in recent Hall of Fame vote
The Long Journey in a High School Football Season
Four South Jersey Regional Football Champions
High School Football Regional Championship preview
There is still a place for Thanksgiving football
Eagles soap opera continues
Observations of the South Jersey Football Teams in championship play
South Jersey Thanksgiving Games of the Week
Eagles running their way to the playoffs?
High School Football Games of the Week
Impressions of the South Jersey football playoffs
Eagles look to continue momentum after their best win of the season
Their Time to Shine
Braves success has to sting Phillies
Highlights of the opening week of South Jersey H.S. football playoffs
More Articles