Impressions of the South Jersey football playoffs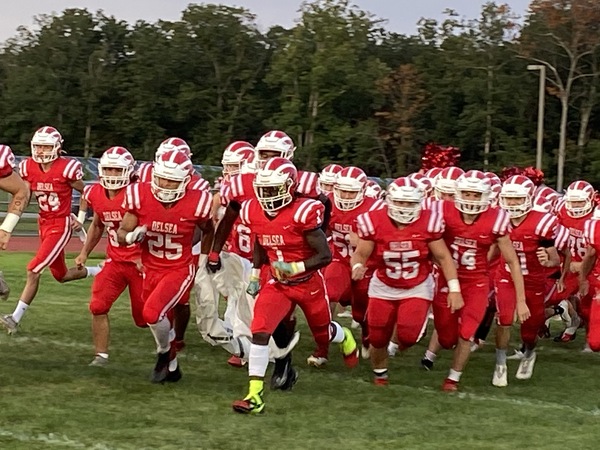 There will be nine championship football games featuring at least one team from the seven-county South Jersey area this weekend. Here are some impressions as championship weekend takes place.
Top seeds coming through. Being the top seed hasn't been a guarantee that a team will earn a sectional football championship, or even reach the title game.
Yet, it sure helps.
This weekend there will be nine sectional finals involving public school teams from the seven-county South Jersey area.
Of those nine games, eight of them involve the No. 1 seed. The only exception is South Jersey Group 5, where top seeded Washington Township lost 24-21 in overtime to Lenape in the first round.
Lenape then proved that it belonged in the postseason by battling No. 4 Kingsway to the limit before losing on Friday, 20-17.
Not only has the No. 1 seed prospered, but so has the No. 2 seed. Of the nine aforementioned championship games, five feature the No. 1 seed against the No. 2 seed.
Those five are SJ Group 5 (No. 2 Ocean City at No. 1 Millville); CJ Group 3 (No. 2 Woodrow Wilson at No. 1 Rumson-Fair Haven); SJ Group 2 (No. 2 Willingboro at No. 1 Point Pleasant Boro); Central Jersey Group 1 (No. 2 Salem at No. 1 Paulsboro) and Central Jersey Group 4 (No. 2 Shawnee at No. 1 Winslow Township).
Best championship game: How about Ocean City (11-0) at Millville (9-1) in Friday's SJ Group 4 final.
Ocean City has been criticized for having a suspect schedule, but the Red Raiders have crushed everybody. Their closest win was a 31-17 victory over Williamstown.
Millville is led by running back LeQuint Allen, who has rushed for 1,407 yards and 18 touchdowns. The Thunderbolts have averaged 54 points in playoff wins over Toms River South and Pennsauken.
How about another game of the week? You can't go wrong with the SJ Group 3 final between (3) Delsea (11-0) at (1) Cedar Creek (11-0) Saturday at noon. Delsea is among the top running teams in South Jersey. Cedar Creek has a more balanced attack, having thrown for 2,563 yards and run for 1,711. Senior JoJo Bermudez of Cedar Creek is among the more exciting players in South Jersey. He has 65 receptions for more than 1,200 yards and 10 touchdowns. Delsea has two 1,000 yard rushers, senior Jaden Stewart (1,183 yards, 17 touchdowns and junior Luke (1,022 yards, 14 touchdowns.
Hot hand. They don't come more sizzling than Woodrow Wilson senior quarterback Devin Kargman. Both Kargman and the Tigers barely broke a sweat in their two playoff wins, 52-0 over Triton and 34-7 against Manasquan. In those two games, Kargman among the top quarterbacks in the state, has completed 33 of 47 passes for 489 yards, five touchdowns and no interceptions. Wilson (7-2) should be challenged when the Tigers visit Rumson Fair-Haven (9-1) in Friday's Central Jersey Group 3 final.
Recent workhorse. There have been many great running backs in South Jersey and Paulsboro's Ameer Bateman is near the top of the list. Bateman has taken his game up in the postseason. In playoff wins over South Hunterdon and Gloucester, he has rushed for 395 yards and three touchdowns. In last week's 20-14 win over Gloucester, he had a career day – 42 carries for 235 yards and a touchdown. For the season he has rushed for 1,252 yards (6.9 avg.) and 10 touchdowns.
Article continues below
---
advertisement


---
Author:
Marc Narducci
Archives
---
Who's Who in Health Care
Crowd Pleaser
Can the Eagles Regain Their Winning Way?
A Bight Future Ahead for Glassboro Football
The Big Impact of Small Businesses
Eagles Need to Reset
Feeling Festive
Another dominating season for Delsea football
Mainland's Historic Football Season
A Rooting Interest
Eagles Continue to Fly High
Raising the Bar
Thanksgiving Football Continues
Hotstovers to honor All-SJ Baseball and new HOF inductees
South Jersey Football Games of the Week
More...