Harden's arrival has Sixers fans talking championship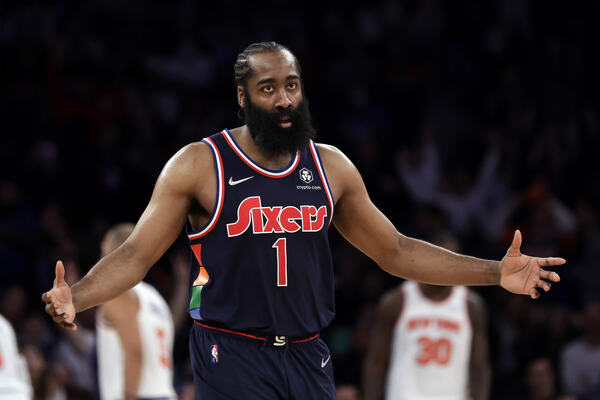 Is there anybody who has enjoyed a more anticipated debut than James Harden with the 76ers? And is there anybody who has exceeded the already high expectations in only two games?
Everywhere from Twitter, to the streets of Philadelphia and its surrounding areas including South Jersey, people are going crazy over the Sixers.
As we wrote two weeks ago, the Sixers had no chance to win an NBA title had they stood pat at the trade deadline.
While we shouldn't award them the Larry O'Brien Trophy just yet, any worries about Harden and the Sixers needing time to adapt to each other, have been unfounded. Now they should be one of the most feared teams.
During the first two road wins in Minnesota and Madison Square Garden against the New York Knicks, Harden averaged 27 points, 14.0 assists, 2.5 turnovers and 9.0 rebounds in 37.2 minutes.
Admit it, he looks in much better shape than the Harden we saw moping his way out of Brooklyn.
Again, that is in the past.
He looks like a player highly engaged with only one thing on his mind – winning and NBA title.
Not that he needed more help, but this should make Joel Embiid that much more dangerous because Harden demands double teams and Embiid will get more open looks.
In the first game together, a 133-102 win at Minnesota, Embiid scored 34 points and hit 11 of 13 foul shots.
That is important because Embiid and Harden are among the leaders in free throw attempts and both are above 80 percent free throw shooters.
That means the Sixers are going to score a lot of points at the foul line.
During Sunday's 125-109 win at New York, Embiid scored 37 points and was 23 for 27 from the foul line (Harden was 10-for-10).
Tyrese Maxey, without the burden of having to run the offense, is another player who will benefit greatly from Harden.
Maxey averaged 24.5 points in the first two wins.
Not only are the Sixers talented, but they are extremely fun to watch. Harden is getting everybody open shots and the Sixers are killers in transition.
It may take teams a while to adjust to the new Sixers.
While fans have visions of the Sixers first NBA title since 1983, opponents are sure to adjust to the Harden dynamic.
However, to beat the Sixers, one has to keep Harden and Embiid off the foul line.
Good luck with that.
One would imagine that the Sixers might see more zone defenses, something they struggled with before acquiring Harden. One thing to note, Harden even has the ability to drive to the basket against zone defenses, so we'll see if other teams employ this strategy.
The Sixers have the ability to certainly beat any team in the Eastern Conference in a playoff series, but there are teams that also will seriously challenge the Sixers, such as Miami and defending champion Milwaukee.
Who knows about Harden's former team the Brooklyn Nets, but if Kevin Durant returns soon as expected, and Kyrie Irving is eventually allowed to play in home games, that will be a dangerous team, regardless whether they get a contribution from ex-Sixer Ben Simmons.
Boston, a team that beat the Sixers by 48 points right before the All-Star break, could be an outside contender, but the Celtics have no answer for Embiid.
While Chicago has enjoyed a good season despite suffering some key injuries, it's hard to buy the Bulls being a title contender.
Still, the Eastern Conference is deep, much deeper than the West this year.
There will be plenty of challenges for the Sixers, but with Harden, they will be a handful for any team that meets them in the postseason as well.
Photo Courtesy: Philadelphia Sixers
Article continues below
---
advertisement


---
Author:
Marc Narducci
Archives
---
Who's Who in Health Care
Former Shawnee star Doolittle Calls It A Career
Camden County College welcomes Baseball Hall of Fame
South Jersey Football Games of the Week
Out & About
QB Ronnie Borden is Back in the Game
Should fans be worried for the Phillies bullpen?
South Jersey Football Games of the Week
A look at South Jersey's Top H.S. Girls' Soccer Teams
Out & About
Eagles will be fine after close call in opener
High School Football Games of the Week
Is it Super Bowl or bust for the Eagles?
What's New in South Jersey?
From New Jersey to Nashville
More...