A surprising departure for Jay Wright at Villanova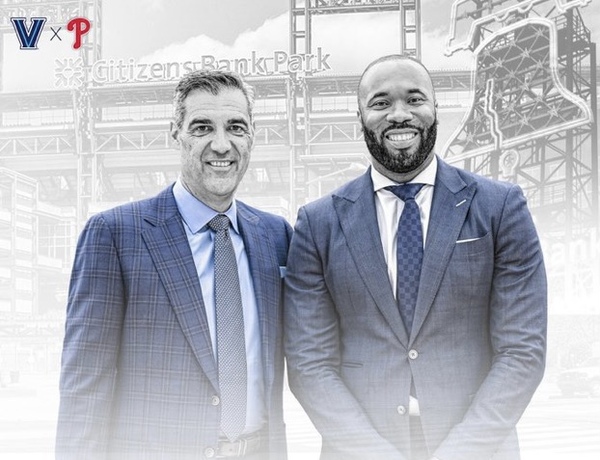 It was one of the most surprising developments when Jay Wright announced last week that he was retiring as Villanova's head basketball coach after 21 seasons.
What made the announcement so surprising is that Wright, 60, was still at the top of his game.
Many considered this year's berth in the Final Four one of his best coaching jobs and that is saying something for somebody who guided the Wildcats to NCAA championships in 2016 and 2018.
Yet Wright stated in a media conference that he felt he wasn't giving it his all, that he thought he was only giving about 70 percent.
While it was difficult to tell that given the results, Wright was totally honest and said he is done with coaching.
While there have been many coaches who have professed that they were finished only to come back, Wright sounds believable.
When the fire goes out, even if it is ever so slightly, it's difficult to return to what is a grueling lifestyle.
Sure, successful college coaches like Wright makes millions a year, but it's a 24-7 job, one that can't be turned off even during family gatherings, something Wright alluded to.
A college coach is always thinking about his or her team, the next game, the crazy recruiting cycle.
Wright's greatest strength was taking good teams and making them great. Developing talent.
Remember, Mikal Bridges? He redshirted his first year at Villanova.
Then he kept developing each year. In his first season, the championship year of 2016, Bridges averaged 6.4 points in 20.3 minutes. The next season he averaged 9.8 points in 29.8 minutes and his second championship season in 2018, Bridges averaged 17.7 points in 32.1 minutes.
He became a first-round NBA draft choice (the Sixers selected him 10th overall and traded him on draft night to Phoenix) and this season finished second to Boston's Marcus Smart as NBA defensive player of the year.
That same sort of patience that Bridges showed, was also shown by Villanova at the beginning of Wright's career guiding the Wildcats.
After leading Hofstra to consecutive NCAA tournaments, Wright was hired by Villanova in 2001. During his first three years at Villanova, the Wildcats were just six games over .500 and failed to qualify for the NCAA tournament each season.
These days, if a new coach in a major conference such as the Big East goes three straight years without an NCAA tourney bid, there are talks about finding a new coach.
Villanova was patient and Wright then began a string of seven consecutive NCAA tourney appearances, including a Final Four spot in 2009.
There would be one more hiccup, a 13-19 season in 2011-2012, but after that Villanova began a streak that continues of nine straight NCAA appearances (excluding the shortened 2019-20 season when the tournament was canceled due to COVID).
Wright went 520-197 in 21 seasons at Villanova with two national championships, four Final Four appearances and 16 NCAA tournament appearances.
Counting his record at Hofstra (122-75) his career mark is 642-282 (.695).
Wright is being replaced by the coach he recommended, Kyle Neptune, who went 16-16 in his one season guiding Fordham.
Before heading to Fordham, Neptune was an assistant for eight seasons at Villanova under Wright.
The Villanova job is difficult to take because Neptune has to follow a coach who is already in the Naismith Basketball Hall of Fame.
If Villanova is as patient with Neptune as it was with Wright, this could work out very well.
It's just people shouldn't expect the next Jay Wright, simply because he was one of a kind.
Photo Courtesy of Villanova Twitter
Article continues below
---
advertisement


---
Author:
Marc Narducci
Archives
---
Who's Who in Health Care
Former Shawnee star Doolittle Calls It A Career
Camden County College welcomes Baseball Hall of Fame
South Jersey Football Games of the Week
Out & About
QB Ronnie Borden is Back in the Game
Should fans be worried for the Phillies bullpen?
South Jersey Football Games of the Week
A look at South Jersey's Top H.S. Girls' Soccer Teams
Out & About
Eagles will be fine after close call in opener
High School Football Games of the Week
Is it Super Bowl or bust for the Eagles?
What's New in South Jersey?
From New Jersey to Nashville
More...