Harper continues to carry the Phillies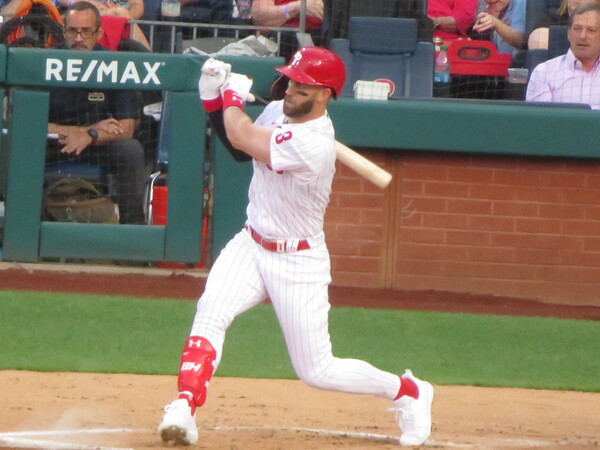 The Phillies showed over the weekend that they appear rejuvenated after firing manager Joe Girardi. They swept the slumping Los Angeles Angeles three games under interim manager Rob Thomson and played with the type of enthusiasm and life that was missing under Girardi.
One thing that hasn't changed since his firing was the play of Bryce Harper.
Harper has not played the field since April 16, due to a small tear in his right UCL.
This has hurt the Phillies defense because Harper was their best outfielder. It has meant that DH types such as Kyle Schwarber and Nick Castellanos have had to play corner outfield spots virtually every day with Harper at designated hitter.
Yet to his credit, Harper has adapted to the DH role in a big way.
He continues to will the team to victory. On Sunday, he hit the sixth grand slam of his career to tie the game at 6-6. The Phillies eventually won 9-7 to hand the Angles their 11th consecutive loss.
In the three-game sweep of the Angels, he went 4 for 10 with three home runs and eight RBI.
Last year the Phillies wasted an MVP year of Harper. In earning his second MVP award, Harper had a slash line of .309/.429/.615 with 35 home runs and 84 RBI. His 1.044 OPS and 181 OPS+ led the National League.
Harper began this week with a .309/.370/.628 slash line with 13 home runs and 40 RBI with a .998 OPS and 180 OPS+.
His statistics from last season look a lot like those of last year. In other words, he is going to make another run at an MVP season.
Harper, who turns 30 in October, is in the fourth season of a 13-year contract he signed with the Phillies. This is not to suggest that he won't have many more big seasons, but as he gets older, playing at an MVP level will be more difficult.
The Phillies, who have not made the playoffs since 2011, don't want to waste some of the best seasons of his career.
While winning the division will be extremely hard, earning a wild card berth is much more realistic. The Phillies began the week 11 games behind the New York Mets and 4.5 games out of the third wild card spot.
Without the play of Harper, they may have already been buried.
Article continues below
---
advertisement


---

It's been reported that Harper could return to playing the field in August, but there is no guarantee. In fact with that type of injury, there is no guarantee he can continue playing.

So far it hasn't affected him swinging the bat. Harper is no doubt the leader of the Phillies, but he has been doing it the old-fashioned way – leading by example.

Many of the other Phillies are hitting below their norm, which is why the offense has been inconsistent. The defense has been as poor as advertised and the bullpen, while not quite as bad as last year, has shown a lot of holes.

The bright spots for the Phillies have been Harper's sizzling bat and for the most part, the starting pitching.

Harper is doing all he can to keep the Phillies in a race for a postseason bid.

Now others will have to join him. Harper has hit both good and bad pitching staff. Now he needs several teammates to join him and make sure another epic season isn't going to be wasted.


Author:

Marc Narducci
Archives
---
Who's Who in Health Care
Out & About
QB Ronnie Borden is Back in the Game
Should fans be worried for the Phillies bullpen?
South Jersey Football Games of the Week
A look at South Jersey's Top H.S. Girls' Soccer Teams
Out & About
Eagles will be fine after close call in opener
High School Football Games of the Week
Is it Super Bowl or bust for the Eagles?
What's New in South Jersey?
From New Jersey to Nashville
Frustrating times for Millville's Mike Trout
High School Football Games of the Week
Hammonton's Kenny Smith off to a quick start
More...