Graham staying with the Eagles is a positive move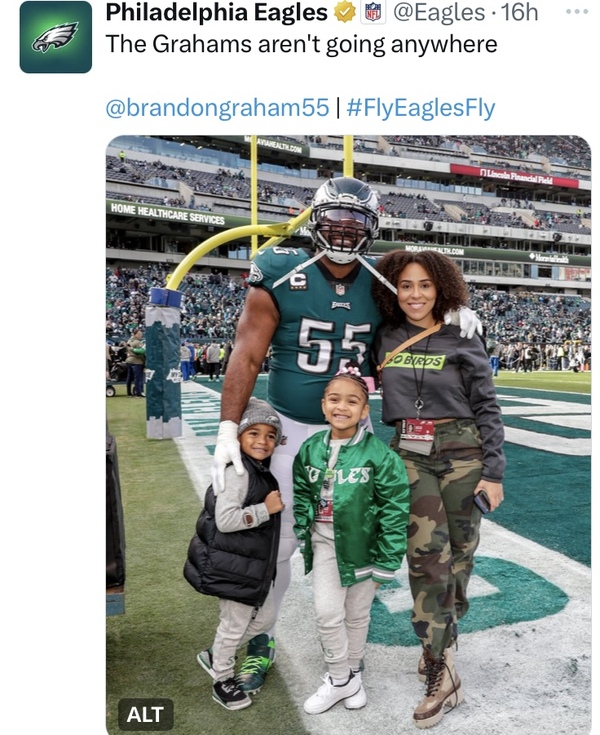 Brandon Graham didn't have the easiest beginning with the Eagles, but after a rough first couple of years, the long-time defensive end has become a franchise fixture.
Graham had a chance to leave after the 2022 season as a free agent coming off a career-high 11-sack season, but he decided to stay with the Eagles. He signed a one-year contract that multiple reports said is worth up to $6 million.
Graham had just completed a three-year $40 million deal and there was reported interest from other teams for his services, but he showed his loyalty by re-signing with the only team he has ever played for.
This will be the 14th season for Graham, who turns 35 on April 3. It will tie Graham with Hall of Famer Chuck Bednarik for the most seasons in franchise history.
This past season, besides the 11 sacks, he contributed 35 tackles and 16 quarterback hits, according to
football-reference.com
.
What made the season more remarkable is that the year before, Graham was limited to two games, before he suffered a season-ending Achilles tendon injury.
He was a key rotational player this past season and even though he didn't play as many snaps as in some past seasons, he was highly effective.
Graham is worth as much off the field as he is on.
He is a veteran who has helped the younger players and is considered one of the faces of the franchise.
Graham will forever be known for one of the iconic plays in franchise history – the strip sack late in the game with Tom Brady that led the Eagles to a 41-33 victory over the New England Patriots in Super Bowl LII. That gave the Eagles their first and only Super Bowl victory.
Graham had one of his best seasons in 2017 during the Eagles run to the Super Bowl. He had 9.5 sacks, 47 tackles and 14 quarterback hits.
Graham is a model of perseverance. He was the No. 13 overall draft pick in the first round of the 2010 draft. The former Michigan Wolverine made six starts his first season and injury limited him to three games the next year. At that point, many were suggesting he was a first-round bust.
Yet, Graham kept persevering and after his second season, he only missed one game over the next nine years.
He has accumulated 70 career sacks and earned his first Pro Bowl selection in 2020.
In addition, he has been known for his community service.
Just this past season he was nominated as the Eagles representative for the Walter Payton NFL Man of the Year Award, which annually recognizes an NFL player for community service contributions as well as on-field play. (The winner this past year was Dallas Cowboys quarterback Dak Prescott).
Graham is the longest-tenured athlete currently among all Philadelphia sports teams. He is somebody who had to prove himself and he will go down as among the most beloved athletes in Philadelphia.
More importantly, as last season showed, he can still play, and the Eagles should continue to benefit greatly from Graham being part of the defensive line rotation.
Photo

Courtesy Philadelphia Eagles Twitter
Article continues below
---
advertisement


---
Author:
Marc Narducci
Archives
---
Former Shawnee star Doolittle Calls It A Career
Camden County College welcomes Baseball Hall of Fame
South Jersey Football Games of the Week
Out & About
QB Ronnie Borden is Back in the Game
Should fans be worried for the Phillies bullpen?
South Jersey Football Games of the Week
A look at South Jersey's Top H.S. Girls' Soccer Teams
Eagles will be fine after close call in opener
High School Football Games of the Week
Is it Super Bowl or bust for the Eagles?
Frustrating times for Millville's Mike Trout
High School Football Games of the Week
Hammonton's Kenny Smith off to a quick start
A Look at Bryce Harper's Return to the Field
More Articles