Camden's DJ Wagner an all-timer despite several missed chances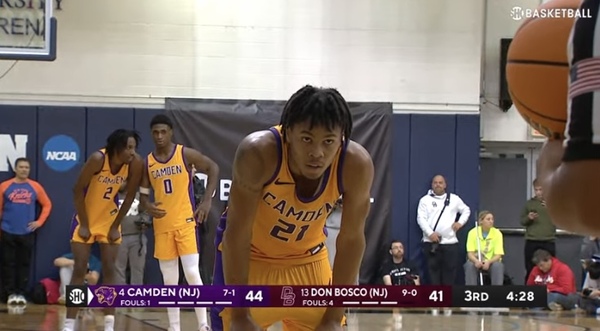 Camden's DJ Wagner had one of the most celebrated basketball careers in South Jersey history, but he may have earned greater individual and team accomplishments if not for certain circumstances.
First off, he scored 2,040 career points and was part of Camden's 2022 state Group 2 championship. He was also named the New Jersey Gatorade Player of the Year three times.
It was a spectacular career, even for a Wagner. He is part of the first family of South Jersey basketball, where his grandfather and father were also state champs for Camden and both ended up playing in the NBA.
His grandfather Milt Wagner won a state championship at Camden, an NCAA title at Louisville and an NBA title with the Los Angeles Lakers. DJ's father Dajuan Wagner not only won a state title at Camden in 2000 but also the Tournament of Champions championship as well. Dajuan played one year in college at Memphis, was a first-round draft choice of the Cleveland Cavaliers and appeared on the way to a promising NBA career until he was derailed by illness.
Article continues below
---
advertisement


---
In DJ's freshman year, 2019-2020, Camden went 29-1 and beat Haddonfield, 70-42 to win the South Jersey Group 2 title. The rest of the state tournament was then canceled due to COVID.
The following year in 2020-21, the NJSIAA limited teams to play at many as 15 games, so there was no state tournament. Camden went 13-0 that season.
Then as a junior in 2021-2022, Camden went 31-3 and won the Group 2 state title, the first for the Panthers since 2000. Camden then advanced to the finals of the Tournament of Champions before losing 61-58 to Roselle Catholic in overtime during the championship.
It turns out that would be the final TOC played in boys' basketball because the NJSIAA has discontinued the event.
This year Camden went 23-3 while playing a difficult schedule, but wasn't able to compete in the state tournament. Following a mele against rival Woodrow Wilson in the Camden County Tournament, the Camden School District pulled both teams from playing in the state tournament.
This is not criticizing the decision of the Camden School District, but just mentioning it was the third time in his career he couldn't compete for a state championship.

So in review, Wagner couldn't play for a state championship in his first two years due to COVID, won it his third season and due to the mele wasn't able to compete in the tournament his senior year.
One wonders if he got to play in four full state tournaments, what he could have accomplished. And it is amazing that he scored more than 2,000 points while missing so many games due to the above-mentioned circumstances.
The lost games didn't hurt Wagner's profile. He is a McDonald's All-American who will head to play for Kentucky. Wagner is considered a potential Lottery Pick if he enters the NBA draft in 2024 after one year at Kentucky.
His legacy is well-established. Imagine how it would be if he were able to compete in more than one state championship.
Author:
Marc Narducci
Archives
---
Who's Who in Health Care
Former Shawnee star Doolittle Calls It A Career
Camden County College welcomes Baseball Hall of Fame
South Jersey Football Games of the Week
Out & About
QB Ronnie Borden is Back in the Game
Should fans be worried for the Phillies bullpen?
South Jersey Football Games of the Week
A look at South Jersey's Top H.S. Girls' Soccer Teams
Out & About
Eagles will be fine after close call in opener
High School Football Games of the Week
Is it Super Bowl or bust for the Eagles?
What's New in South Jersey?
From New Jersey to Nashville
More...