West Deptford's Nick Tomasetto has made the most of his extra season of eligibility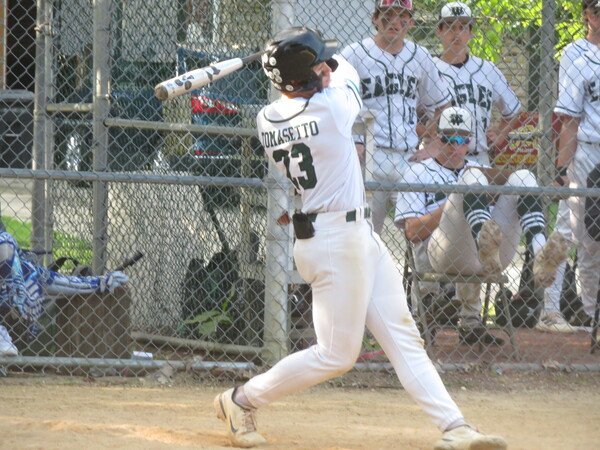 While taking college courses, West Deptford second baseman Nick Tomasetto is among the better hitters in South Jersey while still competing for his high school team.
Tomasetto took advantage of a rule that allows high school players who had their season canceled in 2020 due to COVID, to get an extra year of eligibility after graduation, which is known as a bridge year.
He was a sophomore the season that COVID hit, having transferred in from Woodbury. Tomasetto graduated from West Deptford in 2022 and this year took college classes at Rowan College of South Jersey (RCSJ).
"I'm out of class now and just playing baseball, it's pretty cool," he said. "My credits will transfer over next year."
Next year he will play at Division I Rutgers. He said he made the decision to take the extra season at West Deptford in the summer of his junior year.
High school players who missed a season due to COVID really got the short end of the stick in many ways. Since college players were given an extra year of eligibility due to COVID by the NCAA, the college rosters in many sports were jammed and the opportunities were fewer for high school recruits.
"A lot of guys took that extra year for college, so college baseball rosters are pretty jam-packed right now," Tomasetto said.
He is among a growing list of South Jersey players at Rutgers. For instance, freshman outfielder Trevor Cohen of Holy Spirit began the week batting .288 and had started each of the Scarlet Knights' first 54 games.
"It is a great program, and the coaching staff is great," Tomasetto said. "Every year it seems like the team is improving."
Tomasetto said he is being recruited as a utility player, meaning he would be able to play a variety of positions.
"I feel like I can play outfield, infield, so whatever I can do to help the team," he said.
This summer he will play for the Trenton Generals in the Atlantic Collegiate Baseball League (ACBL), a wooden bat league.
Tomasetto recently reached a high school milestone when he earned his 100th career hit during a 4-1 win over Hammonton on May 16.
He had eight hits his freshman season at Woodbury and entering the week he had 97 with West Deptford for a total now of 105.
"It was awesome," he said about reaching the century mark. "I had it in the back of my mind and it was nice to have that over with before playoffs and it's nice not to be thinking about it."
West Deptford began the week competing in the South Jersey Group 2 playoffs.
Tomasetto has been on a season-long tear, batting .468 with five home runs and 20 RBI, according to NJ.com, providing tremendous production from the No. 2 spot in the lineup.
At Rutgers, he plans to major in exercise science and says his goal is to one day coach and train athletes, either high school, college, and/or professional.
For now, he is the one doing the training. This season he has been able to continue growing as a player, taking full advantage of the extra season at West Deptford.
Article continues below
---
advertisement


---
Author:
Marc Narducci
Archives
---
Who's Who in Health Care
Out & About
QB Ronnie Borden is Back in the Game
Should fans be worried for the Phillies bullpen?
South Jersey Football Games of the Week
A look at South Jersey's Top H.S. Girls' Soccer Teams
Out & About
Eagles will be fine after close call in opener
High School Football Games of the Week
Is it Super Bowl or bust for the Eagles?
What's New in South Jersey?
From New Jersey to Nashville
Frustrating times for Millville's Mike Trout
High School Football Games of the Week
Hammonton's Kenny Smith off to a quick start
More...