Eagles' A.J. Brown Continues to Astound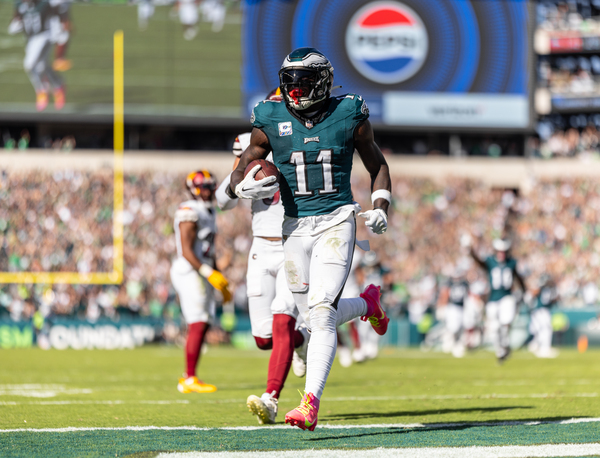 One of the major stories of this NFL season has been the play of Eagles receiver A.J. Brown, who put himself in the league's record book during Sunday's 38-31 win against the host Washington Commanders.
Brown had eight receptions for 130 yards and two touchdowns.
He became the first player in NFL history to record 125 or more receiving yards in six consecutive games. The previous record of five was held by Brown, along with Pat Studstill (1966) and Calvin Johnson in 2012, both ironically with the Detroit Lions.
One interesting footnote, Studstill missed by nine yards making it six in a row, when he had 116 yards in a 32-31 win at Minnesota. Johnson missed six in a row by seven yards, with 118 yards in a 27-20 loss to Green Bay.
Considering the storied history of the NFL, this is quite a feat by Brown.
Here are the record-setting games:
Sept. 25 – at Tampa Bay (25-11 win) 9 rec., 131 yards, 0 TDs
Oct. 1 – vs. Washington (34-31 OT win) 9 rec., 175 yards, 2 TDs
Oct. 8 – at LA Rams (23-14 win) 6 rec., 127 yards, 0 TDs
Oct. 15 – at J Jets (20-14 loss) 7 rec., 131 yards, 0 TDs
Oct. 22 – vs. Miami (31-17 win) 10 rec., 137 yards, 1 TD
Oct. 29 – at Washington (38-31 win) 8 rec., 130 yards, 2 TDs
At 6 foot, 1 inch and 226-pounds, Brown is among the most physical receivers in the NFL, but he also has great speed and his ability to get open, even in double coverage, is truly impressive.
For the season, Brown has 60 receptions for 939 yards and five touchdowns.
With QB Jalen Hurts nursing a knee injury, thus limiting his effectiveness as a runner, the Eagles are more dependent on the passing game.
Against the Commanders, Hurts had four rushing attempts, but two of them were kneel-downs at the end of the game. He was credited with six rushing yards, but also completed 28 of 39 passes for 319 yards, four TDs and no interceptions. That gave him a sensational 135.7 passer rating.
Teams know the Eagles have to throw the ball but they haven't been able to stop them and Brown is a big reason.
The double teams he draws, allows more open space for others.
During his first season with the Eagles in 2022, Brown was a major factor in helping the team reach the Super Bowl. He had 88 receptions for 1,496 yards and 11 touchdowns. The 26-year-old Brown earned his second Pro Bowl honor.
This year he looks to shatter last season's statistics.
Brown has 60 receptions for 939 yards and five touchdowns. While many critics have suggested that the 7-1 Eagles haven't played as well as last year, they are still the only NFL team with seven wins. Brown has been a major factor.
Now the Eagles have to prepare for Sunday's game at Lincoln Financial Field against the Dallas Cowboys, a team that can beat lesser opponents, but must show they can stay with the heavyweights.
The Eagles will get a much-needed bye-week after the Cowboys game and it wouldn't be surprising if Brown extends his NFL record to yet another game of 125 or more receiving yards entering the week off.
*Photo Courtesy of the Philadelphia Eagles
Article continues below
---
advertisement


---
Author:
Marc Narducci
Archives
---
Who's Who in Health Care
Crowd Pleaser
A Bight Future Ahead for Glassboro Football
The Big Impact of Small Businesses
Eagles Need to Reset
Feeling Festive
Another dominating season for Delsea football
Mainland's Historic Football Season
A Rooting Interest
Eagles Continue to Fly High
Raising the Bar
Thanksgiving Football Continues
Hotstovers to honor All-SJ Baseball and new HOF inductees
South Jersey Football Games of the Week
The Phillies make the right move with Aaron Nola
More...