The End of a Chapter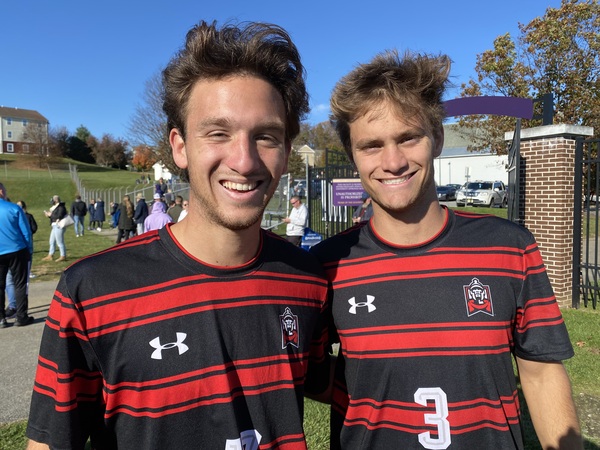 It was an emotional ending, but one that resulted in a W for Trevor Paone and Hunter Paone, playing their final Pennsylvania State Athletic Conference (PSAC) soccer game for East Stroudsburg.
The brothers are 2019 graduates of Ocean City and they have been playing together their entire lives.
The final PSAC game was a 2-1 win at West Chester, which is the closest of the PSAC schools proximity-wise to Ocean City.
East Stroudsburg finished fourth in the PSAC East Division, where only the top three qualified for the conference tournament, so the Warriors were playing for old-fashioned pride. West Chester earned the No. 3 seed in the PSAC East and went on to compete in the conference tournament.
Both players received an extra year due to the NCAA rule that the COVID season in 2020 didn't count in eligibility. East Stroudsburg didn't play that season.
The two midfielders enjoyed excellent careers at the Division II school. Trevor played in 69 career games, including 37 starts and had 11 goals and five assists. This season was his best from an offensive standpoint. He had five goals and one assist.
Hunter Paone appeared in 60 career games, making 19 starts. More of a defensive midfielder, he had three goals and two assists in his career with two of the goals coming this season.
"I was happy with that last (PSAC) game," Trevor said. "It's always good coming off a win, especially at this field."
It was emotional since this was their final conference game together.
"We have been playing together our whole lives, through middle school, though high school and [now] here. I am just really blessed, I got to play my whole career with my brother," Trevor said.
"It has been special," added Hunter. "We didn't know if we were going to be able to come to college together and I think we were blessed to really continue playing with each other and it was awesome."
The PSAC is looked on as one of the stronger Division II conferences in the country. Most people don't realize the high caliber of play until they see a game in person.
"Every game is not given and when you go in you've got to battle and give it your all," Hunter said. "It's very physical, it's very tough and you have to be up for every single game or else you can really lose, so it's important to come out hard."
After the game, the twins met their own little cheering section, who came to watch their final PSAC matchup.
"My whole family came [including] my grandparents. It was really special that they came to see my last game," Hunter said.
That final game brought back some memories.
"There hasn't been a time where we weren't on the field together" Trevor said. "My dad used to coach us and then at high school he stopped but Hunter and I have always been together."
Both said they will surely miss competing at East Stroudsburg, but they can look back at their college careers with pride.
"I just wanted to find a place where I could play and be effective," Trevor said. "I found the school and was fortunate enough to come here with my brother, and we had a great time."
Photo: Hunter Paone (left) and his brother Trevor (right)
Article continues below
---
advertisement


---
Author:
Marc Narducci
Archives
---
Who's Who in Health Care
Crowd Pleaser
A Bight Future Ahead for Glassboro Football
The Big Impact of Small Businesses
Eagles Need to Reset
Feeling Festive
Another dominating season for Delsea football
Mainland's Historic Football Season
A Rooting Interest
Eagles Continue to Fly High
Raising the Bar
Thanksgiving Football Continues
Hotstovers to honor All-SJ Baseball and new HOF inductees
South Jersey Football Games of the Week
The Phillies make the right move with Aaron Nola
More...