Christine Baranski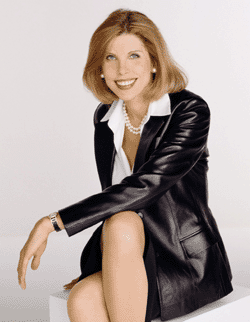 Hot after her show-stopping, Emmy Award-winning turn as the cynical Maryann Thorpe on the sitcom "Cybill" (1995-98), Christine Baranski turned her attention to the mega-budgeted feature film "How The Grinch Stole Christmas" with Jim Carrey, Anthony Hopkins and Jeffrey Tambor.
Doing another network series wasn`t even on her horizon when the president of CBS Television, Leslie Moonves, called with a lucrative development deal.
For the next year, she would remove her wigs and layers of glue and spackle for her "Grinch" role as town diva Martha May Who-vier to meet with an endless stream of sitcom producers and writers. But nothing came of the flurry of activity.
When the year was up, Baranski and Moonves had one more conversation, in which she mentioned having read a pilot script developed for an up-and-coming stand-up comedian named Jim Gaffigan.
"I liked the clever script and the smart producers at David Letterman`s World Wide Pants Incorporated," she recalls, "and thought it would be something of interest for me if they expanded the part of executive producer Marsha Bickner into a leading lady."
In a Hollywood flash (several months), Marsha Bickner became the central character and the show`s working titles of "Gaffigan" and "Mr. New York" were changed to "Welcome To New York."
Jim Gaffigan now plays a naive Indiana weatherman named Jim Gaffigan who stumbles into a Big Apple-based network breakfast show produced by the sophisticated, hard-nosed and neurotic Bickner. The supporting actors include Rocky Carroll (Adrian Spencer), Mary Birdsong (Connie) and Sara Gilbert (Amy Manning) - who returns to sitcoms as a regular after a long run as Darlene on "Roseanne" (1988-97) and graduating from Yale with honors, a degree that probably cost her about $4 million in lost wages.
Baranski - who insisted on becoming one of the show`s executive producers and shooting it in New York before signing the contract - is unperturbed by early media reports that she usurped Gaffigan`s show.
"The truth is that it was not (CBS`s) intention to green light the show without me," she says. "And now I think we`re both very happy. I love working with Jim because he has a wonderfully simple, direct and honest acting style."
No stranger to controversy, Baranski, 48, blithely downplays the alleged personal and professional rift with star Cybill Shepherd during the "Cybill" era.
"This whole thing of `stealing the show;` the press didn`t help the situation at all," she sighs. The press can create divisiveness and sometimes make it harder to do your job. It was not an easy situation for me ... There was no cat fighting or blood under the finger nails - it was terribly exaggerated."
But while hyping "Welcome To New York" and "The Grinch" in the media, including television talk shows, Baranski does not commit to an appearance on Shepherd`s new syndicated chat program. "I`m not saying yes or no to anything except (these projects) and my family," she says, nimbly side-stepping the question.
"I`m having a wonderful time doing exactly what I want to do. The series needs more work, but it`s fun working on it. And I have strong support from David Letterman, who sent me a second bottle of Dom Perignon the other day."
Shooting "The Grinch" was a huge kick, according to Baranski. "It isn`t often you have a chance to do a big Hollywood studio picture involving a dozen sound stages, a great director (Ron Howard) and a phenomenal comedic star (Jim Carrey). I was flown out about 10 times for makeup tests from my home in Connecticut. Creating the look of the Whos took a lot of experimentation.
"They created a nose and a mouthpiece for me that still left Martha May looking glamorous, but it was challenging," she continues, laughing. "At one point, because I have such an upturned nose in real life, they thought of my not wearing a prosthetic at all. But it was a little too real - I looked like a Who with a nose job. A Beverly Hills Who. So we went back to the prosthetic, which required three hours of makeup every day. I`d be in the makeup chair at four o`clock in the morning to make a seven o`clock set call. It could be brutal."
While her oldest daughter, 16-
year-old Isabel, was away in France for her junior year in high school abroad, Baranski`s 13-year-old, Lily, spent a couple of weeks in Hollywood with mom. "We had a magical time on `The Grinch` set, particularly because Lily has expressed an interest in acting," she says. "So the producers stuck her in a costume and a funny little wig and made her an extra. We have great memories of going to work together at four o`clock in the morning, having breakfast and going into makeup. It was something we really shared."
She inherited her love for acting from her grandparents, who were active in the Polish theater in her hometown of Buffalo, N.Y. Baranski studied ballet and dance as a child, then focused on acting in high school. It led to four years at the famed Juilliard school of drama, where she made her professional debut during her junior year as a lady-in-waiting in a Shakespeare in the Park production of "Hamlet."
Hired by the American Shakespeare Theatre two weeks before graduation ("which I took as a good sign"), Baranski was unable to attend the graduation ceremony at Juilliard. A stint at the Shakespeare Festival in Stratford, Conn., led to years of classic regional theater until her big break with a Tony Award and a Drama Desk Award in Tom Stoppard`s Broadway production of "The Real Thing." She earned the same awards in her second Broadway comedy, Neil Simon`s "Rumors."
Baranski - who counts "Bowfinger," "Cruel Intentions," "Bulworth" and "The Birdcage" among her feature films - met her husband, actor Matthew Cowles, in a stage production of Henrik Ibsen`s "Ghosts." "He drove me home on his motorcycle, and that was it," she laughs. "My husband, who`s in `Nurse Betty` and played Billy Clyde, the white trash pimp on `All My Children,` also plays fantastic, eccentric villains. I hope we can have him on my show soon.
"They settled in Cowles` childhood home - an 18th century farm house in Litchfield County, Conn. - while she was pregnant with their second child.
"It`s a beautiful house surrounded by horses grazing in the fields and beautiful trees - an ideal setting for raising kids," says Baranski. "I`ve managed to raise my kids away from show business, but I`m always commuting to New York or L.A. in planes, cars, buses or something. God help me."
(c) Copley News Service
Article continues below
---
advertisement


---
Author:
Eirik Knutzen
Archives
---
Elisa Donovan
Heather Paige Kent
Greg Kinnear
Julian McMahon
Emily Procter
Robert Guillaume
Steve Irwin
Jerry Stiller
Chazz Palminteri
Richard Belzer
Alexondra Lee
Dan Futterman
Serena Scott Thomas
Dean Haglund
Camryn Manheim
More Articles