Landscaping Jumpstart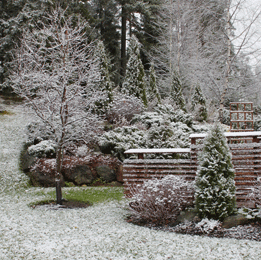 …From the pages of House & Home…
Use winter weather to your advantage for a better spring season.
Just because winter is in full swing doesn't mean you have to ignore your outdoor landscaping this season. There are still some things you can do during the colder months to set yourself up for the spring. In fact, some basic maintenance and planning will ensure you are off to a great start come warmer temperatures. And while it might not feel like it now, spring is just around the corner.
Winter protection
Winter is a really important time for pruning, says Ronni Hock, president of Ronni Hock Garden & Landscape in Lawrenceville, N.J. "If you see a dead, diseased or damaged limb, winter pruning is important to help ensure your shrubs will be healthier and look even better come spring," Hock says. "You'll also want to pay attention to snow or ice pileup on trees or shrubs, which is often what causes them to break."
Of course pruning is an area where you could get into some trouble if you don't know what you're doing. Steve Compton, general manager with CKC Landscaping, Inc. in West Chester, Pa., points out that certain plants are best pruned over the winter while others need to be pruned in late summer or fall.
"If you don't know the best timing for your plants' pruning, you may not wind up getting any blooms," Compton says. "If you have questions, consult with a landscape professional who can tell you what needs to be pruned or how to do it, if you're tackling it yourself."
In addition to winter pruning, protecting trees from the harsh weather can also be achieved with anti-desiccant sprays, says Richard Cording Sr., president and licensed landscape architect with CLC Landscape Design in Ringwood, N.J.
"We spray shrubs like evergreens or holly, which tend to dry out in the winter when the ground is frozen," Cording says. "They're still growing during the winter and need that moisture. This spray helps prevent them from drying out. February is a good time to do this."
Some general cleanup may also be in order over the winter. While the colder temperatures can make it difficult to venture out, if we get a decent weather day, take the opportunity to do some cleanup around your property.
"Picking up branches not only prevents an eyesore on your property but has an important function as well," says Dean Stafford, owner and landscape designer with Dean's Landscaping, LLC. "Fallen sticks and branches can attract pests like rodents, encouraging them to make a home on your property, so it's important to get them off the ground."
In addition to leading to a healthier landscape, Stafford says it can also have an effect on the psyche of the homeowner. "It's a lot easier to appreciate the beauty of the property when it's cleaned up," he says. "Keeping it clean and kempt is certainly healthy for the plants but it also looks a lot better and helps you appreciate the natural beauty of your property. It may not always feel like it, but winter can be a very beautiful time."
Winter beauty
With just a bit of planning, your winter landscape can be even more beautiful than you might have ever imagined. There are a number of shrubs that offer winter interest and color that can really spice up your landscape—even in the dead of winter. It just takes a bit of advanced planning, Hock says.
"Winter can be bleak but if you plan ahead in the fall, you can create a strong foundation with some shrubs that are built for the winter months," she suggests.
In planning ahead for the winter, you'll also want to think about the placement of plants, says Randell Spackman, owner of Thornbury Services in West Chester, Pa. "You want to put evergreens on the north side of the house to protect them from the wind and put your deciduous trees on the south side, to let sun come through in the winter and block sun in the summer. There is a lot of logistical planning that comes into play."
In terms of plant type, there are a number that can offer color even in the winter. Beautyberry, for instance, will add some violet-purple to the landscape while globe blue spruce has blue/gray needles year round. Of course you can't go wrong with boxwood, an evergreen shrub that stays a nice dark green and is even ideal for sculpting if so desired. A bonus of both globe blue spruce and boxwood is that deer will avoid them.
Deer are a major consideration in the winter, says Compton. If you have trees and shrubs on your property that are not protected from these furry interlopers, they may be completely destroyed. "It's important to know what you have on your property that might not be deer resistant and then think about protecting it," he says. "There are granular products and sprays out there that can help deter deer, as well as physical barriers. We do wrap some shrubs and trees so that the deer won't totally destroy them. In our area the deer are looking for easy pickings and if we have a very cold winter they'll be even more aggressive in what they go after."
Thinking ahead
The winter months are also a great time to start thinking about any projects you'll want done come spring. "Winter is a great time to plan ahead for the coming spring season, says Stafford. "We get busy early on so now's a great time to start chatting about any upcoming landscape or hardscape projects you had in mind. It's never too early to get something on the books."
Cording agrees. "Planning ahead is so important," he says. "We get a lot of calls in April or May for large design/build projects and there's often not enough time to get them done when the homeowner wants them finished. If you have a hardscaping project and a timeline in mind, call us now. Sometimes we have to obtain permits or complete a design and all of this takes time. The more you can plan ahead now, the better you will be come spring."
RESOURCES
CKC Landscaping
West Chester, Pa.
(610) 436-1810
CKCLandscapingInc.com
CLC Landscape Design
Ringwood, N.J.
(973) 839-6026
CLCDesign.com
Dean's Landscaping, LLC
West Chester, Pa.
(610) 793-2386
Deans-Landscaping.com
Garnet Valley Farms, LLC
Garnet Valley, Pa.
(484) 842-0064
GarnetValleyFarm.com
KS Greenday, Inc.
Langhorne, Pa.
(215) 702-9876
KSGreenday.com
Ronni Hock Garden & Landscape
Lawrenceville, N.J.
(609) 844-0066
RonnisGarden.com
Thornbury Services
West Chester, Pa.
(610) 793-2933
ThornburyServices.com
Published (and copyrighted) in House & Home, Volume 15, Issue 8 (February, 2015).
For more info on House & Home magazine, click here.
To subscribe to House & Home magazine, click here.
To advertise in House & Home magazine, call 610-272-3120.
Article continues below
---
advertisement


---
Author:
Lindsey Getz
Archives
---
More football commitments trickling for South Jersey football players
Former Glassboro Star George Johnson Almost Vaulted Team to NFC Title Game
A Running Start
For the Love of the Game
Usual Powers on Top in Wrestling
The South Jersey Fab Four
Lighting the Way
Setting the Stage
Big Words: Twins!
Ready to Grow
Home of the Brave
How Can I Ever Thank You?
One of All-Time Best Coaches Resigns
Walk of Fame: Ella Hampton
Jersey Fresh
More...