Keep your Garden Growing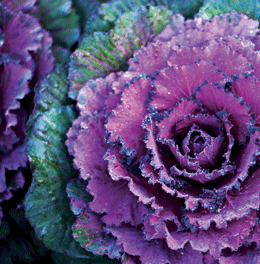 …From the pages of House & Home…
Extend the planting season well into fall with the help of our experts.
The end of summer doesn't have to mean the end of a lush, colorful yard. Experts say keeping your yard looking great into the fall isn't hard—it just takes a little extra TLC.
"Most lawns become depleted of nutrients over the summer months, so in the fall, they need a good fertilizer, reseeding, also [to] kill off any weeds that are there, just kind of rejuvenating your lawn," says Richard Cording Sr., landscape architect and founder of CLC Landscape Design, based in Ringwood, N.J. "We always do a spray in the fall to keep insects at bay. We examine the plant first, we don't just blanket spray. We use a system called Integrated Pest Management, where we only spray where necessary. We visibly inspect the plant itself and if we see any signs of insects then we spray those individual plants with pesticides. That is something that's important."
Cording also recommends mulching, fertilizing and even using a granular weed preventative as other measures to take in the fall.
Certain plants grouped together can also create an aesthetically-pleasing look come fall, experts say.
"Some of our favorite shrubs for fall are: Varieties of fall-blooming witch hazel that have fragrant flowers in October and November; and beautyberry that is loaded with thousands of vibrant purple berries that look amazing, especially in combination with other plants exhibiting showy fall foliage," says Bill Dear, principal at Dear Garden Associates, Inc. in Pipersville, Pa. "Some of the perennials we use for fall interest are anemone, aster, sedum, and tricyrtis (also called toadlily)."
Randell Spackman, owner and founder of Thornbury Services in Pocopson, Pa., also shares his seasonal favorites.
"There are so many fall colored plants—chrysanthemum, red twigged dogwood, Harry Lauder's walking stick. I like doing plantings that don't always have flowers, but have unique physical characteristics that we can enjoy long into the winter," he says. "Harry Lauder's walking stick has no leaves, but it's still a very interesting plant because of the stemwork. And red twigged dogwood [is] an upright shrub [and] has bright, fiery red veins of stems, which stand out against a snow or fall landscape. After it loses its leaves, these bright red canes will show up and will be a great contrast to some of the brown, earth-tone backgrounds."
Mike Schnatz, owner of Schnatz & Rohrer Landscaping in West Chester, Pa., also points to a few of his fall favorites.
"The typical things you see in fall are mums. But now you can actually put in some pansies, which will give you a fall color; and if you leave them in, they'll come back in the springtime with spring colors, so you get a double bang for your buck," he says.
But those fall favorites don't have to only be aesthetically pleasing; they can be functional, too.
"The late summer is also a good time to plant some fall vegetables. Carrots, snap peas, cauliflower, and beets are a few examples of vegetables that can be harvested in the fall," says Pat McCusker, owner/operator of Landscaping by Garnet Valley Farms & Small Lawns Mowing Service, which serves a client base in Delaware and Southeastern Pennsylvania.
Readying your yard for winter and ensuring it looks its best come spring is also important. Chuck Rupertus, owner of Nature Scape Company in Barrington, N.J., says homeowners should focus on pruning and aerating, among others.
"Going into the transition period of summer to fall, they should prune their plants to minimize the sizes of the new plants, remove all dead flowers from perennials or prune all spent perennials to the ground," he says. "They can remove any annuals that may not be looking very good and replace with pansies. Their lawns should be aerated, over-seeded and fertilized at this time of the year. This is the best time of the year to work on the lawn."
What is done now will affect how the lawn looks next season, Rupertus says.
"Homeowners should really work on the lawn now to have a nicer lawn next season. They can renovate the landscape for the fall which will lead to a healthier landscape next season," he says. "Mulching the beds again in the fall will help protect plants through the winter months. I would suggest doing this after most leaves have been removed so the mulch is not disturbed in the leaf removal process."
Schnatz agrees. "For lawns, it's a good time to aerate, fertilize, limesoil. You see a result next spring," he says. "And as far as pruning, you should just prune any evergreens that need pruning now. Flowering shrubs shouldn't be touched until next year, you can also cut back any perennials that need cutting back. It's a good idea to mulch in the fall, it helps protect plants in the winter —it moderates the soil temperatures, keeps the ground from freezing, and [protects] the roots, because the roots are the weakest part of a plant."
Fall is also a good time to be on the lookout for indicators of potential issues.
"Keep an eye on plants showing fall color a little too early," Dear says. "If a tree or shrub that is a component of a larger group is showing fall color earlier than the others, it is showing signs of stress and may be too wet, too dry, or have a disease or bug problem, so it is worth investigating the cause so it can be corrected."
Spackman also warns of potential issues.
"In order to protect their landscape investment, [homeowners] should be prepared to look out for any drainage issues from winter storms, standing water on sunken patios or soft spots, review any lighting needs for shadowy areas when the days become short, and seal and protect wood and other materials that should be protected in the harsh winter months."
Ronni Hock, owner of Garden & Landscape in Lawrenceville, N.J, warns against completely clearing out natural debris.
"If possible, never allow your landscape service to blow all of the plant debris or mulch from the garden beds before the winter sets in," she says. "This debris offers a great deal of protection from a bitter winter." And when it comes to keeping your yard looking its best throughout the fall, experts say to simply take advantage of fall's naturally vibrant colors.
"The fall in landscaping is all about the foliage changing colors. This can be accomplished with a few well-placed trees for landscapes where a focal point is desired or it could be a variety of shrubs and bushes that will be soon making a transition in color," McCusker says. "Finding the best ways to introduce those fall colors is an exciting part of landscaping. If the space allows, a 'red sunset' or 'autumn glory' maple tree is a great way to bring out the changing of the season."
Hock also advocates taking advantage of the season's natural colors.
"Throughout late September and October, Mother Nature provides us with a natural foundation of brilliantly colored leaves. During this time of year, I never like to 'sweep the canvas bare,' so to speak," she says. "I weave dried corn stalks around a garden gate (or mailbox post). I plant containers with coleus (bright orange, red, black and various shades of green) highlighted with cabbage, kale and chrysanthemums (which come in every color of the rainbow). This plant material provides me with an endless variety of colors and textures."
RESOURCES
CLC Landscape Design
Ringwood, N.J.
(973) 839-6026
CLCDesign.com
Dear Garden Associates, Inc.
Pipersville, Pa.
(215) 766-8110
DearGarden.com
Landscaping by Garnet Valley Farms & Small Lawns Mowing Service
Garnet Valley, Pa.
(484) 842-0064
GarnetValleyFarm.com
Nature Scape Company
Barrington, N.J.
(856) 546-6121
NatureScapeCo.com
Ronni Hock Garden & Landscape
Lawrenceville, N.J.
(609) 844-0066
RonnisGarden.com
Schnatz & Rohrer Landscaping
West Chester, Pa.
(610) 696-5108
Thornbury Services
Pocopson, Pa.
(610) 793-2933
ThornburyServices.com
Published (and copyrighted) in House & Home, Volume 15, Issue 3 (September, 2014).
For more info on House & Home magazine, click here.
To subscribe to House & Home magazine, click here.
To advertise in House & Home magazine, call 610-272-3120.
Article continues below
---
advertisement


---
Author:
Rachel Morgan
Archives
---
Family Fun
Live from the White House
Collingswood
Stepping Up to the Plate
Local Story
Lingering Questions
Still Fresh
Under the South Jersey Sun
Riverside Retreat
Against All Odds
Like a Girl
Going Her Own Way
Fall In
Aiming to Please
Walk of Fame: Natalie Hope Sommermann
More...