A Better Tomorrow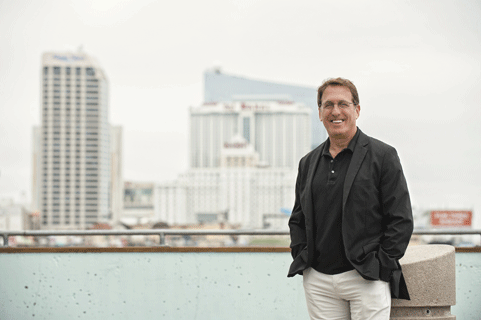 …From the pages of South Jersey Magazine…
Bart Blatstein is responsible for some of the most buzzed-about properties in Philadelphia. Now, the in-demand developer is out to change the way people think about Atlantic City with a revamped entertainment complex he says will give new energy to the floundering seaside town. It's his biggest gamble yet, but will it pay off?
For a man up against an "impossible" deadline, Bart Blatstein is doing his best to appear at ease. It's a gray June afternoon as Atlantic City's latest would-be savior roams the confines of the Playground, his nightlife-glossed revamp of the Pier Shops at Caesars. Just over a week from this day, music will fill the bars that line his first-floor T Street, but today the soundtrack is that of urgent construction—a persistent thrum of hammering, sawing and beeping, orchestrated by just some of the 150 construction personnel working around the clock in multiple shifts. Blatstein ambles down the indoor venue's main thoroughfare, engaging with the various workers he's regularly seen, and taking time to marvel at how quickly his new beachfront property is coming together.
Even when Blatstein admits the obvious strain of this effort, he does so with a smile. Timewise, he hasn't given himself much room to dally. It was less than three months ago that he unveiled his concept for the failing pier and started construction. "I've never done anything this rapid. This is ridiculous," he says with an incredulous chuckle, sitting inside what will be "Purdy," a country music bar. "Ten weeks to go from start of demolition to finish; it's crazy. We're getting there. We're getting it done."
The Playground arrives at a crucial moment for both Blatstein and his new locale.
The acclaimed developer, best known for his role in the reinvention of the Northern Liberties neighborhood in Philadelphia, had just spent two years spearheading a failed bid to bring a second casino to the city. "It's funny, cause I never would have done this if I had gotten that casino in Philadelphia," Blatstein says.
Meanwhile, Atlantic City continues to thrash like a fish reeled into a boat. Its gaming business has declined by half in the last eight years, and the city has strained to reinvent itself into something beyond a mere gambling destination.
The Playground represents something significant: an entertainment-focused, non-gaming option in a city desperate for fresh ideas. "[We want] lots and lots of people coming here, putting Atlantic City back on the map for entertainment," says the 60-year-old developer when asked about how he would measure the Playground's success. "And providing a non-gaming amenity that doesn't exist today. Most people don't like casinos. They don't want to go into a casino. Anything at a casino is at a casino. We stand alone here."
By the time this magazine reaches mailboxes, the Playground will be open and the music will begin. Soon enough, we'll know whether Blatstein can bring the luster back to "America's playground," or simply play another note in Atlantic City's sad spiral.
The It Developer
Last October, Blatstein agreed to buy the struggling Pier Shops for $2.7 million (a pittance of the $200 million it originally cost to build). When the legal smoke finally cleared in April and Blatstein first unveiled his plans at a press conference, he was resolute, stating the Playground was "going to be the greatest success of my career."
Speaking with South Jersey Magazine days before the opening, Philadelphia's most high-profile developer had dialed down the bravado, but his confidence in the project still shines.
"It's a calculated risk," says Blatstein, adding that he's invested "millions" of his own money but refusing to disclose how much. (Earlier reports said the Playground would be a $50 million project.) "[The Pier Shops] went from losing millions of dollars a year to cash flowing … and that's before we even opened. We contained costs. There was millions of dollars in waste here. We signed up new tenants, we re-upped others. We did the hard stuff. Is it a risk? All development is a risk. But I believe in the turnaround story that is Atlantic City and I believe in what we're doing."
He must, because the Playground is certainly ambitious. The first-floor T Street seeks to recreate the collection of music clubs and bars found in self-contained city locales like Austin's 6th Street and Nashville's Music Row. Multiple genres will be represented through live regional acts—everything from country to rock to jazz and more. The mall's fountain room has been converted to 39N, a 2,000-seat venue that will not only host national musical acts but much more, according to Blatstein: boxing matches, corporate events, even fashion shows.
The second and third floor of the mall—featuring a Lucky Strike-esque bowling alley/lounge and massive Varsity Club sports bar, respectively—are slated to open by year's end. But T Street comes first, and Blatstein has lined up major name cache.
Jose Garces, who first came to Atlantic City with four restaurants in Revel, will provide the food. Bonfire Entertainment, which operates The Electric Factory and several other clubs in Philadelphia, will book the music. "Where else on the East Coast can you get this music scene?" asks Blatstein. "Nowhere."
Blatstein dreamed up the music idea after he purchased the Pier Shops, and the high concept illustrates just how far he's traveled in his career. "Local strip-mall developer" is the descriptor The New York Times used six years ago in an article about the Philadelphia native. Since then, the efforts of Blatstein and his company Tower Investments have become significantly high profile and daring. In 2009 he opened the Piazza at Schmidt's, which radically reconstructed a former brewery into a development of residential units and commercial space, complete with a public square that took its cues from European history.
Blatstein (who typically works without investors and uses his own money) owned lots of other properties in resurgent Northern Liberties, but the Piazza turned heads. It was wholly unique, and though the developer downplays the notion that it represented a critical shift in his career ("It's a defining moment, but it's not the turning point," he says), there are those who beg to differ.
"I think he came into Northern Liberties one person—an inexperienced young developer taking a chance on a big, weird parcel of land," says Janet Finegar, a long-time member of the Northern Liberties Neighborhood Association who worked often with Blatstein. Conceiving the current version of the Piazza took time—Finegar recalls the "K-Bart" nicknames that were tossed around when Blatstein's initial plans called for a shopping center and parking lot—but finally took shape after a healthy dose of inspiration and serious dialogue between Blatstein and the neighborhood. "I think we made him a lot crazier, and in a good way," she adds. "This is a wacky neighborhood, and more than he's given credit for, he embraced the wackiness of it, and came around to seeing that something weird and different made more sense for us."
If anything, the Piazza indicated that Blatstein wasn't afraid to swing for the fences.
With Philadelphia's second casino license up for grabs, Blatstein unveiled plans three years ago for a 424,000-square-foot, French-inspired casino complex (termed The Provence) that also promised robust entertainment options and a rooftop village of meandering streets with stores, cafés and more. It too was ambitious, different. It also never came to be—the license was awarded in November to a competing proposal.
Today, the Playground bears the hallmarks of Blatstein's professional detour into the world of gambling. For one, Blatstein has re-teamed with his Provence partner Paul Steelman, an Atlantic City native and one of the world's pre-eminent casino architects. In addition, it allowed Blatstein to become conversant in the language of entertainment. "From what I learned there, I applied a lot of it here," says Blatstein, taking a beat to perhaps consider how much he's learned. "Thinking outside the box more."
Like what?
"Look around. Buying the Pier [Shops]. Investing in Atlantic City. Doing this. It bucks the trend. The trend is to run away from Atlantic City."
Which is something that plenty of people have done. For eight straight years, the number of visitors to Atlantic City has decreased, down nearly 25 percent from its 2005 high. Over that same time frame, $2.5 billion in gaming revenue has evaporated into the ocean air.
To be clear, Atlantic City is not dead. It's still the No. 1 beach resort on the East Coast from New Jersey to Florida. Over 25 million visitors flood into the city each year. But for decades, the casinos bet (and then repeatedly doubled down) on gambling as a draw, as opposed to the total experience that Las Vegas offers. Atlantic City is paying sorely for it now, and new players who have taken the challenge head on (like the highly anticipated and recently closed Revel) have suffered.
The worst of the gaming news may be over. Though four of the city's 12 casinos closed last year, five of the remaining eight posted revenue gains. Nonetheless, Atlantic City's casinos are quickly trying to reinvent their properties as food and entertainment destinations. Dr. Israel Posner, executive director of the Lloyd D. Levenson Institute at Stockton University, cites several examples, from the Boardwalk upgrades for the Tropicana to the new Festival Park outdoor concert venue just opened at the Borgata. "There's been a tremendous amount of investment that's taken place in the last several years," says Posner, "not on the gambling floor, but in the clubs and restaurants." And the efforts appear to be working: The casino hotels have grown their non-gaming revenue by 20-25 percent.
For that reason alone, the Playground is a crucial development. It's a non-gaming option in a city that needs more for people to do besides gambling. It anchors the center of town, working in tandem with the outlets and signature stores like the recently opened Bass Pro Shops to create a defined shopping experience.
And by offering a healthy variety of live music, it aims to harken back to an earlier era in Atlantic City, when clubs lined the coast and ruled the music scene. "The culture of entertainment is still there, and the casinos have left this void and have forgotten about this," says Steelman. "We are waking up that culture of entertainment."
Appropriately enough, the pier has its roots in entertainment, dating back to 1905 when it opened as the "Million Dollar Pier" and featured a grand ballroom and theater, among other attractions. A mall was built on top of the pier in the '80s, and then from 2004 to 2006 it underwent an extensive renovation and was converted to a luxury shopping mall. The timing was horrid—as visitors dwindled and the economy crashed no less than two years later, few people had the stomach or wallet to shop the likes of Gucci and Michael Kors.
To Blatstein, that's not the only failing of the Pier Shops. "It was designed wrong," he says. "It juts out 900 feet into the ocean and it turned its back on the ocean and beach. That's dumb." Huge portions of outdoor decking and space went unused. The mall's signature feature, an indoor fountain, sat at the end of the pier yet had practically no views of the ocean or beach; Blatstein has already opened up the giant back walls of the new 39N, allowing natural light to flood into the space. Parking access that was non-existent before (patrons had to walk through Caesars or on the Boardwalk) will be remedied with valet parking for those who simply want to drive up.
"We're very excited," says Renee Esposito, owner of Renee, a clothing and shoes boutique at the Pier Shops. "We've been here a long time struggling, and we are very excited that Bart has come along and given us new life." Esposito, who has been in business for 25 years and ran multiple stores at the mall before it was revamped into the Pier Shops, recalled the initial meeting where Blatstein spoke with the tenants and outlined his vision. "I gotta tell you, there wasn't anybody who wasn't on board," she says.
The pier fits Blatstein's classic M.O.: buying undervalued properties and injecting new life in them. "We love turnaround stories" are the very first words out of Blatstein's mouth when asked why the property—and Atlantic City—interested him.
And it's very difficult to bet against Blatstein, who has amassed an impressive track record and has assumed the unofficial title of Philadelphia's most important real estate tycoon. Talk to those who work closest with him, and it's easy to see why. "He has the most energy of anyone I know in my life," says Bryan Dilworth, owner of Bonfire Entertainment.
"I kind of kid him, if [casino magnate] Steve Wynn had a brother," says Steelman, "it would be Bart Blatstein in Philadelphia."
Even the long-time members of the Northern Liberties neighborhood board, whose relationship with Blatstein can be best described as complicated, acknowledge the developer's ability to get things done. "When Bart can zero in on a project," says Larry Freedman, another long-time Northern Liberties board member, "especially with the things he learned over the years … I think that's his strong point."
But that doesn't mean Blatstein is infallible. Much of his pre-Piazza work, though successful, didn't particularly capture the public's imagination. His presence in Northern Liberties played a key role in revitalizing the neighborhood, but even his signature properties there are experiencing growing pains. Liberties Walk, says Finegar, has had trouble attracting the "artists and cool shops" the four-block development was intended for. The premise may be faulty, she says, that those places "will want to be there because we said that's where artists and cool shops should want to be."
The Piazza, which earned heaps of accolades, is facing its own issues. Finegar laments the excessive vacancies around the development, and its transformation into a "bro space" for young men to live out a debauched college-like experience. "It was a very cool idea, and for whatever reason, what it is right this minute isn't that," she says. "It's not really functional as the gathering space that Bart had in mind. It's not really a town square. It was at first. When he first built it, it was starting to function that way. It's hard to manufacture a space."
For the record, two years ago Blatstein sold his controlling interests in the Piazza and Liberties Walk to real estate firm Kushner Cos. "You just hit me here," Blatstein remarks, clutching his heart when asked about the Piazza's current state. It's a thorny issue, the blame or credit assigned to a developer as his properties evolve long after he's relinquished control. "It's like seeing your child go off to school," Blatstein says. "Letting go is hard. Because you're so emotionally attached in every aspect of creating it. Letting go is hard. But you move on, it's OK."
Blatstein certainly has, to Atlantic City. But his challenge, first with the Piazza and now with the Playground, remains: synthesizing authentic replications of beloved public places. Famed musical spots like Memphis' Beale Street grew organically, crafted over decades through the influences of history and time. They weren't built in a matter of weeks. But the minds behind the Playground are not deterred. "Without sounding too cavalier," remarks Dilworth, "there are aspects of our [venue] that are more conducive to our customers." Inside and under cover, for example, means the party will never have to stop. Plus, Dilworth adds, the beginning is not the end point: "Musically, what we have to offer will grow and grow."
Ultimately, these complex questions may not matter, and something simpler will suffice. Will the Playground be cool? And will people want to be there? Blatstein is going to great pains to make sure. It was essential to open T Street by July to capture the crowds who flock to Atlantic City during the summer, the city's busiest season.
And so even though the Playground is the smallest of his five current projects, the time frame has made it easily his most intensive. "From heart and time, it's sucking the life out of me," Blatstein remarks, though his expression indicates he'll be fine.
He estimates he's spending 80 percent of his working time in Atlantic City; practically every design decision, down to the furniture (purchased from the recently closed Riviera casino in Las Vegas) has required his attention. As he walks the property, he's prone to distraction; the tiniest details can't escape scrutiny this close to deadline. "I can't stop thinking, looking around, going, 'What am I missing, what am I missing?'"
Even as consumed as he's been, Blatstein (who owns a home in Margate) says he's taking pleasure in bringing good news back to Atlantic City, including the 400 jobs the Playground is slated to add. It's easy to surmise that he sees the opportunity to make a significant impact—both with the Playground and perhaps future endeavors in the city. He won't admit to any concrete plans, but leaves the door plenty open: "We're here, so expanding our footprint is easy."
Which is exactly what he is doing inside and outside the Playground. His tour of the property reaches the pier's end, and he walks outside into the ocean air. This too was unused space, and will be transformed into an outdoor beer garden by opening night. Water churns in waves underneath. The view is spectacular. Blatstein stops and sees the sum total of Atlantic City: the ocean and the beach, the casinos and the streets, the past and the present and, perhaps in his mind, the future.
Native Project When it was announced that Bart Blatstein and Paul Steelman had bought the Pier Shops at Caesars, many of Steelman's colleagues didn't sugarcoat it for him: "They said, 'Paul, you just bought the ugliest building in the world.'"
A little remodeling won't faze Steelman. Blatstein may be the local headliner behind the Playground project, but the CEO of Steelman Partners is a luminary who has designed dozens of casinos all over the world. Having first worked with Blatstein on the proposed Provence casino, Steelman's expertise will play a significant role in bringing the Playground to life. He notes, for example, that casino spaces are often 95 percent non-gaming, with successful visitor experiences taking their cues from the theme park industry—standards that are transferable to themed destinations like the Playground. "To go back and say we are going to follow some of these guidelines in creating a themed attraction in Atlantic City, that's a really good thing," says Steelman, 59, "and that's where our experience comes to bear."
The Atlantic City native is thrilled to expand his involvement in the city, which started two years ago as part owner of the renovated Steel Pier. "I always loved growing up there," Steelman says. "I loved surfing and sailing there. I miss it from time to time living out here in the desert [near Las Vegas] and travelling to Asia so much. If I can give back a little of what Atlantic City gave to me, I want to do it."
Published (and copyrighted) in South Jersey Magazine, Volume 12, Issue 4 (July, 2015).
For more info on South Jersey Magazine, click here.
To subscribe to South Jersey Magazine, click here.
To advertise in South Jersey Magazine, click here.
Article continues below
---
advertisement


---
Author:
C.J. Mittica; photo by Jeff Anderson
Archives
---
Upgrade to Luxury
The Home Team
Who's Who in Real Estate
A New Kind of Seller's Market
On the Home Front
A Strong Foundation
Real Estate Roundup
Who's Who in Real Estate
While the Iron is Hot
Moving Forward
Real Estate Roundup
Leading the Way
Riding High
Real Estate Roundup
Real Estate Roundup
More Articles