St. Joseph's Hammonton Football Coach Paul Sacco is Resilient in his Quest to Keep the School Open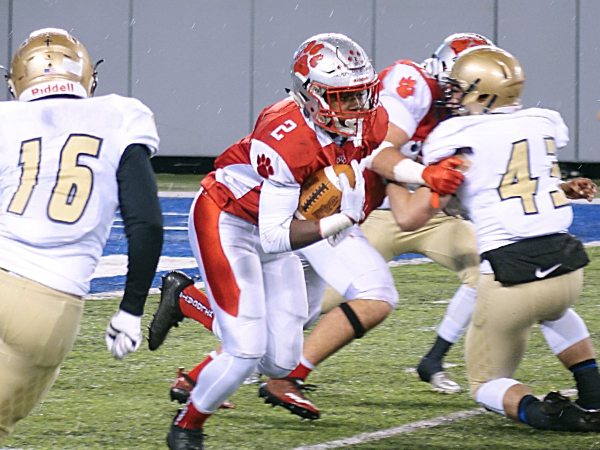 Paul Sacco remains confident in his belief that St. Joseph's of Hammonton will remain open. There is no bigger symbol of the spirit and success of the school than Sacco, a 1975 graduate who has become the winningest football coach in South Jersey history.
On Friday, the Diocese of Camden announced that five schools, including St. Joseph's, would be closing on June 30. Also included was St. Joseph's Elementary School of Hammonton. The three others were Wildwood Catholic and Cape Trinity Catholic, which share the same building and Good Shepherd Regional Elementary School in Collingswood.
"It was like a gut punch," Sacco said of the announcement.
Sacco is hoping that St. Joseph's can go the route of Holy Cross in Delran and Mater Dei, which were closed by their dioceses and opened as private schools, without receiving any funding from the dioceses.
"I am nothing but positive, said Sacco who has guided the Wildcats to 20 state titles since inception of NJSIAA state playoffs for Non-Public teams in 1993. "I think we have the right people in line right now as we speak."
Sacco says the news has obviously been devastating, but he has at least seen a silver lining.
"I been on the phone, until something like this happens, you don't realize how much support you have," he said.
Sacco has also been on the phone with all his players.
Unfortunately, so have some other schools, looking to recruit them.
Yes, the news was barely out there when Sacco said some of his players were being called. He is confident that they will stay because in his mind there will be school and football at St. Joseph's this fall.
According to Diocese figures, St. Joseph's high school enrolment has declined from 331 in 2015 to 206 this season, a 38 percent decline. St. Joseph's Elementary School had an enrollment of 191 in 2015 and 94 this year, a 50 percent decline.
Sacco was on the phone constantly in the aftermath of the announcement and that should continue. Besides talking to his payers, he has had discussions with parents of St. Joseph's students, alumni and of course some potential donors, many with deep roots to the school.
If anybody can spearhead the effort it is Sacco. He has a career record of 335-65-5 at the school in his time as head coach, which began in 1982. He first began teaching seventh and eighth graders but has been at the high school since 1982.
He said he is encouraged by what Mater Dei and Holy Cross have been able to accomplish in staying open.
"Yes I am because I feel we have the same type of support, if not better," he said. "The people involved with us can make it happen."
Article continues below
---
advertisement


---
© SouthJersey.com 2020. All rights reserved. This article or parts thereof may not be reprinted or reproduced by any other party without the express written consent of SouthJersey.com. For more information, please call 856-797-9910.


For more Local Sports features, visit our
South Jersey Sports
page.
Author:
Marc Narducci; Photo courtesy of Marc Narducci
Archives
---
Continuing the Difficult Climb
Something to Build On?
Who's Who in Real Estate
Colonial Liberty is highly competitive in South Jersey Girls' Soccer
South Jersey Football Games of the Week
South Jersey Coronavirus (COVID-19) Developments (September 20)
Still way too early for Eagles conclusions
Sixers and Ben Simmons have plenty of training camp intrigue
Best of Home and Garden
Top Physicians 2021
Back to School
Former Ocean City standout Delaney Lappin making her mark at Drexel
South Jersey Coronavirus (COVID-19) Developments (September 13)
South Jersey Football Games of the Week
Eagles Enter a Season with Justified Optimism
More...