One of Us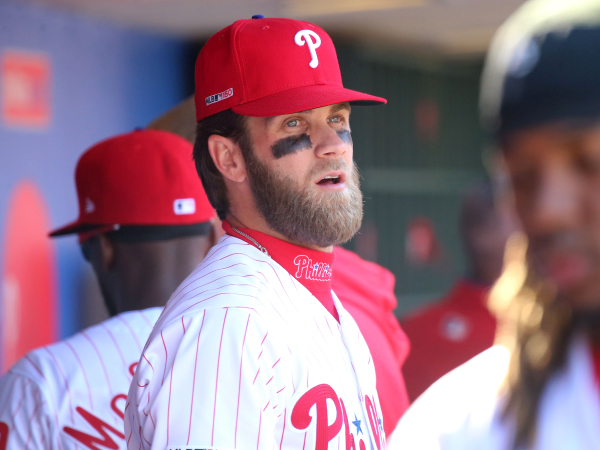 After signing with the Phillies last year, Bryce Harper worked quickly to make his presence felt both on and off the field.
Last winter, the baseball world held its collective breath as Bryce Harper—the offseason's prized free agent—weighed the decision on where he'd lace up his spikes and patrol right field for the foreseeable future. Daily reports and rumors swirled, connecting Harper to several organizations, including the Philadelphia Phillies. But when teams reported to spring training, the former MVP remained unsigned and at home in his native Las Vegas. The anticipation became almost unbearable for a loyal fan base desperate to have a star player donning red pinstripes once again.
Then on Feb. 28, the dream became a reality. Bryce Harper was a Phillie. For the next 13 years. After signing a lengthy $330 million contract—which was the biggest contract in baseball history at the time until Millville native Mike Trout eclipsed it the following month—Harper mania took over the Delaware Valley. The Phillies sold more than 100,000 tickets in a single day after the news broke. Jerseys flew off the shelf at such a dizzying rate that the team store at Citizens Bank Park began making custom orders to fill the demand until they actually started running out of the letter "R."
At his first press conference, Harper said all the right things about being drawn to the organization because of its history and the familial atmosphere from the front office down to the clubhouse. Then he backed up his words with his actions and the former villain instantly cemented himself as a fan favorite. He wore Phillie Phanatic cleats and headbands, he bowed to the fans in the outfield seats and most importantly, he brought his infectious energy and signature hard-nosed approach to the game. In a city that thrives off players who get their uniforms dirty and give maximum effort—just ask Chase Utley—the follically gifted slugger is beloved for both his style and substance.
Last year, that meant belting 35 home runs and driving in 114 runs in his first season in South Philadelphia. While he was certainly productive, his career-high 178 strikeouts also stood out. Harper would certainly like to cut down on that number this season, but as long as he keeps smashing balls well into the stratosphere and playing better-than-advertised defense, fans will remain firmly behind him.
While Harper went through the growing pains of joining a new organization, he is ready to get back into the swing of things. He has some notable new teammates, a new, highly respected manager in Joe Girardi and he figures not to be under the same microscope as he was last season when his everyday whereabouts made headlines.
Ironically, the team that Harper spent his first seven years in the big leagues with, the Washington Nationals, won the World Series last year. A bitter pill to swallow no doubt, but Harper doesn't need any more motivation. He is guided by his unwavering desire to win and he is very much a superstar that leads by example rather than relying on his God-given talent.
For now, when Harper has the chance to return to the diamond is still unclear. One of the consequences of the COVID-19 pandemic was that it forced the halt of Major League Baseball's season and while recent talks have centered around how teams can possibly return to action in the near future, there is still plenty that remains to be seen.
In the meantime, Harper is like the rest of us, sitting at home with his wife, Kayla, and infant son, Krew, patiently waiting to hear an umpire stand behind home plate and shout, "Play ball!" It will undoubtedly be baseball's biggest moment since the first games were played following the Sept. 11 attacks. While the welcomed distraction will soothe players and fans alike, there is real hope that this Phillies squad can achieve some of the goals they fell short of last year, namely making the playoffs for the first time since 2011.
In our conversation, which took place during spring training before the season was suspended, Harper told us why he fell in love with this area so quickly, how he's handling being a first-time father and why that little boy or girl in the stands pushes him to be at his best every time he steps out of the dugout.
You commented the other day that the fans inspired you to play harder last season. You've always been known for playing the game hard, so how did they push you even further?
I think they hold you accountable. They want you to work hard and to play hard, but they also want you to have fun as well because when you enjoy what you are doing, you are going to play better. Everyone knows about Philly fans and that they will let you know when you are doing good and they'll let you know when you are doing bad. Just that aspect of coming to the ballpark every single day, representing the entire organization and the city of Philadelphia, people that understand what it takes to work hard, to work a 9-5, I love that.
I try to do everything I can to inspire my teammates to go about things the right way because it will make us that much better.
You made a great connection with the fans and the area; little things like the Phanatic cleats or the headband, etc. Why was it so important to embrace the city wholeheartedly and so quickly?
The thing is I wanted it to be real. I didn't want to be fake or just do it to be on the good side of the fans. I wanted it to be something I enjoy doing. The Phanatic cleats, the headband; it's me being myself.
I love to interact with the young kids and the adults in the stands. To have an organization that has been around for so long with such a history, I wanted to be part of the greatness.
Fans here love the Phillies, and the Sixers, and the Flyers and of course the Eagles. It's a city that prides itself on being from Philly and I love that. I'm from Vegas and we didn't have sports teams growing up, so when I go to a city that cares and respects their players, we need to give it right back to them. I love that connection and being able to go out there and wave to the crowd and laugh and do my little bow in right field. That's stuff that I didn't think about doing, it was just spur of the moment. The fans have taken me and my family and embraced us with open arms and I can't thank them enough.
How has fatherhood been treating you thus far? Have you been getting enough sleep?
Actually, it's been great. He sleeps like a freaking baby, well like a good baby. It's been awesome. He's my happiness. I love my wife more than anything, but this is different. I never knew you could love something that much. Every single day I wake up and look at him and say this is why I grind every day. He's my pride and joy.
I noticed on social media that you and your wife took the baby to Johnson's Corner Farm here in Medford. Do you get out to explore the area much?
We enjoyed the city last year and we started to look around for houses and found a spot about 15 minutes away from the stadium.
We saw the farm … candied apples, pumpkin patches; I love that stuff. I don't know if that's because I'm an October baby. But I love trees and greenery, so to find that farm … we had a lot of fun. That was a good day.
Is it hard for you to be out in the public?
I think everyone's really been great. If I'm walking down the street, everyone says, "Hi," or wants to take a picture. They are really respectful. If I'm at dinner, they would wait until I was done to say hi. That really shows how much of a sports town that it is, that they respect everyone around them enough to say, "They are having dinner, let's not bother them." They welcomed me and my family with open arms and it's not like that everywhere.
You have given your parents a lot of credit publicly before; how special is your relationship with them?
My parents, I love them to death. They've always been there for me, they always worked hard. My dad has been there from tee ball to football; I'm very fortunate to have a mom and dad that really cared about me and my siblings and what we were going through. My dad worked his tail off as an ironworker and my mom was a paralegal. My dad would work from 2 a.m. until noon and then made sure he was there to pick us up after school or take us to practice. My mom worked a 9-5, but made us lunch every day, made sure we were good. I'm very blessed and I love them very much and they know that I am always here for them and that will never change.
Article continues below
---
advertisement


---
When you signed the lengthy contract last year and knew you were going to be here for quite some time, did you ever factor in the young kids that will basically grow up watching you in right field and the lasting bond that builds with them?
That's the best part. The one thing about leaving the Nationals was that there were those 6- or 7-year-old kids that saw me play there and now they are 14 years old and they grew up with me and then I bounced. Those are things you miss the most.
But to have that bond with the fans is the best part. Those kids are going to see you every single day, you want to give it your all because those people are going to live and die with you. When we win, the fans win. When we lose, the fans lose. I love that.
The little kids screaming after I make a play, those are the moments that you cherish. You owe them your best. Every time I run onto that field, it's for my teammates and myself, but it's also for that little kid in the front row and the whole city. We are in this together. We need them and they need us; it's all of us as one.
Click here to subscribe to the free digital editions of South Jersey Magazine.

To read the digital edition of South Jersey Magazine, click here.

Published and copyrighted in South Jersey Magazine, Volume 17, Issue 2 (May 2020).

For more info on South Jersey Magazine, click here.
To subscribe to South Jersey Magazine, click here.
To advertise in South Jersey Magazine, click here.
Author:
Peter Proko; Photograph by Miles Kennedy
Archives
---
Who's Who in Health Care
Former Shawnee star Doolittle Calls It A Career
Camden County College welcomes Baseball Hall of Fame
South Jersey Football Games of the Week
Out & About
QB Ronnie Borden is Back in the Game
Should fans be worried for the Phillies bullpen?
South Jersey Football Games of the Week
A look at South Jersey's Top H.S. Girls' Soccer Teams
Out & About
Eagles will be fine after close call in opener
High School Football Games of the Week
Is it Super Bowl or bust for the Eagles?
What's New in South Jersey?
From New Jersey to Nashville
More...