Washington Township's Jack Dunn Looking Forward to the Next Level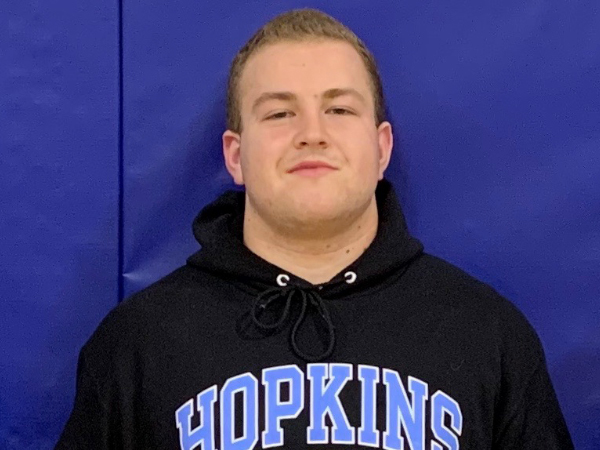 Jack Dunn promises to have an extremely busy schedule at the next level. A recent Washington Township graduate, Dunn will be attending Johns Hopkins University on a full Army ROTC scholarship. In addition, he will continue playing football and wrestling for the Division III school.

During his time at Washington Township, Dunn was an outstanding student-athlete. He was a consensus first-team all-South Jersey selection as an offensive lineman. In wrestling he was a district champ as a heavyweight and finished third in the regions to qualify for the state tournament.

Dunn was recently named Washington Township's male athlete of the year.

Now he will continue playing two sports while attending such a highly regarded academic institution.

"I have always been big on education and kept my grades up and for me sports will end, I don't have that NFL height, so I felt that Johns Hopkins was the best place for me," said.

Washington Township coach Mike Schatzman says he will really miss coaching Dunn.
Article continues below
---
advertisement


---


"He is just an awesome kid and I know he will really do well at Johns Hopkins," Schatzman said.

As for now, Dunn is working out for football, doing the best he can during this pandemic. During the high school season, he weighed 280-pounds and opposing defensive linemen had great difficulty dealing with his strength and athleticism.

Due to his wrestling background, he has great feet, a major necessity for an offensive lineman. Even though he had success on defense, he was recruited by Johns Hopkins to play on the offensive line.

During wrestling season, he got down to 230 pounds, but says he is now back up to 255. Dunn will offer Johns Hopkins the versatility of playing tackle or moving inside, either to guard or even center.

He will be joining a quality football program. This past season Johns Hopkins went 8-3. It was the 12th consecutive year that the Blue Jays have won at least eight games in a season. Johns Hopkins has appeared in 25 postseason games, all since 2002.

When Dunn gets on campus in August, he will be familiar with the school. He made an overnight recruiting visit and has been there on a few other occasions.

"When I went on an overnight visit, I realized that there is where I wanted to attend," he said.

He will be studying economics while participating in the ROTC program. After graduation he will be required to serve four years of active duty and four more in the reserves.

"I have always had the utmost respect for people serving in the military in our country," Dunn said. "I felt like it was something I really wanted to do."

© SouthJersey.com 2020. All rights reserved. This article or parts thereof may not be reprinted or reproduced by any other party without the express written consent of SouthJersey.com. For more information, please call 856-797-9910.

To receive special deals directly from SouthJersey.com, subscribe here.

For more Local Sports features, visit our South Jersey Sports page.

Author:

Marc Narducci
Archives
---
Continuing the Difficult Climb
Something to Build On?
Who's Who in Real Estate
Colonial Liberty is highly competitive in South Jersey Girls' Soccer
South Jersey Football Games of the Week
South Jersey Coronavirus (COVID-19) Developments (September 20)
Still way too early for Eagles conclusions
Sixers and Ben Simmons have plenty of training camp intrigue
Best of Home and Garden
Top Physicians 2021
Back to School
Former Ocean City standout Delaney Lappin making her mark at Drexel
South Jersey Coronavirus (COVID-19) Developments (September 13)
South Jersey Football Games of the Week
Eagles Enter a Season with Justified Optimism
More...