Eagles Win Over San Francisco was Reminiscent of Last Year's Late-Season Surge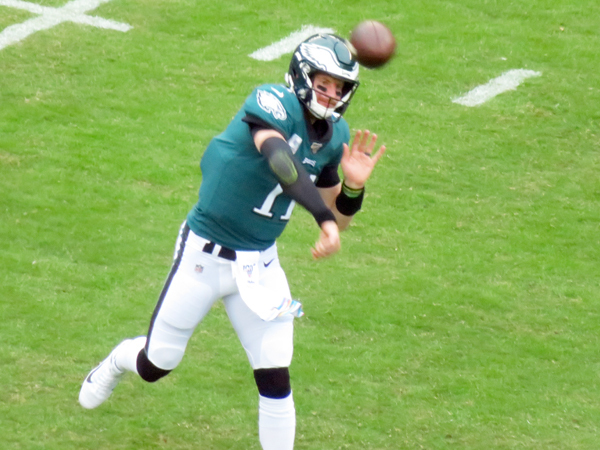 The Eagles' 25-20 win over the San Francisco 49ers had the same look at so many of their final four regular season games last year.
What was similar was not only the outcome, but the fact that Carson Wentz was leading a team of no-name players in a game the Eagles needed to win.
Last season the Eagles were locked in a battle with the Dallas Cowboys and needed to win the final four games to earn a playoff berth.
The Eagles, despite having multiple key injuries did win out and earned that playoff spot. Wentz last season was working with so many young receivers like Greg Ward due to injury.
Now Ward is considered one of the veterans. Against San Francisco, Ward led the Eagles with seven targets. He caught four passes for 38 yards while also returning one punt for eight yards.
Against the 49ers, one of the heroes was Travis Fulgham, who caught a 42-yard touchdown pass from Wentz in the fourth quarter to give the Eagles the lead for good, 18-14.
Fulgham was promoted from the practice squad and immediately had a major impact.
Last season in those final four games, very little was easy, if one can recall.
The Eagles began with a 23-17 overtime win in a Monday night game over the New York Giants. Then then won a 37-27 game at Washington before a dominant defense led them to a 17-9 victory over the Dallas Cowboys and then finished matters with a 34-17 victory over the Giants.
In those four games, Wentz was lights-out, completing 67.6 percent of his passes for 1,199 yards, seven touchdown passes and no interceptions. His passer rating was 100.8.
What was impressive about the win over San Francisco, was that Wentz was far from perfect or dominating. But he kept grinding all evening.
He completed 18 of 28 passes for 193 yards, one touchdown and one interception. His passer rating was just 81.4, but he also rushed seven times for 37 yards and an impressive 11-yard TD.
Wentz had the roughest three-game stretch to open the season of his five-year career. Even though his statistics weren't out of the world against the 49ers, they were by far his best of the season. In the first three games, his passer rating was 63.9, which was the worst in the NFL.
The Eagles will need him to continue coming out of his slump like this.
What also helped is the defense played its best game of the season. In the first three games, the defense had failed to create a turnover. The only turnover from an opponent in those first three games came via the special teams on a fumbled punt return.
Against the 49ers, the Eagles caused three turnovers, including Alex Singleton's 30-yard interception return for a touchdown.
The defense line was consistently putting pressure on beleaguered 49ers quarterback Nick Mullens and CJ Beathard, recording five sacks.
It's interesting because at the beginning of the season the Eagles' first three games were supposed to be the lighter part of the schedule and they went 0-2-1, losing at Washington and to the LA Rams and tying Cincinnati.
Then the next three were supposed to be the opposite.
After Sunday's game against the host 49ers, the Eagles now must visit the Pittsburgh Steelers (3-0) and then host the Baltimore Ravens (3-1).
The Steelers had the unexpected week off after their game with Tennessee was postponed due to a COVID-19 outbreak with the Titans.
Both the Steelers and Ravens have the look of serious playoff teams. Many were calling the Ravens a Super Bowl favorite before their 34-20 home loss to Kansas City in Week 3.
Baltimore is still a dangerous team and that will be a tough game and so will this week at Pittsburgh.
Then again, if the Eagles play the way they did against San Francisco, they won't be an easy out.
Now 1-2-1, they are in first place in the even worse than expected NFC East.
Few would have thought that at the quarter point of the season the Eagles would have one win and also be in first place.
Yet, that is what has happened after they resurrected their late-game heroics from last season.

Article continues below

---
advertisement


---
© SouthJersey.com 2020. All rights reserved. This article or parts thereof may not be reprinted or reproduced by any other party without the express written consent of SouthJersey.com. For more information, please call 856-797-9910.


To receive special deals directly from SouthJersey.com,
subscribe here.
For more Local Sports features,

visit our South Jersey Sports page.
Author:
Marc Narducci
Archives
---
Eastern and Cinnaminson are top girls' and boys' seeds in South Jersey Soccer Coaches Tournament
Healthy People, Healthy Business
South Jersey highschool football games of the week
Best of Home and Garden
Back to School
Ready to Take Flight
Bishop Eustace's Danny O'Rourke a model of stability
Who's Who in Real Estate
Special Delivery
South Jersey Football Games of the Week
Eagles saved their season with win over Carolina
A Difficult Loss
Top Physicians 2021
Phillies wasted lights-out seasons from Bryce Harper and Zack Wheeler
Another strong season for Olympic American Girls' Soccer
More...