Moves by Daryl Morey Have Improved the 76ers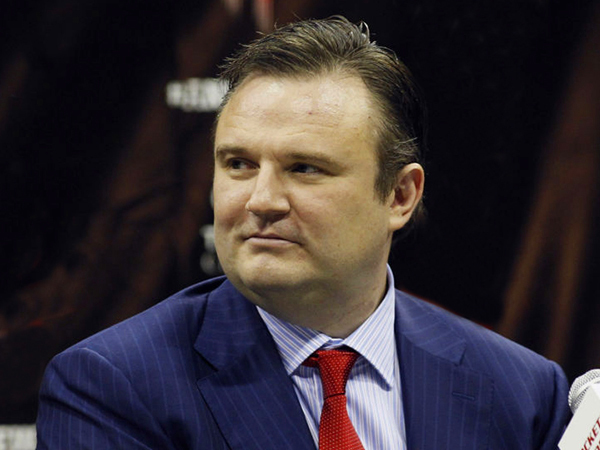 There is optimism concerning the 76ers as the NBA gears up for the 2020-2021 season.
Didn't the 2019-2020 season just end?
Yes, as the Los Angeles Lakers won the title with a 106-93 win in Game 6 over the Miami Heat on Oct. 11.
The NBA and the National Basketball Players Association agreed to the quick start-up for one major reason – television money.
Initially the players had hoped to start in January, but the television networks wanted a December start, especially to take advantage of Christmas Day, which the NBA has owned in recent years, scheduling five televised games.
NBA teams will begin training camp this week and the schedule is expected to begin on Dec. 22 (and could be announced soon).
The preseason will be from Dec. 11 to 19 and teams will play anywhere from two to four games. The Sixers have two preseason games, Dec. 15 at home against Boston and Dec. 18 at Indiana.
One reason for optimism is that new president of basketball operations Daryl Morey has acquired some proven shooters, the Sixers' biggest needs.
A big acquisition was Seth Curry, 30, a career 44.3 percent three-point shooter. The Sixers also acquired Danny Green, who this past season won his third NBA championship with a different team. Green first won a title with San Antonio and then was on the Toronto Raptors 2019 title team and the Lakers championship this past season.
Green is 33, is a 40 percent three-point field goal shooter. He is also an accomplished defender.
The thought is that Green and Curry will create more space for Joel Embiid. If teams double-team Embiid, the thinking is that Green or Curry will make them pay. The Sixers didn't have that type of shooter last year.
In addition, there is so much made of Ben Simmons' reluctance to shoot from distance. He has only attempted 20 three-point field goals in his first three season. Simmons is an outstanding passer and if Sixers have others who can hit the three, then his lack of shooting won't be such a concern.
The Sixers were also able to rid themselves of Al Horford's contract, trading him to Oklahoma City (where they got Green back as part of the trade. Green was dealt by the Lakers to OKC and then later to the Sixers).
Horford has three years left on his contract worth $81 million, with $69 million guaranteed, so the Sixers got some salary cap flexibility.
The Sixers acquired Green and Terrance Ferguson in exchange for Horford, a future first-rounder in 2025, a second-rounder and the rights to Serbian point guard Vasilije Micic.
The 6-6 Ferguson hasn't been much of a scorer in his first three NBA seasons, but he is only 22 and the Sixers will see if he can contribute.
Horford was a great locker room guy with outstanding character, but his game never blended with Embiid.
The Sixers also selected Tyrese Maxey, the 6-foot-3 combo guard from the University of Kentucky with their first round pick. Maxey is a two-way player and could find rotation minutes as a rookie. He didn't shoot well from three in his only year at Kentucky (29.2 percent) but he insists he will be better in the NBA and has been working diligently on his shot.
Anytime he is paired with Simmons, he is bound to get open shots.
The Sixers also signed eight-time all-star Dwight Howard to be Embiid's backup. While Howard is far from the player during his all-star days, he was a key reserve on the Lakers championship this season and he provides an essential role, especially since Embiid has an injury history. Howard would be able to step into the starting lineup, a more than serviceable center.
Morey, in a short time, has made several key additions and the one big subtraction (Horford) and the Sixers will enter the season with optimism.
Article continues below
---
advertisement


---

A year ago the Sixers were considered one of the teams to beat in the Eastern Conference. This year they won't be picked among the favorites, but could be a better team than the one that was eliminated in a four-game first-round sweep by the Boston Celtics in last season's playoffs.

© SouthJersey.com 2020. All rights reserved. This article or parts thereof may not be reprinted or reproduced by any other party without the express written consent of SouthJersey.com. For more information, please call 856-797-9910.



To receive special deals directly from SouthJersey.com,

subscribe here.



For more Local Sports features, visit our South Jersey Sports page.
Author:
Marc Narducci
Archives
---
Eastern and Cinnaminson are top girls' and boys' seeds in South Jersey Soccer Coaches Tournament
Healthy People, Healthy Business
South Jersey highschool football games of the week
Best of Home and Garden
Back to School
Ready to Take Flight
Bishop Eustace's Danny O'Rourke a model of stability
Who's Who in Real Estate
Special Delivery
South Jersey Football Games of the Week
Eagles saved their season with win over Carolina
A Difficult Loss
Top Physicians 2021
Phillies wasted lights-out seasons from Bryce Harper and Zack Wheeler
Another strong season for Olympic American Girls' Soccer
More...