Phillies Lauded for their Hiring of Dave Dombrowski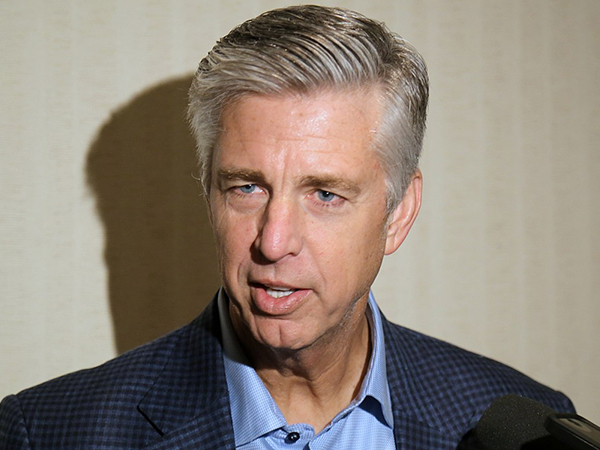 The Phillies had been criticized for their relative inactivity during the off-season, but that changed with the hiring of Dave Dombrowski as president of baseball operations.
The hiring of Dombrowski, 64, signals to the Phillies fanbase that they are serious about ending the longest playoff drought in the National League. The Phillies have not been to the postseason since 2011 and haven't had a winning record since then either.
Nine years without a playoff appearance is a lot, especially considering that last season there was an expanded 16-team playoff.
Dombrowski has been either a general manager or president of baseball operations at four different places and has wild success.
He was the GM of the Montreal Expos (now the Washington Nationals) from 1988-1991. That was the only team that he never qualified for the postseason with.
After that he took over the expansion Florida (now Miami) Marlins in 1992. The Marlins would begin play in 1993. Dombrowski stayed there until 2001.
By the Marlins' fifth season in 1997 they not only qualified for the playoffs for the first time, but won the World Series. It was one of the great building jobs.
After that, Dombrowski was ordered by ownership to trade the high-priced players, essentially tearing down a World Series champion. Dombrowski stayed until 2001. When he left, the Marlins had some quality young talent, players such as pitcher Josh Beckett, who would be cornerstones of the franchise's 2003 World Series champion.
In 2002 he became president of baseball operations and later also general manager of the Detroit Tigers, a team that went 66-96 the previous year.
The Tigers hadn't reached the playoffs in 14 consecutive years prior to 2002.
Under his guidance, the Tigers returned to the playoffs in 2006, losing to the St. Louis Cardinals in five games in the World Series.
Under Dombrowski, the Tigers would earn another World Series berth, losing to the San Francisco Giants in four games during the 2012 Fall Classic.
He was with the Tigers from 2002 until being fired in August of 2015. During that time, Detroit made five playoff appearances, including the two aforementioned World Series.
Dombrowski didn't stay unemployed very long. He was hired later in August of 2015 to be the Boston Red Sox president of baseball operations.
The Red Sox, would finish 78-84 in 2015, their second straight losing season.
In Dombrowski's first full season in Boston, the Red Sox returned to the postseason. Boston went to the playoffs three straight year, capped by the 2018 World Series championship.
Less than a year later, on Sept. 9, 2019, Dombrowski was fired.
Now he is trying to restore the Phillies to prominence after five seasons of going backward under general manger Matt Klentak, who was reassigned after this past season.
Dombrowski has a reputation for trading young, often unproven talent for proven stars. He is a win-now general manager.
Like any executive, he has had hits and misses with draft choices, but two of his best were Becket, No. 2 overall in 1999 and Justin Verlander, No. 2 overall by the Tigers in 2004.
In his opening press conference, he said he considered the Phillies situation a "retool, not a rebuild."
Yet there is a lot of retooling to do, especially for a bullpen that had a 7.06 ERA.
What he brings to the Phillies is credibility and championships, somebody who has had great success, has been through much tougher initial situations in Miami and later Detroit, than the Phillies currently face.
It isn't known how much managing partner John Middleton will allow Dombrowski to spend on free agents (including Phillies catcher J.T. Realmuto) due to the financial losses incurred due to COVID-19.
What is known is that Dombrowski wouldn't at his age take a job like this if he didn't think he could turn around the franchise and his past history gives Phillies fans something they haven't had in nearly a decade – hope.
© SouthJersey.com 2020. All rights reserved. This article or parts thereof may not be reprinted or reproduced by any other party without the express written consent of SouthJersey.com. For more information, please call 856-797-9910.

Article continues below

---
advertisement


---
To receive special deals directly from SouthJersey.com,
subscribe here.
For more Local Sports features, visit our South Jersey Sports page.
Author:
Marc Narducci
Archives
---
Who's Who in Health Care
Crowd Pleaser
Can the Eagles Regain Their Winning Way?
A Bight Future Ahead for Glassboro Football
The Big Impact of Small Businesses
Eagles Need to Reset
Feeling Festive
Another dominating season for Delsea football
Mainland's Historic Football Season
A Rooting Interest
Eagles Continue to Fly High
Raising the Bar
Thanksgiving Football Continues
Hotstovers to honor All-SJ Baseball and new HOF inductees
South Jersey Football Games of the Week
More...