A contract that hasn't worked out with Scott Kingery and the Phillies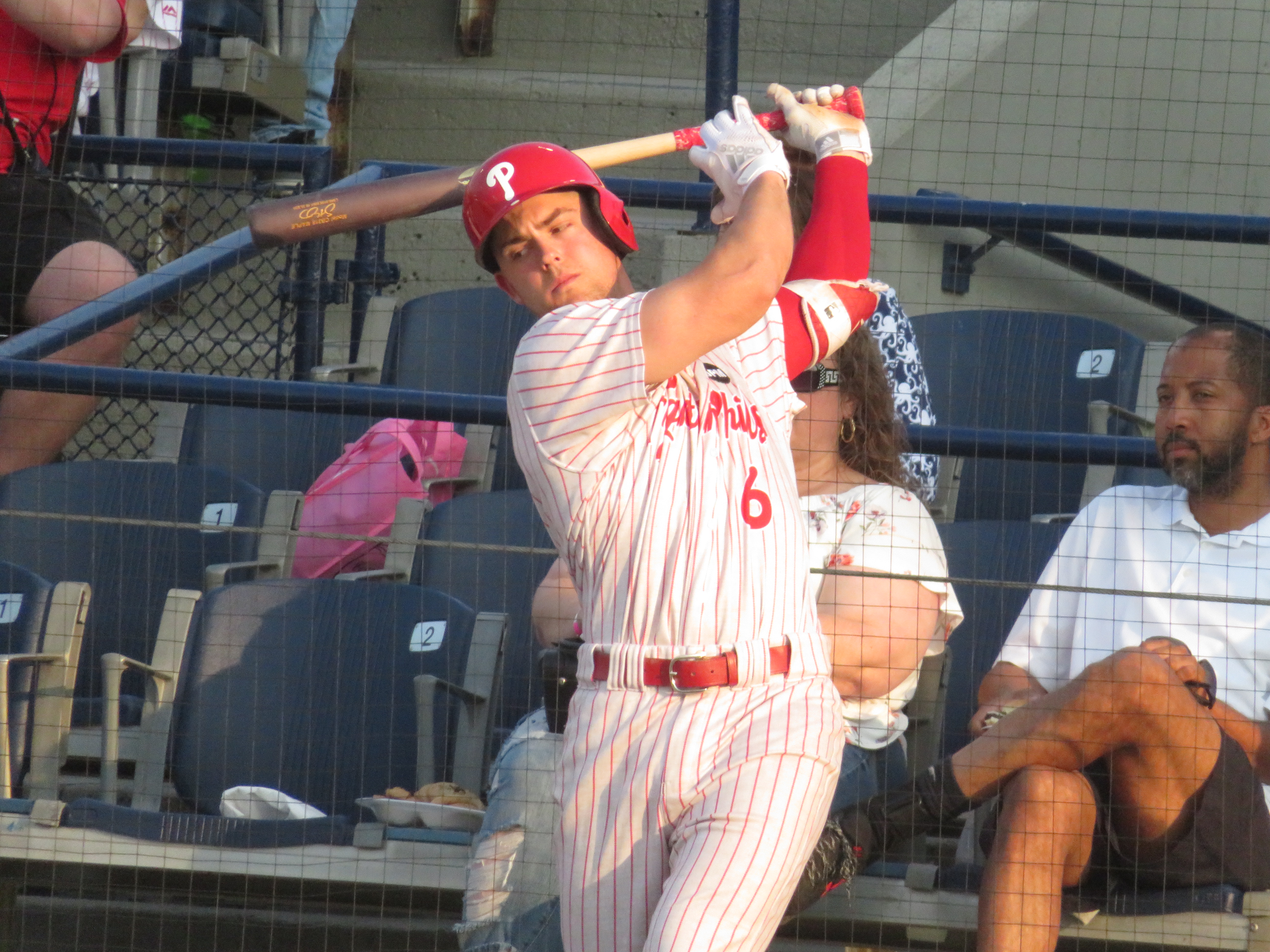 MLB teams try to get bargains. Many look to sign young players to future contracts that aren't considered outlandish, but there is still an element of risk.
That is what the Phillies attempted to do with Scott Kingery.in 2018 when they signed him to a six-year, $24 million contract before he had played his first Major League game.
That is not an exorbitant contract for somebody who produces. In fact, when it was first signed, some suggested it was a team-friendly deal.
The Phillies were trying to save a few dollars down the line. They felt if Kingery produced the way they projected that his signing would well worth it.
The reason there was so much excitement about Kingery is that in 2017 while playing for Double-A Reading and then Triple-A Lehigh Valley, he hit a combined .304 with 26 home runs, 65 RBI, 29 stolen bases and an .889 OPS. In 603 plate appearances and 543 at-bats, he struck out 109 times, maybe a sign that even then he was swinging too hard and didn't have the best two-strike approach.
Kingery's best position is second base, but he also could play center field, shortstop, third base.
He was considered one of the bright young players, but he hasn't shown he can consistently hit Major League pitching.
Part of the problem is that he is trying to be too much of a power hitter, instead of looking to make more contact.
A player his size (5-10, 180) shouldn't be trying to hit home runs every time up.
In his first season in 2018, Kingery hit .226 with eight home runs, 35 RBi and 126 strikeouts in 452 at-bats.
The next season he did show power, hitting .258 with 19 home runs, 58 RBI in 458 at-bats. His OPS+ was 102, which is a little bit better than league average (which is 100).
Last year's abbreviated season was a disaster. Kingery tested positive for COVID-19 and never got it going. He hit just .158 in 124 plate appearances and 113 at-bats and had a 38 OPS+
This season when the Phillies were desperate for somebody to claim the center fielder job during the exhibition season, Kingery struggled and was sent to the minor league site to enter the season. Kingery was later called up to the Phillies, but hit .053 with 12 strikeouts in 19 at-bats and 19 plate appearances
He is now working on his swing at Triple-A Leigh Valley, but had batted just .182in his first 11 games.
Kingery, who was a second-round pick in 2015 from the University of Arizona, is still just 27-years-old, but the clock is ticking,.
His career has been spiraling downward and the Phillies have to hope he recaptures his swing and regains his confidence in Triple-A.
There is still a big role for him with the Phillies if he is able to rebound, but right now he has a lot of work to do to justify when he was offered that contract in the first place.
Article continues below
---
advertisement


---
Author:
Marc Narducci
Archives
---
Eastern and Cinnaminson are top girls' and boys' seeds in South Jersey Soccer Coaches Tournament
Healthy People, Healthy Business
South Jersey highschool football games of the week
Best of Home and Garden
Back to School
Ready to Take Flight
Bishop Eustace's Danny O'Rourke a model of stability
Who's Who in Real Estate
Special Delivery
South Jersey Football Games of the Week
Eagles saved their season with win over Carolina
A Difficult Loss
Top Physicians 2021
Phillies wasted lights-out seasons from Bryce Harper and Zack Wheeler
Another strong season for Olympic American Girls' Soccer
More...