Questions leading up to the NJSIAA girls basketball state tournament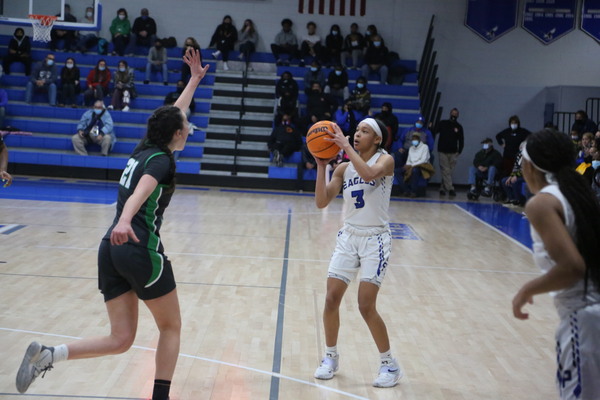 The NJSIAA girls basketball state tournament begins on Feb. 28. Teams will ultimately compete for six state titles – Groups 1 through 4 in public school and Non-Public A and B.
Here are some of the key questions about the competition.
What is the toughest South Jersey Group?
Which would be South Jersey Non-Public A, which is annually one of the best in the state. One reason it is so difficult is that it includes many teams from outside the seven-county South Jersey area.
Paul VI has arguably been the No. 1 team in South Jersey and the Eagles will be the No. 2 seed, but they will be a heavy underdog.
That's because of the presence of top seeded St. John Vianney, the No. 1 team in New Jersey according to NJ.com.
The Lancers fell to 24-1 after losing on Sunday, 73-58 to Sidwell Friends of Washington DC., the No. 1 team in the country.
So despite that loss, St. John Vianney, led by one of the state's top players, senior guard Madison St. Rose, will be tough to beat.
That doesn't mean Paul VI can't be competitive.
Paul VI began the week 21-3, while playing a difficult schedule. The Eagles have one of the best juniors in the country in 5-7 combination guard Hanna Hidalgo, who is averaging 26.7 points.
Sara McShea, a 5-11 senior, is a great complimentary player for the Eagles, averaging 14 points per game.
That is a great one-two punch, but the Eagles still won't be favored.
And there are many other top teams in SJ Non-Public A, including No. 3 seed Red Bank Catholic, led by 6-2 senior Justine Pissott, a McDonald's All-American.
So this is a loaded field, where the winner will be the clear favorite to win a state championship and most likely a Tournament of Champions title.
Is SJ Group 2 a Colonial Affair?
Haddon Heights is the No. 1 seed in South Jersey Group 2 and the Garnets will be difficult to beat, but there could also be some familiar contenders.
The Garnets have clinched the Colonial Conference Liberty Division (18-5, 8-1) but recently lost to another Liberty team Haddonfield, 33-29.
Haddonfield is seeded No. 8 and if the Bulldogs and Haddon Heights both win first round games, they would meet in the quarterfinal.
They have split in the regular season with Heights winning an earlier 30-25 decision.
Another Colonial Liberty team Haddon Township, which is the No. 6 , is an interesting team. Under coach Tom Mulligan, Haddon Township is among the top defensive teams in South Jersey.
And we shouldn't forget about Burlington County's Cinnaminson, the No. 2 seed which owns an earlier 45-37 win over Haddonfield.
Group 2 doesn't have a lot of high scoring teams, so an off-shooting night could mean elimination.
No. 3 Middle Township and No. 4 Delran bear watching in this extremely balanced group.
Another Cherokee-Shawnee showdown in SJ Group 4 final?
Not much separates the No. 1 seeded Cherokee Chiefs and No. 2 seeded Shawnee Renegades in SJ Group 4. Both are members of the Olympic Conference American Division.
On Sunday, Cherokee improved to 2-0 against Shawnee this season with a 26-24 win over the Renegades in the championship of the South Jersey Invitational Basketball Tournament.
It wouldn't be surprising if both teams met in the sectional final.
Just like Group 2, there should be a lot of low-scoring defensive struggles in SJ Group 4.
Look for No. 4 Lenape and No. 11 Eastern, two other teams from the Olympic American, to be very competitive.
Will the top teams advance to the SJ Group 1 final?
Wildwood is No. 1 in SJ Group 1 and Woodbury is No. 2 and both appear headed for a championship meeting.
There could be an upset, but both teams are favored to meet in the final.
Woodbury began the week 21-2 and had won 13 in a row including last week's 38-36 victory over Group 4 Williamstown.
Among the leading players in Group 1 will be Alexis Davis, a 6-0 Woodbury junior who averages 27.4 points.
Senior guard Imene Fathi (18.2 ppg.) will be a major threat for Wildwood.
Can anybody beat Mainland in Group 3?
Anything is possible but the Mustangs are the top seed on merit. The best contender appears to be No. 2 Timber Creek.
Article continues below
---
advertisement


---
Author:
Marc Narducci
Archives
---
Who's Who in Health Care
Former Shawnee star Doolittle Calls It A Career
Camden County College welcomes Baseball Hall of Fame
South Jersey Football Games of the Week
Out & About
QB Ronnie Borden is Back in the Game
Should fans be worried for the Phillies bullpen?
South Jersey Football Games of the Week
A look at South Jersey's Top H.S. Girls' Soccer Teams
Out & About
Eagles will be fine after close call in opener
High School Football Games of the Week
Is it Super Bowl or bust for the Eagles?
What's New in South Jersey?
From New Jersey to Nashville
More...