Eagles and Doug Pederson have both prospered since his dismissal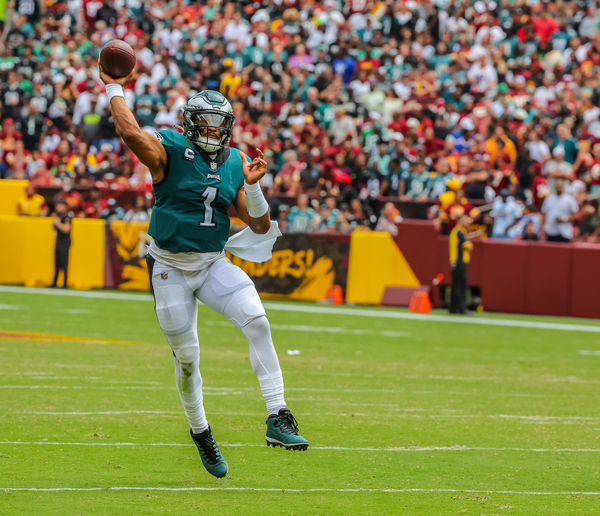 Who knew that when Doug Pederson and his Jacksonville Jaguars visit the Eagles on Sunday that it would be a feel-good story for both sides?
It didn't appear that it would be that way after the Eagles fired Pederson following a 4-11-1 record in 2020.
Just three years after leading the franchise to their first Super Bowl, Pederson was dismissed.
After a year out of football, Pederson has made a triumphant comeback and so have the Eagles.
Nobody would have thought about it at the time, but both sides have prospered following his dismissal.
The success of the Eagles is not as big a surprise. What Pederson has done with the previously dysfunctional Jaguars is simply shocking.
Jacksonville is 2-1 after a 38-10 pounding of a Los Angeles Chargers team that many felt at the beginning of the year had one of the best rosters in the NFL.
Since 2008, Jacksonville has produced one winning record, going 10-6 in the same season the Eagles won the Super Bowl, 2017.
After going 1-15 in 2020, Jacksonville hired Urban Meyer as a head coach. That proved to be a disastrous hire as Meyer didn't last the full season before being fired.
The Jags went 3-14 last year.
Pederson is a former NFL quarterback, mainly a backup during his long career and he was touted as a coach for helping develop young QB's.
Carson Wentz had his best season in 2017, playing at an MVP level during the Super Bowl year, before suffering a season-ending knee injury that December.
Now Pederson is working with Trevor Lawrence, the first pick of the 2021 draft, who had a rough rookie year under the guidance of Meyer and then interim coach Darrell Bevel.
As a rookie, he was often running for his life. Lawrence threw 12 TD passes compared to an NFL-high 17 interceptions. His passer rating was just 71.9.
This season he has thrown six TD passes and just one interception and his passer rating is 105.1.
Should this game be competitive?
Jacksonville opened its season with a 28-22 loss to the Washington Commanders. That is the same Washington team that the Eagles pounded 24-8 on Sunday, sacking Wentz nine times.
Former Jacksonville teams would not have recovered from that opening 28-22 loss in the nation's capital.
Yet Jacksonville then routed Indianapolis, 22-0 in its home opener. This past week, Indianapolis beat Kansas City, like the Eagles, considered a viable Super Bowl contender.
Then Jacksonville simply tore apart the Chargers in Los Angeles.
The Chargers Justin Herbert, considered among the top five NFL quarterbacks, completed just 25 of 45 for 297 yards, one touchdown, one interception and a 74.0 passer rating against the Jags. LA averaged just 2.2 yards per carry in 12 rushing attempts.
Meanwhile, Lawrence, utilizing a short passing game, completed 28 of 39 for 262 yards, three touchdowns, no interceptions and a 115.5 passer rating.
The Jags averaged 4.2 yards per carry in 36 rushing attempts, led by James Robinson who rushed for 100 yards and a TD on 17 attempts (5.9 avg.)
Linebacker Devin Lloyd, a first-round draft choice from Utah, had seven tackles, three passes defended and an interception. He leads the Jags with 24 tackles and two interceptions.
As well as Lawrence is playing, he and just about every other quarterback are behind Jalen Hurts, who has a 106.5 passer rating and leads the NFL with an outlandish 13.9 yards per pass completion. Hurts is also averaging 4.5 yards per rushing attempt and has three rushing touchdowns.
Whether Jacksonville gives the Eagles a game or not, Pederson has the Jags in the right direction. Nick Sirianni has done a great job replacing Pederson, making the playoffs last year and now having a team everybody fears.
So both sides have prospered after the divorce. And when Pederson returns on Sunday, he should get a huge ovation, at least before the game begins.
Photo Courtesy of Philadelphia Eagles
Article continues below
---
advertisement


---
Author:
Marc Narducci
Archives
---
Who's Who in Health Care
Former Shawnee star Doolittle Calls It A Career
Camden County College welcomes Baseball Hall of Fame
South Jersey Football Games of the Week
Out & About
QB Ronnie Borden is Back in the Game
Should fans be worried for the Phillies bullpen?
South Jersey Football Games of the Week
A look at South Jersey's Top H.S. Girls' Soccer Teams
Out & About
Eagles will be fine after close call in opener
High School Football Games of the Week
Is it Super Bowl or bust for the Eagles?
What's New in South Jersey?
From New Jersey to Nashville
More...