Thanksgiving football still a tradition worth preserving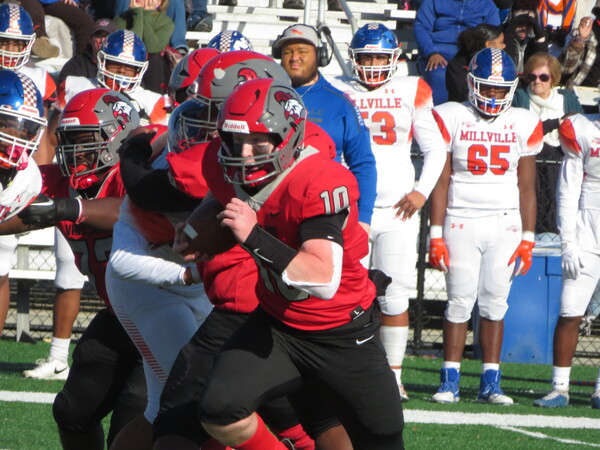 There is no doubt that Thanksgiving high school football in South Jersey isn't anywhere close to where it used to be in terms of popularity.
The schools that continue to play on Thanksgiving are holding on to tradition, while many schools are dropping playing on the holiday due to the NJSIAA playoffs.
As it is, teams played in the state semifinals the weekend before Thanksgiving. Some playoff teams such as Millville, had a little break between its postseason game and the Thanksgiving matchup.
Millville won its Group 4 state semifinal, 18-14 over Mainland at Cherokee on Sunday. Then the Thunderbolts had to return with just three full days rest to win 35-16 at Vineland on Thanksgiving.
Of course, some Thanksgiving rivalries have such a deep tradition that both schools feel it is worth preserving. That was the case with Millville and Vineland. The series began in 1893 and the teams have had several seasons where they met multiple times.
Thursday's game was the 151st edition and it's still a big deal for both communities.
Yet the crowd was good, but not overflowing. In the so-called old days, there wouldn't be an empty seat in the stands.
Still, the game is a big deal and both schools suggested that it is worth preserving.
The only thing that could end a series like this is if the NJSIAA changes the schedule, but that would be ill-advised.
The NJSIAA could move the state finals during Thanksgiving week, but that would make no sense.
It's actually better to have a week off for most playoff teams this late in the series.
Millville was at a disadvantage in its Thanksgiving game and the Thunderbolts started out slowly, trailing by as many as nine points in the second quarter.
Yet the Thunderbolts, who trailed 16-14 at halftime, outscored Vineland 21-0 in the second half.
Now one can suggest that playing Thanksgiving may have helped Millville in its state final.
The Thunderbolts certainly won't be rusty and will have plenty of rest until the Dec. 3 meeting against Northern Highlands in the 6 p.m. game at Rutgers.
Northern Highlands will have two weeks rest, having last played on Nov. 19 when the Highlanders earned a 21-20 overtime win over North Hunterdon in a Group 4 state semifinal.
Back to Thanksgiving, this year there were three games involving South Jersey teams that were played the night before Thanksgiving.
Woodbury, another team playing in a state final, defeated Gateway, 6-0. Winslow Township defeated visiting St. Joseph, 42-17 and Paul VI defeated visiting Camden Catholic, 51-0.
There were 10 games played on Thanksgiving. Besides Millville and Vineland, the other Thanksgiving Day games involving South Jersey teams had Gloucester defeating Gloucester Catholic, 35-0; Pleasantville won, 40-21 at Ocean City; Holy Spirit won 63-34 at Atlantic City; Collingswood downed Bishop Eustace, 28-0; Clayton was a 20-14 winner against Pitman; Camden Eastside defeated Camden, 25-2; Haddonfield was a 45-18 winner at Haddon Heights; Audubon won 26-6 at Haddon Township and Florence defeated Riverside, 22-12.
Of these 13 games, only Collingswood-Bishop Eustace wasn't a long-standing Thanksgiving game. In addition, Pleasantville and Ocean City won't be playing on Thanksgiving in the future.
The list keeps dwindling, but it's still worth continuing, despite the playoff system.
Article continues below
---
advertisement


---
Author:
Marc Narducci
Archives
---
Who's Who in Health Care
Former Shawnee star Doolittle Calls It A Career
Camden County College welcomes Baseball Hall of Fame
South Jersey Football Games of the Week
Out & About
QB Ronnie Borden is Back in the Game
Should fans be worried for the Phillies bullpen?
South Jersey Football Games of the Week
A look at South Jersey's Top H.S. Girls' Soccer Teams
Out & About
Eagles will be fine after close call in opener
High School Football Games of the Week
Is it Super Bowl or bust for the Eagles?
What's New in South Jersey?
From New Jersey to Nashville
More...