Hold the panic button on the Phillies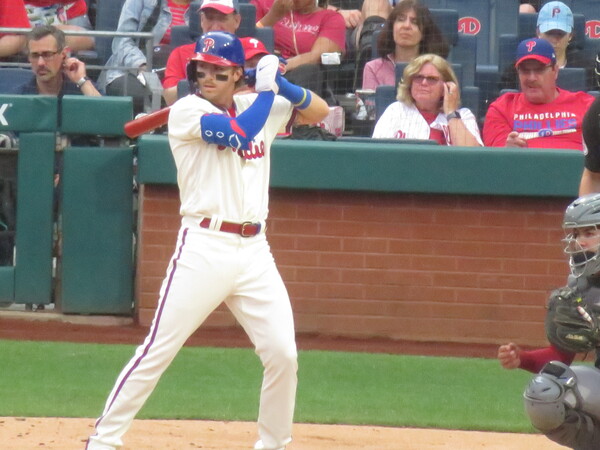 For those showing panic due to the Phillies' slow start, here's some advice – just look at recent history. As recently as last year in fact.
After 23 games a year ago, the Phillies were 11-12.
This year after the Phillies won three of four from the Colorado Rockies over the weekend, they improved their record to 11-23.
Remember how last year turned out, with the Phillies' season ending up at Game 6 of the World Series against the Houston Astros?
No, this year hasn't been an ideal start, but consider Bryce Harper has been out, recovering from his Tommy John surgery. Projected No. 3 starter Ranger Suarez hasn't made a start.
And of course, first baseman Rhys Hoskins is expected to be out for the year after tearing his ACL in the exhibition season.
Plus, Aaron Nola, who was fourth in the Cy Young Award voting last year, has yet to come close to that form.
He had a 5.40 ERA in his first five starts, but what has to worry Phillies fans is that Nola had 22 strikeouts and nine walks in his first 28 1/3 innings.
Last year he had more than a strikeout in an inning, with 235 in 205 innings. He only walked 29 the entire season.
Nola, a notoriously slow worker, has been getting accustomed to the pitching clock, but every other pitcher is in the same boat.
One other negative is Seranthony Dominguez, who had an 8.31 ERA in his first 10 appearances. Granted, a relief pitcher's ERA can be bloated early in the season even with one bad inning, but Dominguez has not pitched well and the Phillies need more from somebody who has closer stuff. He hasn't followed up on a good season and an even better postseason.
In nine playoff games last season, he had a 1.69 ERA. Of course, the Phillies have had several positive developments.
Jose Alvardo has performed as one of the best relief pitchers in the MLB. Taiujan Walker has been more than solid in his first four starts.
Nobody could have expected centerfielder Brandon Marsh to have a 1.213 OPS after the Phillies' first 23 games. Or Bryson Stott batting .340 while playing in 22 of the first 23 games.
Nick Castellanos, who struggled all last season, played in each of the first 23 games and was batting .307. Trea Turner has been solid but is capable of more because the expectations are high for one of the best players in the game.
Kyle Schwarber is still striking out too much (26 times in his first 23 games), but he showed last year when he led the National League with 46 home runs, that he is capable of going on a power spree.
So there is a lot that can improve and the Phillies are keeping their head above water until reinforcements such as Suarez and Harper return.
In a 162-game schedule, there will be plenty of ups and downs. The Phillies have had their share of both so far, but with improved health, this team is more than capable of returning to the postseason.
Article continues below
---
advertisement


---
Author:
Marc Narducci
Archives
---
Who's Who in Health Care
Former Shawnee star Doolittle Calls It A Career
Camden County College welcomes Baseball Hall of Fame
South Jersey Football Games of the Week
Out & About
QB Ronnie Borden is Back in the Game
Should fans be worried for the Phillies bullpen?
South Jersey Football Games of the Week
A look at South Jersey's Top H.S. Girls' Soccer Teams
Out & About
Eagles will be fine after close call in opener
High School Football Games of the Week
Is it Super Bowl or bust for the Eagles?
What's New in South Jersey?
From New Jersey to Nashville
More...