Eagles favored in 14 of 17 games this year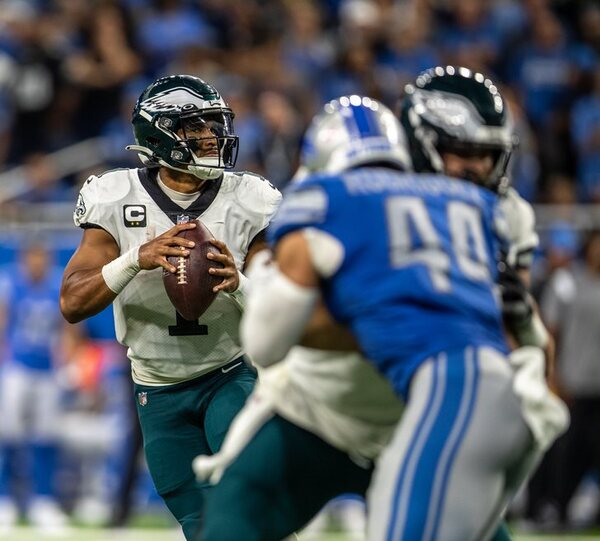 So much is being made of the Eagles' more difficult schedule this season and while almost any schedule would be more challenging than last year's, it shouldn't be reason for the fans to be up in arms.
Eagles fans should relax, at least at this point. While so much could occur between now and the regular season, and nobody can predict injuries, the Eagles should be a major threat to earn the top seed in the NFC and the coveted first round playoff bye.
According to Draftkings.com, the Eagles will be favored in 14 of their 17 regular season games.
Sunday Sept. 10 at New England 4:25 p.m. Eagles -4.5
Thursday Sept. 14 vs. Minnesota, 8:15 p.m. Eagles -6
Monday Sept. 25 at Tampa Bay, 7:15 p.m. Eagles -6.5
Sunday Oct. 1 vs Washington, 1 p.m. Eagles -7
Sunday Oct. 8 at LA Rams, 4:05 p.m. Eagles -5
Sunday Oct. 15 at NY Jets, 4:25 p.m. Jets -1
Sunday Oct. 22 vs. Miami, 8:25 p.m. Eagles -3
Sunday Oct. 29 at Washington, 1 p.m. Eagles -4
Sunday Nov. 5 vs. Dallas, 4:25. Eagles -3
Monday Nov. 20 at Kansas City, 8:15 p.m. KC -3
Sunday Nov. 26 vs. Buffalo, 4:25 p.m. Eagles -1.5
Sunday Dec. 3 vs. San Francisco, 4:25 p.m. Eagles -2.5
Sunday Dec. 10 at Dallas, 8:20 p.m. Dallas -1
Sunday Dec. 17 at Seattle, 4:25 p.m. Eagles -2
Monday Dec.25 vs. NY Giants, 4:30 p.m. Eagles -7
Sunday Dec. 31 vs. Arizona, 1 p.m. Eagles -10
Week 18 TBD at NY Giants. Eagles -2.5
The Eagles are only underdogs at the NY Jets against Aaron Rodgers by a point, at Kansas City in a Super Bowl rematch by three points and at Dallas by a point.
So in the three games they are underdogs, it is only by a total of five points.
The schedule's roughest patch is a seven-game stretch against reigning playoff teams, beginning Nov. 5 at home vs Dallas. Then after a bye, they visit Kansas City, host Buffalo and San Francisco, visit Dallas and Seattle and host the New York Giants.
No doubt that will be challenging, but the Eagles should be up to the task, barring injuries.
Again, there will be some games that appear more difficult now that won't be due to injury or an opponent underperforming, and vice versa.
The Eagles went 14-3 last year against a much easier schedule, but two of the losses came without injured QB Jalen Hurts, who missed a 40-34 loss at Dallas and a 20-10 home defeat the next week to New Orleans.
Based on the odds, the Eagles are again expected to have a huge win total.
While that may not happen, the Eagles still have the ability to be the best team in the NFC, if not the NFL.
We will revisit the odds in the beginning of the season and see if the Eagles are still favored in 14 games, but either way, the expectations are sky high for this team and justifiably so.
Image Courtesy of Philadelphia Eagles
Article continues below
---
advertisement


---
Author:
Marc Narducci
Archives
---
Who's Who in Health Care
Former Shawnee star Doolittle Calls It A Career
Camden County College welcomes Baseball Hall of Fame
South Jersey Football Games of the Week
Out & About
QB Ronnie Borden is Back in the Game
Should fans be worried for the Phillies bullpen?
South Jersey Football Games of the Week
A look at South Jersey's Top H.S. Girls' Soccer Teams
Out & About
Eagles will be fine after close call in opener
High School Football Games of the Week
Is it Super Bowl or bust for the Eagles?
What's New in South Jersey?
From New Jersey to Nashville
More...