Riversharks Add Peanut Free Section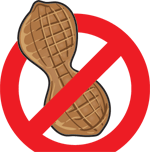 The Camden Riversharks will be adding a peanut free section to Campbell's Field. Suite 319 will now serve only foods that do not contain peanuts or any peanut products or oils. Tickets in this section will be sold at the regular upper box price instead of suite prices.
The decision to add a peanut free section to the ballpark was made to accommodate the numerous requests the team has received by fans with peanut allergies.
"We try to accommodate our fans in any way possible, and adding the peanut free section is something that I think a lot of our fans will take advantage of," said Riversharks Director of Ticket Operations, Jeremy Van Etten. "We are also happy to make special accommodations for patrons with other dietary requirements as well, including kosher diets and gluten allergies," he added.
The Riversharks next home game is scheduled for Tuesday, May 12th, at 7:05 p.m. when the Somerset Patriots come to Campbell's Field. To purchase tickets, visit www.riversharks.com or call 1-866-SHARKS-9.

Author:
Press Release
Archives
---
Family Fun
Live from the White House
Collingswood
Stepping Up to the Plate
Local Story
Lingering Questions
Still Fresh
Under the South Jersey Sun
Riverside Retreat
Against All Odds
Like a Girl
Going Her Own Way
Fall In
Aiming to Please
Walk of Fame: Natalie Hope Sommermann
More...