Perfecting the Look of Your Landscape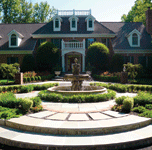 …From the pages of Suburban Home and Garden Resource Guide…
When Country Lane Nursery puts together an action plan for its clients, it's more than just a detailed proposal for beautifying a property, it's designing functional outdoor spaces utilizing landscaping, hardscaping and decorative elements. It's a total package, says Bob Knoff, a licensed landscape architect for the company with 34 years experience in the business.
"It's about being able to take our clients' lifestyles and personalities into account, taking elements from the interior of the home and marrying that with their outdoor living space, creating an integrated flow from the interior to the exterior," says Knoff, who holds a degree in Landscape Architecture from Rutgers University.
Country Lane, which recently moved from Lumberton to an easily accessible location on Route 70 in Medford, specializes in landscaping and hardscaping design and installation as well as lawn services. Its onsite garden center is stocked with seasonal plantings, shade and ornamental trees and supplies to meet all gardening needs. Country Lane prides itself on being a full-service business, offering custom and semi-custom work—from creating unique gardens, water features and outdoor kitchens to providing seasonal color and holiday displays.
Depending on the job, the company can take on the role of general contractor, using its list of handpicked licensed experts in lighting, irrigation, and various other fields. Besides Knoff, who holds positions on the horticultural advisory boards of both the Burlington County Institute of Technology and Mercer County College, the company also has an ornamental horticulturalist on staff.
Whether prospective clients arrive with a well-defined vision or little more than a vague idea of what they want, Country Lane does the detective work necessary to refine the plan, says Knoff. The company's approach is to ask numerous questions in order to understand clients' design preferences and how they intend to use the space. Knoff says it's just as important for him to visually peruse the interior of each home as it is to survey the grounds in creating a functional and detailed plan. "I can build and capitalize on that when I am at my board designing," he says.
If the furnishings are more contemporary, Knoff may suggest a landscape utilizing the interplay of geometric forms and angular lines, such as a circular reflecting pool, architectural elements and arranged plantings with a clean and simplistic look. For those with more traditional taste, he may recommend the use of symmetrically hedged gardens having focal points, perennial borders, and attention to ornamental detailing.
No matter the style, a Country Lane proposal is always detailed line by line—down to the exact size of the plants—allowing clients to make informed decisions that fit their budgets. Estimates are presented in a way that clients can choose to do what they want to on their own timeframe.
"We do what we can to help our clients afford the outdoor living experience they've always wanted," says Knoff. "At times, we're asked to prepare a site improvement plan for the entire property, but then to do just the front yard or the rear yard or even a portion of yard until they are able to implement the entire plan. That way, we're not backtracking when we do additional work for them." Finally, what really separates Country Lane from other businesses offering similar services is the passion put into each project. "We always want to create a 'wow' situation for our clients, impressing them by the way we take their projects from being just an idea to becoming reality," Knoff says. "We love what we do, and our customers tell us it shows in every design, every garden, every outdoor space we create."
Find Out More
Country Lane Nursery
105 Route 70 East, Medford
(609) 654-9200
www.gocountrylane.com
Published (and copyrighted) in Suburban Home and Garden Resource Guide, South Jersey edition, September 2009.
For more info on Suburban Home and Garden, click here.
For information about advertising in Suburban Home and Garden, click here.
To find out where to pick up your copy of Suburban Home and Garden, click here.
Article continues below
---
advertisement


---
Author:
Jayne Jacova Feld
Archives
---
My Favorite Project: Dressing Room
Attention To Detail
Winterizing Your Home
What's Cooking
TRENDWATCH 2009: Green Remodeling
Child's Play
Trendwatch: Cutting a Rug
My Favorite Project: The Closet Gallery
My Favorite Project with The Gutter Guys
Editor's Note: On the Homefront
8 Ways to Have a Stress-Free Move
Water Purification Systems
Well Studied
It's What is on the Outside that Counts
Ten Great Ways to Improve Your Home Value
More Articles