Better Bathrooms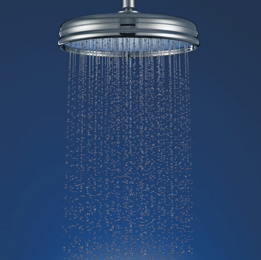 …From the pages of House & Home…
Using creativity, technology and expertise benefits this crucial, yet often overlooked, room
Bathrooms matter in a very big way. They add comfort to your life, resale value to your home, and are one of the most used spaces in your home. How they look and function are crucial—and today's designers know a quality bathroom design makes for a very happy customer.
"Adding or updating a bathroom is always a worthwhile investment to any home. Ultimately, remodeled bathrooms add value to homes for either resale or refinance purposes," says Trish Calandra, brand manager of Kathy Ireland Home by Calavena Stone.
A lot of clients are dealing with simply outdated baths, experts say. "Many homeowners are dealing with original bathrooms or ones redone in the late '80s," says David Cerami, owner of HomeTech Renovations. "So we ask, will they be in the house for just one or two years, or do they plan to be there for 10 years? Is it a half-bath, a personal one for a teen, a master bath? You have to understand the intended use as well as the long-term goals."
Some say start with a "wish-list," then go from there.
"I like to start with the question: In a perfect world, what would you have in your bathroom and what would it look like? [I learn about] their needs and wants, so that we'll be able to compromise on smaller issues," says Judy Litt, Freehold Bath Design Gallery supervisor, part of Aaron Kitchen & Bath Design Gallery.
"It's really important you're addressing the customer's needs," says Ron James, general manager of JMH Outdoor Servicing & Contracting. "Who will be using the bathroom? What size do they want? What amenities? [It's important] you get your money's worth, [and] the right product," says James.
And when it comes down to it, improving a home's bathroom also ups its value. "When you update the space, you're increasing resale value," says Tim Sweeney, owner/president of JT Joseph Construction. "You can change the layout and [remove] dividing walls to expand into closets or the makeup area/room. Most homes have lots of dead space, so this helps develop more practical living," he says.
Getting to work
"The first step is the planning," says Calandra, who advises writing down all ideas, big or small, and going over the potential design scheme with the general contractor or architect.
"The designer is a big piece," says Cerami. "That's where you get the aesthetics and style. They help you learn about fixtures, patterns of stone, tile, lights and more. A good designer takes the customer through it all to find out what they really want."
Sweeney says that it's common today for homeowners to gravitate toward more modern design choices. "People are making their homes contemporary and modern, getting away from the traditional," he says. "They want high-end, quality brands, not 'big box store' choices."
Today's homes must have at least one bathtub, says Ken Osborn, top designer for East Coast Kitchen and Bath Wholesale. Many people choose shower stalls with frameless shower doors. "A shower curtain shrinks the bathroom by three feet. Shower doors open it up and are beautiful, often with wrought iron, making for an industrial look," he says.
A frameless shower is another choice.
"Consider the importance of a high-quality frameless shower enclosure," says Tom Basile, owner and glass specialist of Precision Shower Doors, Inc. "A shower enclosure [captures] the beauty of their tiles and bathroom fixtures." Just be sure to get the right one. Low-quality versions have temporary stain protection and green glass that make tile appear green, he says. "[Choose] a Starphire Ultra-Clear glass enclosure with Clarvista Anti-Stain permanent protection."
"Some clients are hesitant at first [to convert tubs to showers], but afterwards [they] wish they'd done it sooner," says John W. Carlson, president of Yardley Kitchen and Bath in Bucks County, Pa. "For larger baths, it's all about minimizing large tubs and maximizing shower space. Manufacturers are putting out some really attractive free-standing tubs to replace the heaviness of a built-in tub."
"Most people don't know all the different tile options available," adds Osborn. "You don't have to spend a ton of money. There are basic styles, accents, and you can blend different tiles." Popular colors include taupe, putty and grays, he says. Also, digital photography can create tile that looks exactly like wood. Sizes now go as large as 12 inches by 24 inches, and can be circular or rectangular.
And it's not just one choice, either. Redoing a bathroom takes a lot of time and consideration.
"[Homeowners] underestimate the amount of decisions that go into a bathroom," says Carlson. "By the end of the meeting, most clients are just exhausted." But it's worth it. "If you're remodeling in 2014, you want it to look like you remodeled in 2014. [Get] the value from a remodel [by] keeping up to date with today's market."
Unique spaces
For a unique look, consider recessed niches like shelving in the wall, says Osborn. "They come in different sizes and are flush with the wall." He also mentions hand-held showerheads off to the side, using exotic woods, pedestal sinks in powder rooms, considering storage options, and floors with under-tile heating mats to take off the chill of cold tile. "Bathrooms have come so far," he says. "You could spend as much as you do on a kitchen. Don't go nuts. It's all about design."
Other popular features, says Cerami, include a wet room spa-like shower and lineal drain system that remove the need for thresholds. Over-sized multifunction showers with bench seating and body sprays are also 'in.' "This really makes it an experience. It's no longer a phone booth with a plastic pan," he says.
Other commonly chosen, high-end features include the glass shower wall, towel-drying racks and multifunction shower systems, says James. "Today's showers are large. They offer a clear open feeling and the rainhead overhead shower feels like water is just falling on top of you." He suggests customers really shop around. "Be up to speed on design, and get a contractor willing to take you shopping."
Smaller baths benefit from the space-saving Neo shower, says Calandra. And most basement installations will require a sump pump because septic pipes are above basement-floor grade. "Additional electric may also be needed," she says.
But don't forget to take into consideration how things might change when making the leap—and spending the money—to redo your bathroom.
"When redoing bathrooms, people [forget] … what their needs may be in the future," says Allisa Perlmutter, New Brunswick Bath Design Gallery supervisor, also part of Aaron Kitchen & Bath Design Gallery. She suggests grab bars in the shower, slip-resistant textured tiles on the floor, higher height toilets, back-saving vanities, low threshold shower bases, exhaust fans even if there is a window, lever handles, and using quartz and swanstone, which don't require much care and cleaning.
And among the most important choices a homeowner will make when refurbishing their bathroom: who they chose for a contractor.
"Deciding on a contractor really isn't all about price. There are many factors involved: quality of goods, relationships with vendors and manufacturers, quality of workmanship, and timing," says Carlson. "I realize we are invading your personal space and you want us to do our job and get out so you can get back to your daily routine."
Final thoughts
Experts say to keep in mind who will be using the bath and how it will best serve all members of the household.
"A bath should provide comfort and ease of use," says Perlmutter. It should contain all elements needed by the individual and family, from the youngest to the most senior."
And lastly, be sure your choices aren't too trendy.
"Good design stands the test of time," says Cerami. "Good designers tailor that to personal taste as well. As designers, we validate what's important to the client. A good designer is going to understand this, and is going to make the area special."
RESOURCES
Aaron Kitchen & Bath Design Gallery
Flemington, N.J.
1 (800) 666-3306
AaronKBDgallery.com
East Coast Kitchen and Bath Wholesale
Pennsauken, N.J.
(856) 330-4397
ECKitchenAndBath.com
HomeTech Renovations
Fort Washington, Pa.
(215) 646-7477
HomeTechRenovations.com
JMH Outdoor Servicing & Contracting
Levittown, Pa.
(215) 946-3764
JMHOutdoor.com
JT Joseph Construction
Marlton, N.J.
(888) 694-5808
JTJoseph.com
Kathy Ireland Home by Calavena Stone
(615) 333-8288
CalavenaStone.com
Precision Shower Doors, Inc.
Eatontown, N.J.
(732) 389-8175
PrecisionShowerDoors.com
Tinkermen's Construction, Inc.
Yardley Kitchen and Bath
Yardley, Pa.
(215) 369-9150
Tinkermens.com
Published (and copyrighted) in House & Home, Volume 15, Issue 2 (August, 2014).
For more info on House & Home magazine, click here.
To subscribe to House & Home magazine, click here.
To advertise in House & Home magazine, call 610-272-3120.
Article continues below
---
advertisement


---
Author:
Mindy Toran
Archives
---
Family Fun
Live from the White House
Collingswood
Stepping Up to the Plate
Local Story
Lingering Questions
Still Fresh
Under the South Jersey Sun
Riverside Retreat
Against All Odds
Like a Girl
Going Her Own Way
Fall In
Aiming to Please
Walk of Fame: Natalie Hope Sommermann
More...