NJSIAA State Basketball Tournament Cancelled: Don't Confuse Disappointment with Criticism of the Decision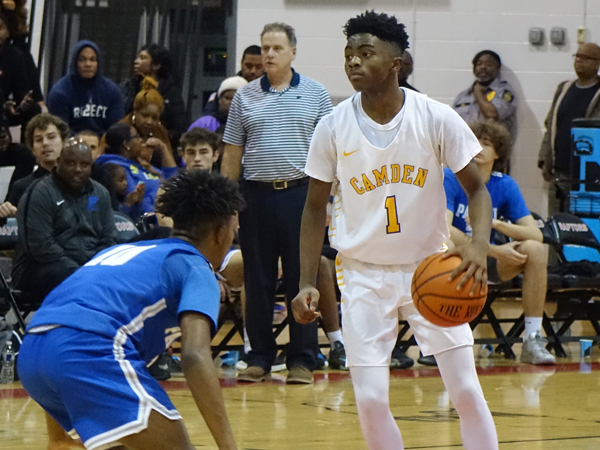 There was a lot of disappointment when the NJSIAA cancelled the girls' and boys' basketball state basketball tournaments.

That shouldn't be confused with criticism.

The NJSIAA made the right decision. You can be both disappointed, but also approve the actions. That is the case.

If there is any silver lining it is that those competing state-wide at least got to compete for a sectional championship.

Some teams even competed in state semifinal games before the action was halted.

There were teams that were ready to play a state semifinal, only to have their school pull out. Again, that turned out to be the right move.

Others did play state semifinals in empty gymnasiums.

Here is hoping that as time goes on and we attempt to return to normalcy, that the teams that did win sectional titles can truly appreciate what they accomplished.

Camden, for one, was seeking its first state boys' basketball title since 2000. The Panthers appeared prime to accomplish that feat, although they would have faced a very talented Manasquan team in the finals.
Article continues below
---
advertisement


---
Next week, we will examine the Camden team and why the Panthers were ranked No. 1 in the state. Camden should feel proud of what it accomplished and no doubt the players in their mind consider themselves state champion.
Besides Camden, the other boys' basketball sectional champions from schools in the seven-county South Jersey area, were Atlantic City in South Jersey Group 4, Timber Creek (South Jersey Group 3), Penns Grove (South Jersey Group 1), Burlington City (Central Jersey Group 1), St. Augustine (South Jersey Non-Public A) and Wildwood Catholic (South Jersey Non-Public B).
The girls' basketball champions from the seven-county South Jersey area were Cherokee (South Jersey Group 4), Ocean City (South Jerset Group 3), Woodbury (South Jersey Group 1), Westampton Tech (Central Jersey Group 3).
There were many nail-biters and some renewed rivalries, none more than the South Jersey Group 3 title game between Mainland and Ocean City.
Last year Mainland beat the Red Raiders to win the sectional crown. This year Ocean City returned the favor with a 32-29 win.
Mainland and Ocean City played three times this season. Ocean City won two of those games, by a combined five points.
In the sectional final things were just as tight, with the teams tied heading into the fourth quarter. Senior Abby Fenton scored 15 points to lead the winning Red Raiders.
Ocean City then beat Westhampton Tech, 50-38 in the state semifinal. No doubt Ocean City feels like a state champion. So should all the sectional champions and especially those who won a state semifinal.

© SouthJersey.com 2020. All rights reserved. This article or parts thereof may not be reprinted or reproduced by any other party without the express written consent of SouthJersey.com. For more information, please call 856-797-9910.

For more Local Sports features, visit our South Jersey Sports page.
Author:
Marc Narducci; Photo courtesy of Marc Narducci
Archives
---
Just Getting Started
Sixers offer hope for Philadelphia sports fan
Shawnee's Joe Kessler Continues his amazing run
On the Horizon
New key rules for seeding high school boys & girls basketball teams
2022 Annual Resource Directory
Setting the Standard: Top CEOs/CFOs 2022
Tax-Saving Tips
Early story lines in the South Jersey boys' basketball season
South Jersey Soccer Coaches Association names the best of the best
Is Jalen Hurts the Eagles QB of the Future?
South Jersey Coronavirus (COVID-19) Developments (January 14)
Big Season for Timber Creek grad Devin Leary of N.C. State
Camden-Lenape highlights the best of South Jersey boys' basketball
Just Getting Started
More...