Celebrating the Music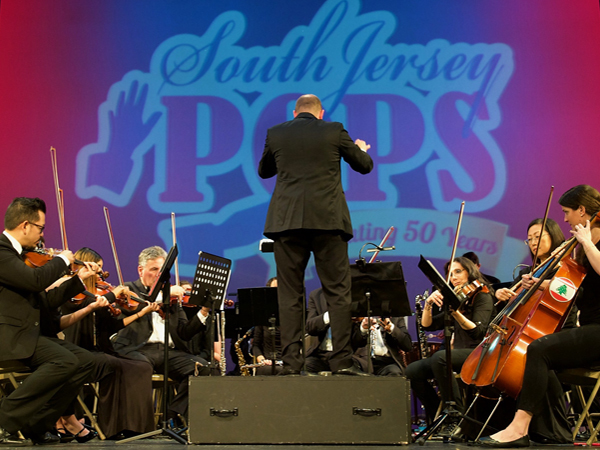 Now in his third season of conducting the South Jersey Pops Orchestra, Robert Bradshaw will lead the group through its 50th anniversary.
In its 50th year, the 70-piece South Jersey Pops Orchestra has become bigger and better than ever thanks to Robert Bradshaw's leadership as the music director and conductor. Not only does he go to great lengths to ensure his audience and performers are getting enjoyment from the music, but he is also the founder of the Haddonfield School of Music, where he teaches the next generation about what it means to be a musician.
Music comes naturally to Bradshaw's entire family, beginning with his parents and extending to his two siblings as well—his sister, a singer and music teacher, and his brother, a two-time Grammy-winning vocalist. It's no wonder Bradshaw also followed this art form.
"I was born into a pretty musical family and I began playing the violin at age 5," says Bradshaw. "My mother plays the piano and my father plays the saxophone, the banjo and a little bit of the accordion. Both are pretty good and just the general love of music is what helped them guide me toward the violin. I have also had many teachers throughout the years who have taught me not only how to play but coached me on how to become better and how to love playing."
Music has been a love of his for as long as he can remember, and he is always looking to improve his musical ability as well as for ways to create an emotional connection with the audience. He has been working with the Pops to bring that desire to life, creating not only a concert but a show that tells a story.
"The mission of the Pops is to create a community of musicians where they have an outlet to perform. In order to add enjoyment to our shows we are improving our technical ability to create music and to entertain by allowing for a theatrical nature," Bradshaw says. "We now have visuals, singers, actors, set designs and visual projections to allow for our shows to tell a story. This all would not be possible if it weren't for the amazing group of people included. I have such admiration for them, for putting in the extra hours to create something really special."
We spoke with Bradshaw about how music has allowed him to not only grow as a musician but impacted his life for the better.
On teaching the younger generation…
It really brings on a new challenge every day. Something is always changing, whether it's the goals of the students or their ability to perform, to get better and progress. I get to see the effect that we're having on other people in their lives. It's also nice to see families coming together, people making friends and getting these bonds with other people through music and the fact that I get to provide that for them is amazing.
A memorable performance...
I performed at Carnegie Hall with my music school and that was the least nervous I've ever been, I felt very comfortable there. I had never experienced a venue of that quality before and it was just neat to be able to basically stand on the stage and whisper and someone in the back of the auditorium could hear you perfectly. The acoustics are amazing there.
Getting started with the South Jersey Pops…
I was a member of the Garden State Pops Youth Orchestra when I was a teenager, and we traveled to Disney World to perform. Being in that orchestra really helped me as an entertainer and a performer. During that time, our director was very good at not only motivating, guiding and leading 80 teenagers—which in itself is difficult—but he was also able to turn them into an entertaining entity that people really wanted to listen to. I was watching that from afar and silently learning from him. At the time I didn't even realize I was learning all of that, it was just sort of sinking in and I was learning by accident from watching a good leader do his job. It meant a lot to me and it has shaped who I've become as a musician.
From that experience, I learned that I wanted to pursue music as a career. So after I opened the Haddonfield School of Music, one of my adult students at the time played with the Pops. So I came in, saw them perform and then at one point, they needed some extra violin players so I played along with them. I really liked playing with them, I liked their repertoire, and I liked the people there, so I stayed.
How the Pops has changed his life…
I'm humbled to get the chance to play the role that I'm playing. Although I'm obviously comfortable and confident in my abilities, I'm lucky to have this opportunity—it has changed my life. Right now, I get to live music all the time. I get to wake up and think about music starting in the morning and all day long, but many of the musicians with the Pops don't. They work as accountants, lawyers, retail managers and engineers—they have all kinds of different jobs. The fact that they come home from their day job and somehow manage to find the time to fit in not only housework and a family, but then add in this incredible hobby that we have is amazing. I have a new appreciation for them now after watching so many others do it. It has taught me that if you're creative enough, you can really make any hobby something incredibly special.
It was never really my intent to become the conductor when I joined the Pops. I enjoyed playing the violin with them but when it turned out that our previous conductor was leaving several people came up to me asking if I was going to audition for it. So I auditioned and came to realize that I really, really wanted to be the conductor.
I love to perform, too, but when I'm performing in an orchestra, the only thing I can really control is what I'm doing. I can learn my part, I can play it as well as I possibly can and I can guide some of the people around me as well as get guidance from them but when I am conducting, I get to have a little bit of a say in everything. Not only do I get a say in the specific music that we choose and the programming and the overall production, but it's neat to have a hand in every aspect of the music.
Our home currently is at the Burlington County Institute of Technology in Medford but in the future I would love to start traveling to other locations nearby. I would also love to perform more than four shows a year and reach a broader audience to show how much we have improved. We have created higher musical standards that each member must reach and we are encouraging the younger generation to join us and learn from us. We want to ensure that live music stays alive. It's up to us, the music makers of today, to make sure that there are music makers of the future.
Click here
to subscribe to the free digital editions of South Jersey Magazine.
Article continues below
---
advertisement


---
To read the digital edition of South Jersey Magazine,

click here.



Published and copyrighted in South Jersey Magazine, Volume 17, Issue 5 (August 2020).

For more info on South Jersey Magazine,

click here
.

To subscribe to South Jersey Magazine,

click here.


To advertise in South Jersey Magazine,

click here.
Author:
Sydney Kerelo
Archives
---
Who's Who in Health Care
Former Shawnee star Doolittle Calls It A Career
Camden County College welcomes Baseball Hall of Fame
South Jersey Football Games of the Week
Out & About
QB Ronnie Borden is Back in the Game
Should fans be worried for the Phillies bullpen?
South Jersey Football Games of the Week
A look at South Jersey's Top H.S. Girls' Soccer Teams
Out & About
Eagles will be fine after close call in opener
High School Football Games of the Week
Is it Super Bowl or bust for the Eagles?
What's New in South Jersey?
From New Jersey to Nashville
More...