A big opening high school football event at the shore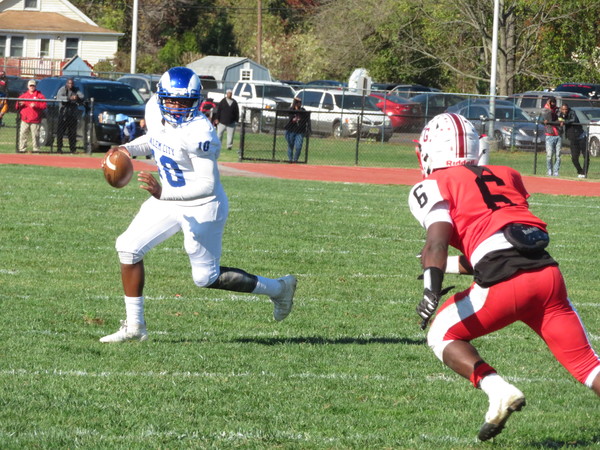 Many South Jersey high school football teams will be opening on the weekend of Aug. 27 and no event is bigger than the Battle at the Beach at Ocean City's Carey Stadium.
Over a three-day period, there will be 11 games, with each featuring at least one team from the seven-county South Jersey area.
These are the matchups:
Friday Aug. 27
11:30 a.m. - St. Joseph Academy (Hammonton) vs. Northeast, PA
1 p.m. - Camden vs. Salem
4 p.m. - Collingswood vs. Marple Newtown (PA)
7 p.m. - Ocean City vs. Vineland
Article continues below
---
advertisement


---
Saturday Aug. 28
11 a.m. - Penns Grove vs. Bernards
2 p.m. - Timber Creek vs. Red Bank Catholic
5 p.m. - Millville vs. Union
8 p.m. - Holy Spirit vs. DeMatha (MD)
Sunday Aug. 29
Noon – Moorestown vs. Cherry Hill East
3 p.m. - Cedar Creek vs. Scotch Plains
6 p.m. - Winslow Township vs. Woodbridge
(note: kickoff times for Sunday may switch around)
Three of the games features both teams from the seven-county South Jersey area. They are Camden-Salem; Ocean City-Vineland and Moorestown-Cherry Hill East.
One of the feature games is Holy Spirit vs. DeMatha. While DeMatha is a noted national basketball power, the school from Hyattesville, Maryland, is also strong in football.
Holy Spirit, of course is the reigning No. 1 team in South Jersey, finishing 8-0. While there were no sectional playoffs last season due to the pandemic, teams were allowed two "postseason" games. The top teams in South Jersey were put in pods, and Holy Spirit won the "A" pod, defeating Lenape, 21-7 in the final.
Now the Spartans return an experienced team, although replacing running back Patrick Smith will be the key. Smith rushed for 1,719 yards and 16 touchdowns and has taken his talents to Vanderbilt.
Senior quarterback Trevor Cohen, who threw for 662 yards and seven touchdowns, leads what still should be a high powered offense, while senior linebacker Michael DeFrancisco is the defensive leader.
One of the interesting games is Camden-Salem, which matches sectional title contenders.
Camden is coming off a 4-1 season while Salem was 6-1. This season Camden is considered a major contender in South Jersey Group 2.
Salem, led by junior QB-LB Jahki Coates, is a major contender in SJ Group 1. Coates is entering his third season as the starter at QB for coach Montrey Wright.
Last year's Salem's lone loss was 22-13 to a 7-0 Paulsboro team. Paulsboro will be one of Salem's main contenders in the WJFL Diamond Division and South Jersey Group 1.
For the teams competing at Ocean City, it places an added emphasis on getting off to a good start. Not only is the season starting more than a week before Labor Day, but in most instances, the teams can't ease into the schedule, because of the quality teams competing in this inaugural event.
Author:
Marc Narducci
Archives
---
Who's Who in Health Care
Former Shawnee star Doolittle Calls It A Career
Camden County College welcomes Baseball Hall of Fame
South Jersey Football Games of the Week
Out & About
QB Ronnie Borden is Back in the Game
Should fans be worried for the Phillies bullpen?
South Jersey Football Games of the Week
A look at South Jersey's Top H.S. Girls' Soccer Teams
Out & About
Eagles will be fine after close call in opener
High School Football Games of the Week
Is it Super Bowl or bust for the Eagles?
What's New in South Jersey?
From New Jersey to Nashville
More...