Despite opening loss, Burlington City football showing true grit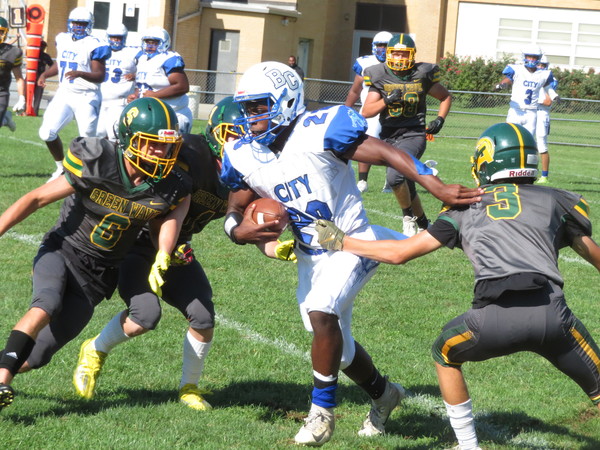 So many times the top teams are spotlighted and rightly so, but one team that showed plenty of heart despite suffering an opening 41-14 defeat was Burlington City.
The Blue Devils fell to Audubon in their opener, but this is a program that has faced several obstacles. First off, Burlington City didn't compete in football last season due to the pandemic. This year's team opened the season with only about a handful of players who had seen varsity action.
Shortly before the season, a coaching change occurred, not the easiest of situations. Coach Ray Robinson resigned right before preseason camp to take an administrative job.
Kadin Booker, who was an assistant last year at Philadelphia's Roman Catholic and was going to be Burlington City's offensive coordinator, was named head coach on Aug. 6. Preseason practice began on Aug. 9.
In addition, being a Group 1 school, Burlington City, is battling a numbers problem in football. Against Audubon, the Blue Devils dressed 24 players. Booker feels that a few injured players will return this week against Holy Cross and hopes he will have about 28.
Plus he is hoping when school starts this week that he will be able to recruit some more players from the hallways.
That said, there were positives that Booker took from the loss to Audubon, a team that is a viable threat in the West Jersey Football League Constitution Division.
Audubon took a 34-0 halftime lead.
"We told them at half to forget the scoreboard and play hard and in the second half we played better," Booker said. "I was proud of them."
The Blue Devils outscored Audubon, 14-7 over the final two quarters.
This is an extremely young team, but the Blue Devils have had some key leaders holding things together. One of them is Jacquez Hunt, a senior tight end-linebacker. "He has been in the program since freshman year and also played in the youth program," Booker said. "Against Audubon, he had the best game of his career."
It was a continuation of the way Hunt has been since preseason practice began.
"From the very first day he has been a huge help as a leader, leading by example and encouraging the young players," Booker said.
Senior running back-linebacker Donnel Nash has also been like a coach on the field for the Blue Devils.
Article continues below
---
advertisement


---

"He has been a great leader along with Jacquez Hunt," Booker said of Nash.

A key for Burlington City will be the development of young players such as sophomore quarterback Ayden Shansey, who at 6-foot-2 and 170-pounds has good size and will only get better as he gains more experience.,

"Keep in mind that are sophomores are like freshmen since they didn't get to play last season," Booker said.

The first-year coach is hoping to get enough players out this year to field a JV team, which would be great for development. For now, he likes the attitude of his players and the way they go about their work, despite facing some difficult obstacles.

Author:

Marc Narducci
Archives
---
Colonial Liberty is highly competitive in South Jersey Girls' Soccer
South Jersey Football Games of the Week
Still way too early for Eagles conclusions
Sixers and Ben Simmons have plenty of training camp intrigue
South Jersey Coronavirus (COVID-19) Developments (September 16)
Best of Home and Garden
Top Physicians 2021
Back to School
Former Ocean City standout Delaney Lappin making her mark at Drexel
South Jersey Coronavirus (COVID-19) Developments (September 13)
South Jersey Football Games of the Week
Eagles Enter a Season with Justified Optimism
Wayne's Way
South Jersey football Games of the Week
Super Kids
More...