Looking back at the SJ boys basketball regular season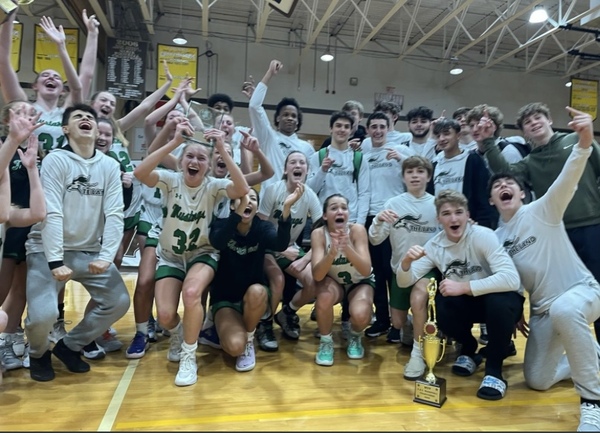 The NJSIAA boys basketball tournament is underway, but it was a memorable regular season. Here is a look back at a regular season with many highlights.
Top team
No controversy. Camden began the season the consensus No. 1 team in South Jersey and the state and nothing has changed.
Camden went 24-0 in the regular season and went unbeaten in winning the Olympic Conference National Division, considered the best in South Jersey.
The Panthers' only two losses came against national powers in showcases. Camden lost 52-40 to Montverde, Florida and 66-48 to Calvary Christian Florida in successive games.
The Panthers, who at one time were ranked No. 1 nationally in at least one poll, had some impressive wins.
Besides winning twice each against the Olympic National teams such as Woodrow Wilson, Camden Catholic, Paul VI and Bishop Eustace, Camden also beat one of New Jersey's top teams, Gill St. Bernards, 57-55 and Sierra Canyon, California, 66-62 and South Jersey's St. Augustine, 75-58.
Sierra Canyon, is a high powered team includes junior Bronny James, the son of basketball superstar LeBron James.
Leading the way for Camden was 6-4 D.J. Wagner, who is ranked the No. 1 junior in the country. This was a relatively balanced Camden team. Wagner led the Panthers in scoring, averaging 18.5 points.
Camden is the overwhelming favorite in South Jersey Group 2 and the favorite to win its first state title since 2001.
Top coaching milestone
Earlier this season Joe Kessler won his 700th game at Shawnee with a 67-45 win over Williamstown.
Kessler has long been among the state's top coaches.
This is his 35th season and Kessler has averaged more than 20 wins per year. Imagine doing that for 35 years.
He has won six state titles, one Tournament of Champions title and 19 conference crowns.
This year was another of those 20-win seasons. The Renegades, led by 6-8 Andrew Ball, went 20-6 in the regular season, yet another outstanding effort.
Repeat performance
Sterling was the top team in the Colonial Conference in last year's abbreviated season. The Silver Knights had to replace last year's leading scorer Antoine Arnett who averaged 19.4 points.
This year coach Justin Barringer relied on a more balanced offense with four players averaging between 8.5 and 12.9 points.
Seniors Andrew Tummings and Jimmy Zingaro averaged 12.9 and 10.8 points respectively. Juniors Ccaleb Mundell and Jaydis McFadden averaged 10.4 and 8.5 points.
It all led to the Silver Knights going 20-5 overall and 10-0 in the highly competitive Colonial Conference Liberty Division.
Craziest finish
There were some big buzzer beaters this regular season but none topped that of Haddonfield sophomore Daire Roddy in a 41-40 win against visiting Overbrook.
Overbrook was leading 40-38 when the Rams inbounded the ball under the Haddonfield basket with less than two seconds left.
The Rams threw a long pass that Roddy intercepted and in one motion shot from just inside midcourt that hit nothing but net.
Final score: Haddonfield 41, Overbrook 40.
The play was so improbable that it appeared as one the top 10 plays of the day on ESPN's SportsCenter.
Best game
What about Mainland's 58-56 overtime victory over St. Augustine in the championship of the Cape Atlantic League tournament.
Mainland was the No. 8 seed, an improbable champ. The Mustangs also saw No. 2 seeded St. Augustine come back from a 10-point fourth quarter deficit to force overtime.
Sophomore guard Cohen Cook led the way with 26 points and was named the game MVP. That tied his season high and made for a regular season finale he won't forget.
Neither will Mainland fans, who also enjoyed the girls winning the Cape tile with a win over Wildwood Catholic.
Article continues below
---
advertisement


---
Author:
Marc Narducci
Archives
---
Who's Who in Health Care
Former Shawnee star Doolittle Calls It A Career
Camden County College welcomes Baseball Hall of Fame
South Jersey Football Games of the Week
Out & About
QB Ronnie Borden is Back in the Game
Should fans be worried for the Phillies bullpen?
South Jersey Football Games of the Week
A look at South Jersey's Top H.S. Girls' Soccer Teams
Out & About
Eagles will be fine after close call in opener
High School Football Games of the Week
Is it Super Bowl or bust for the Eagles?
What's New in South Jersey?
From New Jersey to Nashville
More...