Jason Kelce keeps playing at a HOF level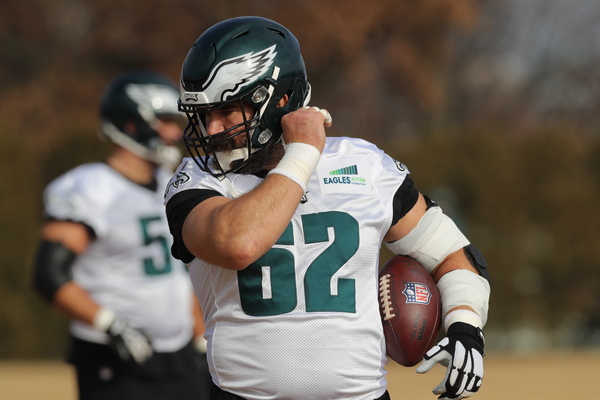 Other than quarterback Jalen Hurts, Eagles center may be the most important member of the Eagles. Kelce, 34, is sidelined the rest of the preseason after undergoing a procedure on his elbow on Tuesday, Aug. 9.
There is no timeline for his return, but does anybody doubt Kelce will be back for the Sept. 11 opener in Detroit?
Kelce has played through pain throughout his career. Still, he has a streak of 122 consecutive games, an impressive mark of durability for any position, but especially center. The center is in the middle of some of the fiercest struggles between players who are big, fast and strong.
At 6-foot-3 and 295 pounds, Kelce is actually considered undersized for his position.
That indicates how tough and demanding the position is.
Now entering his 12th season after being an unheralded sixth round pick from the University of Cincinnati, Kelce has thrived due to three main reasons – his athletic ability, his toughness and his intelligence.
He has achieved so many accolades in the second half of his career, but the first half wasn't too shabby.
It's just that he wasn't as well known, thus had a tough time earning votes for postseason awards.
He is a five-time Pro Bowl honoree and a four-time First-Team ALL-Pro selection.
Kelce is a lock to be named to the Eagles Hall of Fame, and there is the feeling that he has done enough to warrant selection to the Pro Football Hall of Fame.
Here are the names of the centers in the Hall of Fame, courtesy of Pro-football-reference.com. (We included Chuck Bednarik, who was more known as a linebacker, but also played center as well.
The players are listed with the year they were inducted.
Kevin Mawae (2019), Mick Tinglehoff (2015), Dermontti Dawson (2012), Dwight Stephenson (1998), Mike Webster (1997), Jim Langer (1987), Frank Gatski (1985), Jim Ringo (1981), Jim Otto (1980), Alex Wojciechowicz (1968), Chuck Bednarik (1967), Bulldog Turner (1966), George Trafton (1964), Mel Hein (1963),
Some players such as Tinglehoff were inducted well after they finished playing. His last season was 1978 but was inducted in 2015.
Tinglehoff, a great center for the Minnesota Vikings from 1962-1978, had five First-Team All-Pro seasons and earned six Pro Bowl berths.
Kelce is one of each away from tying him.
Mawae was a First-Team All-Pro just three times (although he was an eight-time Pro Bowl player).
The fact is that Kelce is right there, if not already in.
Also adding to Kelce's resume is a Super Bowl championship following the 2017 season, where he was the leader of the offensive line.
While nobody can compute a statistic for leadership, Kelce is among the best in the NFL. He was the offensive leader for a team that won a Super Bowl with a backup quarterback (Nick Foles).
Kelce has been to the postseason in five of his first 11 seasons.
Photo Courtesy of Philadelphia Eagles
Article continues below
---
advertisement


---
Author:
Marc Narducci
Archives
---
Who's Who in Health Care
Former Shawnee star Doolittle Calls It A Career
Camden County College welcomes Baseball Hall of Fame
South Jersey Football Games of the Week
Out & About
QB Ronnie Borden is Back in the Game
Should fans be worried for the Phillies bullpen?
South Jersey Football Games of the Week
A look at South Jersey's Top H.S. Girls' Soccer Teams
Out & About
Eagles will be fine after close call in opener
High School Football Games of the Week
Is it Super Bowl or bust for the Eagles?
What's New in South Jersey?
From New Jersey to Nashville
More...