First impressions of the Eagles – Improvement needed but stop panicking fans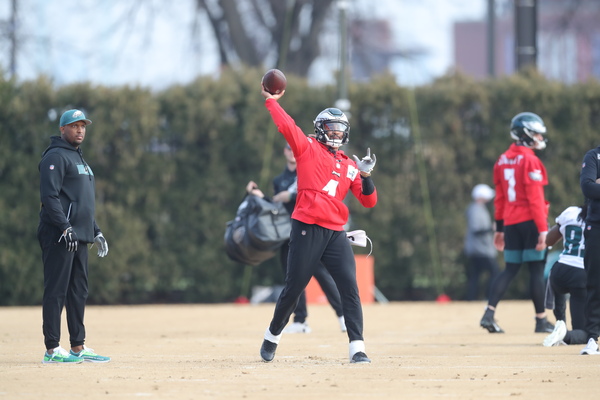 One can tell the high expectations for the Eagles this season after hearing their reaction following their opening 38-35 win at Detroit over the improved, but still not contending Lions.
Last year the Eagles went to Detroit and walloped the Lions, 44-6. This was a different Detroit team, one with more talent and fight.
Yet from hearing the talk show radio comments, one would have thought the Eagles lost this season's opener. Sure, allowing 35 points to a team quarterbacked by Jared Goff is somewhat of a concern, but the Eagles will iron things out. (For all the points they allowed, they also scored a defensive touchdown on newcomer James Bradberry's 27-yard interception return in the second quarter.
The complaints about an offense that scored 31 points? Of course, it was about quarterback Jalen Hurts, who did miss some throws. The season hinges on Hurts' development.
What we saw in the opener was more of what was displayed last year – Hurts was a devastating runner and needs work on the passing game.

Article continues below

---
advertisement


---

While nobody knows for sure if he is the quarterback of the future, we're willing to give him the benefit of the doubt to see if he can grow.
Against Detroit, he rushed for 90 yards on a healthy 5.3 average and one touchdown. As a passer, it was a little different. Hurts completed 18 of 32 passes for 243 yards, no touchdowns, but no interceptions. His passer rating was just 80.6, slightly above Goff's (80.3).

There were complaints about not getting DeVonta Smith more involved and they were valid. Smith had zero receptions on four targets.
It's always been the feeling of this writer that tight end Dallas Goedert should be more involved. He had three receptions for 60 yards on four targets against Detroit, but the Eagles should utilize him even more.
The one player there was no question about is newcomer A.J. Brown, who is simply a beast. He is 6-foot-1, 226-pounds and is both fast and physical.
The only thing missing in his exemplary Eagles debut was a touchdown. Brown had 10 receptions of 13 targets for 155 yards. The running game was strong. Miles Sanders, who scored zero touchdowns last season, had 13 carries for 96 yards and a score. If he can stay healthy, this could be a big season for the former Penn State Nittany Lion.
Now the defense. Of course, the D needs to improve. Detroit averaged a healthy 6.5 yards per carry. The Eagles, who were 29th in the NFL in sacks last season, sacked Goff just once. Goff isn't the most elusive of quarterbacks, so that is a concerning stat.

Still, it was the opening game. If Week 1 of the NFL season taught us anything is that there seems to be no dominating teams in the NFC.
As for the Eagles division?
Dallas has severely regressed, The New York Giants have improved, but don't appear ready to contend and Washington was lucky to beat a hapless Jacksonville team, guided by former Eagles coach Doug Pederson.
The Eagles will have a major test in their home opener on Monday night against the Minnesota Vikings. Actually, the Eagles are probably fortunate they got to open with Detroit and get some of the noticeable rust off.
The Eagles have all the look of a playoff team and if things break right, could be a major challenger in the NFC. After one game, it's not time to panic, but that is what happens when fans have such high expectations of a team that has the ability to match them.
Photo courtesy of Philadelphia Eagles
Author:
Marc Narducci
Archives
---
Who's Who in Health Care
Former Shawnee star Doolittle Calls It A Career
Camden County College welcomes Baseball Hall of Fame
South Jersey Football Games of the Week
Out & About
QB Ronnie Borden is Back in the Game
Should fans be worried for the Phillies bullpen?
South Jersey Football Games of the Week
A look at South Jersey's Top H.S. Girls' Soccer Teams
Out & About
Eagles will be fine after close call in opener
High School Football Games of the Week
Is it Super Bowl or bust for the Eagles?
What's New in South Jersey?
From New Jersey to Nashville
More...