Gloucester Catholic again a major threat in softball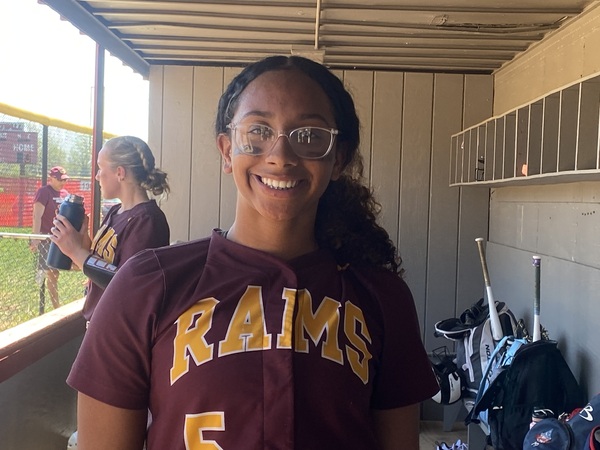 It didn't take first-year Gloucester Catholic softball coach Mark Hutchinson long to achieve a signature win. In his second game guiding the Rams, Gloucester Catholic scored a 4-3 win in 10 innings at Clayton.
That is two-time defending state Group 1 champion Clayton, a team that was ranked No. 10 in the state according to NJ.com.
Clayton entered the week 5-1 and just beat a talented Sterling team, 1-0.
So that was a big win for Gloucester Catholic over its Tri-County Classic Conference foe, especially since Clayton beat the Rams by a combined 15-0 score in winning both meetings last year.
In this year's win, the Rams had to overcome some adversity to beat the talented Clippers.
"That win was huge," Hutchinson said. "We have young players, and they didn't know they were the underdog and they played loose."
Not only that, but the Rams had to overcome a 3-0 deficit through three innings. And their top pitcher, senior Adrianna Green, lasted just four pitches. She was called for illegal pitches on all four and requested to leave the game, not wanting to hurt her team. The problem was that her back foot wasn't dragging enough and the umpires said she was leaping as she pitched, which is illegal in high school, but fine in travel ball and college, according to Hutchinson.
Still, Green was able to help in another way, by driving in the winning run.
She also had to leave last week's 13-3 loss at Vineland after one batter for the same reason, but then pitched a complete game win in the Rams' 12-2 victory over Pennsville.
Green has earned a Division I scholarship to Central Connecticut State University. Whether she pitches or hits, Green is a great asset to the Gloucester Catholic team, which began the week 3-1 and 3-0 in the Classic Division.
After four games, she was 7-for-12 (.538) at the plate with two doubles, one triple, one home run and six RBI.
Green and outfielder Bella Connearney are the only seniors on a team that starts four freshmen, including shortstop Maya Hutchinson who was hitting .533 in the first four games as one of the table setters at the top of the order.
There are only 13 total players on the team, but Gloucester Catholic has continued to produce at a high level despite not having many in the program.
Last year the Rams went 18-7 and advanced to the South Jersey Non-Public B championship before losing, 3-2, to St. Joseph.
"One of our goals is to get back to the championship game," said Hutchinson, who was an assistant coach the last few years at Gloucester Catholic.
Whether Green is on the mound or not, there is pitching depth.
Junior Emily McGinn went the distance in the win over Clayton after relieving Green, allowing eight hits and two earned runs in her 10 innings of work, while striking out 11 and walking two.
McGinn, like Green, is also a major offensive threat. She batted .400 with five RBI in the first four games.
There will be plenty of challenges for the Rams before the state tournament, including a May 1 home rematch with Clayton.
Yet this team that may not have much depth and only two seniors, is one that nobody should relish facing.
"It is exciting what lies ahead of us," Hutchinson. "It's a blessing to be able to coach this team."
Article continues below
---
advertisement


---
Author:
Marc Narducci
Archives
---
Who's Who in Health Care
Former Shawnee star Doolittle Calls It A Career
Camden County College welcomes Baseball Hall of Fame
South Jersey Football Games of the Week
Out & About
QB Ronnie Borden is Back in the Game
Should fans be worried for the Phillies bullpen?
South Jersey Football Games of the Week
A look at South Jersey's Top H.S. Girls' Soccer Teams
Out & About
Eagles will be fine after close call in opener
High School Football Games of the Week
Is it Super Bowl or bust for the Eagles?
What's New in South Jersey?
From New Jersey to Nashville
More...