Pitman's Steve Devanney continuing a career of outstanding play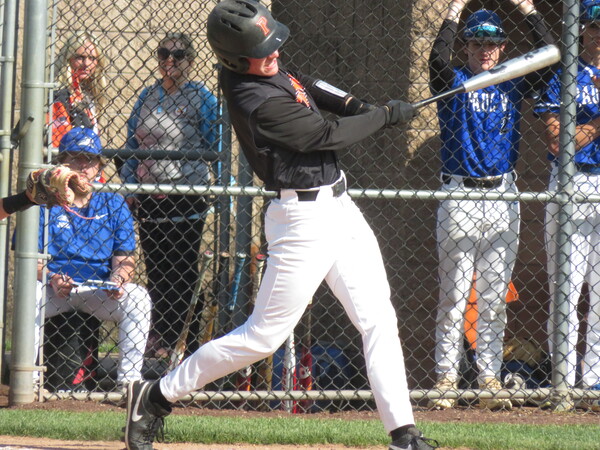 Through the first month of the high school baseball season, one of South Jersey's top performers has been Pitman's junior shortstop-pitcher Stephen Devanney.
Devanney entered the week batting .532 with 10 runs scored and 10 RBI. Last year he batted .524 with 31 RBI.
As a freshman, Devanney batted .372 with 21 RBI.
"He's about as steady as they get," Pitman coach John Hopely said of Devanney. "He doesn't get too high or too low and has great at-bats all the time."
Despite being a junior, Devanney entered the week with 90 career hits.
What helped his game was playing last summer for Washington Township's American Legion team. Even though he just completed his sophomore season, Devanney was playing against some opponents who were entering their sophomore year in college.
His Washington Township team was among the final four teams left in the state tournament and was finally eliminated by eventual state champion Allentown, 5-1.
"I was the youngest player and I started off not really playing a lot, but I got a chance to play third base and saw a lot of playing time and it was a great experience," Devanney said.
The 6-foot-2, 180-pound Davanney then got ready for football, where he plays middle linebacker and tight end. He also is a member of the basketball team, but sees his athletic future in baseball.
Besides what he has done at the plate, Devanney is also an accomplished pitcher. He began the week with a 3.77 ERA, with 34 strikeouts in 26 innings. For his career he has struck out 102 batters.
So what is better at hitting or pitching?
"When I was 12 and 13 playing travel ball I was much better at pitching and my swing had a lot of moving parts," he said.
Yet that has changed and now he has become a consistent hitter.
"Right now he's probably a better hitter, but he is also an excellent pitcher," Hopely said.
Devanney's goal is to play college baseball and the position he plays doesn't really matter.
"I would hit or pitch in college," he said. "If asked I would do both."
Right now, he's concentrating on helping Pitman improve.
The Panthers began the week 8-5 and will be headed to the South Jersey Group 1 playoffs.
This is a team that is has experience, but just one senior, first baseman Brayden Yordy.
Devanney says he and fellow juniors Conner and Braden Sharkey have done their best to take on a leadership role.
He says the key is for him and his team to continue to improve.
So far that improvement has been on an upward curve during this career as Devanney has provided consistent excellence at the plate and on the mound.
Article continues below
---
advertisement


---
Author:
Marc Narducci
Archives
---
Who's Who in Health Care
Crowd Pleaser
Can the Eagles Regain Their Winning Way?
A Bight Future Ahead for Glassboro Football
The Big Impact of Small Businesses
Eagles Need to Reset
Feeling Festive
Another dominating season for Delsea football
Mainland's Historic Football Season
A Rooting Interest
Eagles Continue to Fly High
Raising the Bar
Thanksgiving Football Continues
Hotstovers to honor All-SJ Baseball and new HOF inductees
South Jersey Football Games of the Week
More...